Izmailovsky Market: A Morning Well-Spent
Izmaylovskoye Shosse 73, Moscow (Partizanskaya metro Station)
Open from sun up to sun down
Bring ~$10 for souvenirs/snacks
I'm keeping this review short and sweet. Go to Izmailovsky market. Seriously, just go. It's one of the oldest and largest flea markets in Moscow. While technically open every day of the week, many vendors only come out on Saturdays and Sundays, so go then. Some vendors pack up and leave after lunch, so it's best to visit early in the morning. The market sells anything and everything. You can attempt to bargain if you'd like, but the vendors aren't stupid, so don't expect any wildly good deals.
When I went, I first met up with friends in the Partizanskaya metro station around 10am on a Sunday. None of us had been to the market before, but finding it was simple enough. Exiting the metro, we crossed the street, walked under a big arch labeled "Вернисаж," and then continued straight on the pedestrian street past a group of hotels. We knew we were in the right area as we already started to see a few vendors here and there along the walkway. After a short walk of about a kilometer or two, we ended up at the entrance of the market, which was impossible to miss due to a crowd and conspicuously placed signage.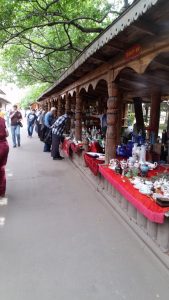 Entering Izmailovsky was a magical experience. There were people all around, and a hustle and bustle that you'd only expect to see in movies. Stalls stretched out along both sides of three long, parallel paths and continued for about three-fourths of a kilometer. The vendors had everything: decorative eggs, photo-shopped Putin-on-a-bear coffee mugs, nesting dolls, soviet watches, anti-U.S.-sanction T-shirts, fur hats, and more. About halfway down the right path was an excellent café where we stopped for chicken shashlik, salads, fresh bread, and pear juice. The total cost was a little under 500 rubles per person (~$7) and well worth it.
At the end of the three paths, the roads diverged in too many directions to keep track of. It was pretty much a maze for us at that point, and felt really unique. You can climb stairs into an upper terrace, head into buildings, snake down alleyways, and generally just have a good time exploring. Expect to see lots of old soviet artifacts like posters, medals, surplus military clothing, etc. There are also lots of old books and paintings for sale in the upper area of the market, but you'll just have to wander as they're rather spread out.
One note – particularly on medals, note that awards given by the state are considered to remain state property even after they are awarded. Thus, they cannot be sold and cannot be removed from Russia. Be very careful if buying a medal – make sure it's a reproduction and not the real thing. Generally, anything that looks like it could be a genuine antique – and particularly rugs – should be handled with care. There may be laws concerning their removal from Russia. Most of the standard fare here, though, is fine to buy as a souvenir – and there is a lot of it to choose from.
Still, it wouldn't be a market without machine guns, and naturally, Russia delivers. We weren't sure if we were supposed to take photos or not, so we only took one and did it quickly. Just use your best judgment and don't be surprised if the sellers ask you why you're browsing automatic weapons.
So really, when I said go to Izmailovsky, I meant it. Have fun and don't worry too much when you don't understand a vendor's sales pitch. Worst case scenario, you pay $10 instead of $8 for something that would have cost you $20 in the U.S. anyway. Just show up with an open mind and enjoy the ride.