Travel in Russia is extremely cheap when compared with taking domestic flights in North America. For example, where a flight from Nova Scotia to Montreal with a duration of an hour and a half would be close to $600 round trip, I made a four day trip from St. Petersburg to Irkutsk (a 9 hour flight away), for only a little over $600 with the flights, accommodations, tours, and food all included. One could make the trip for even less, if one went on a stricter budget.
I traveled with a fellow student named Nina. This was handy in a number of ways, both in being able to split some costs and also because, although Nina is from the Netherlands, her mother is Russian and she thus she speaks Russian as a heritage speaker. When we arrived in Irkutsk we realized very quickly that English is much rarer here than we were used to in St. Petersburg – including among people in customer service.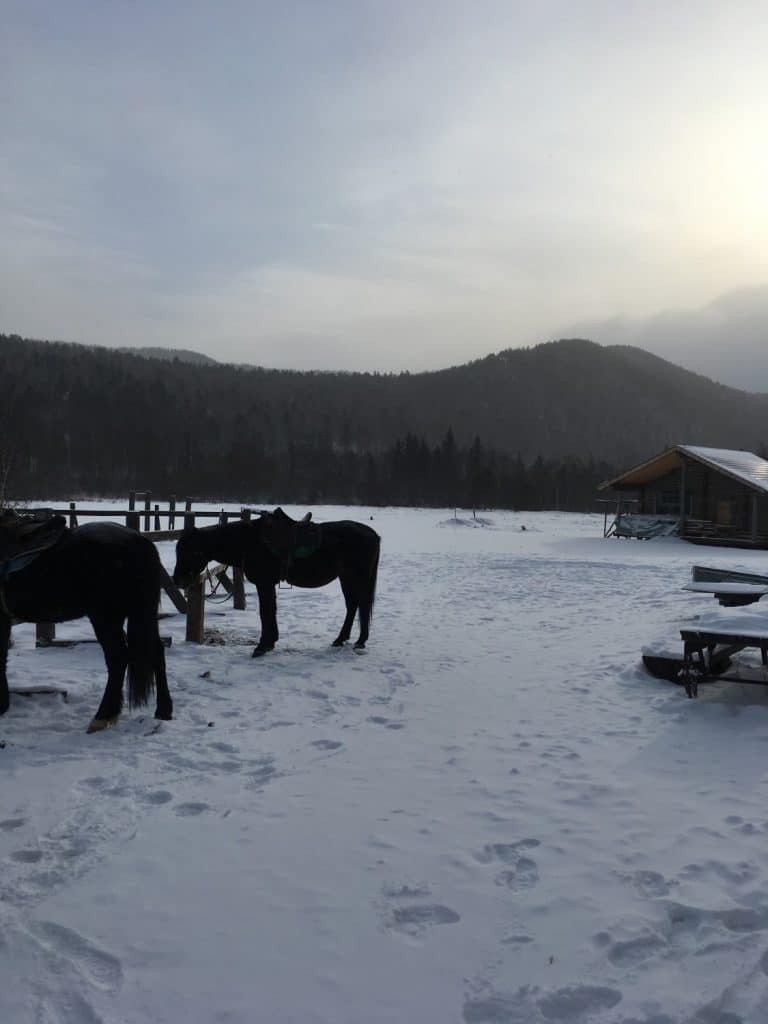 We opted to fly. However, many students also attending UNECON decided to travel via the trans-Siberian railway after their semester. This would be a once in a lifetime experience if you are up for three days of traveling by train. I just did not have enough time for the trip, but the choice is yours! I recommend Skyscanner and Tutu for comparing ticket costs and getting the best deal.
While it is always recommended to pack lightly (to avoid checked bags and back strain), this can be challenge when heading to Irkutsk in the winter. Since we were traveling in late December and expected temperatures ranging between -30°C and -35°C, both Nina and I packed a variety of heavy clothes to survive the dry cold of Irkutsk. Make sure to take leggings for underneath your pants, extra socks, a very warm coat, winter boots, sweaters, a hat, and a scarf. It is cold – but with layers it is manageable.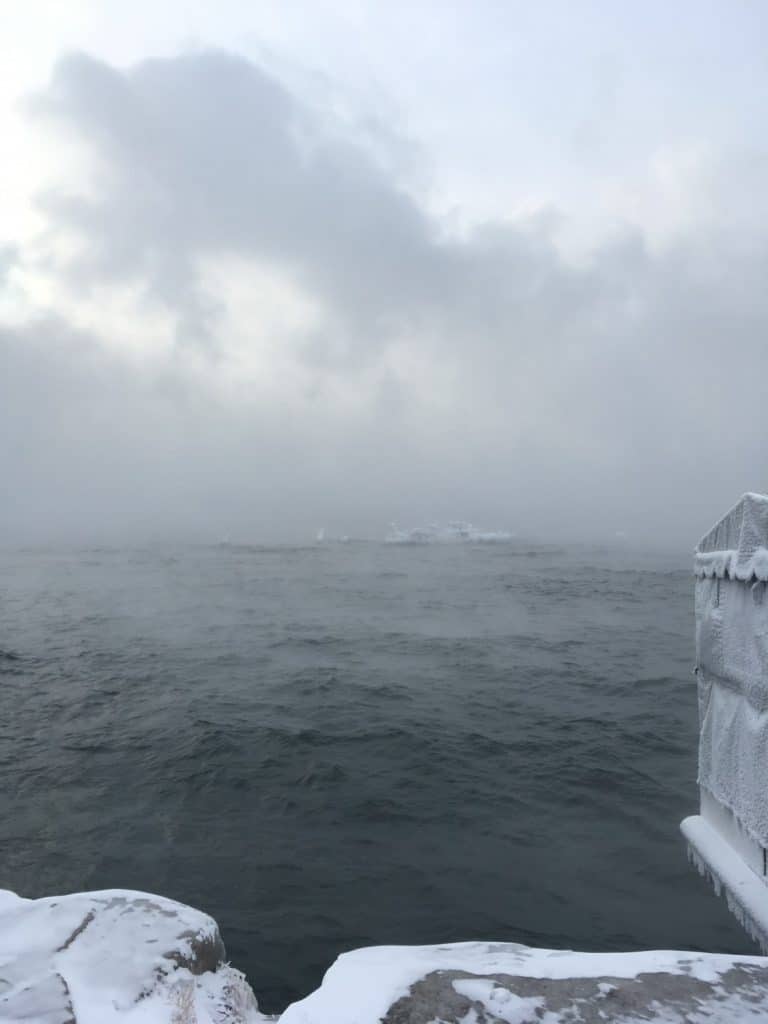 We booked an Airbnb together that was conveniently located in the city center for about $60 per night. Thus, my half was about $120. If you are looking for something cheaper, there a number of hostels in Irkutsk where you can find a bed for about $10 per night. We cut costs a little further by buying snacks and breakfast ingredients at a super market that was within five-minutes walking distance from our Airbnb.
Travelling with others makes getting tours easier. In all the Russian cities I have visited, I have booked my tour or activity either the same day or the day before. The process is always easy and relatively inexpensive by North American standards. We booked a tour that included a trip to Lake Baikal through 57°17'. Another interesting company was Baikaler (which offers a 3 hour city tour for free). Another generally good resource for inexpensive tours all over Russia is Indy Guide. When booking tours, note that the price per person tends to go down the more people you sign up with and also note that Russian-speaking tours are usually considerably cheaper than the same tours offered in English.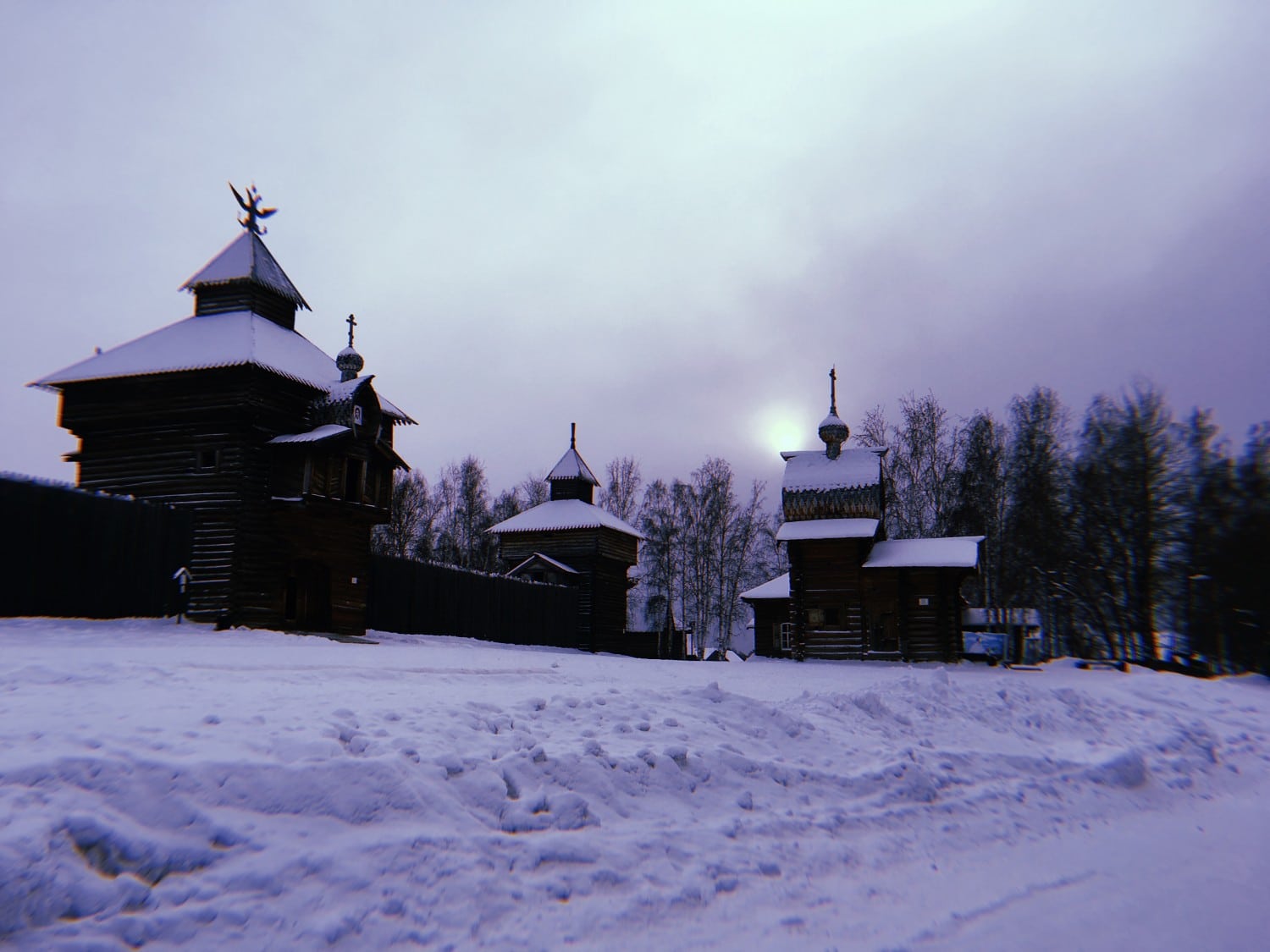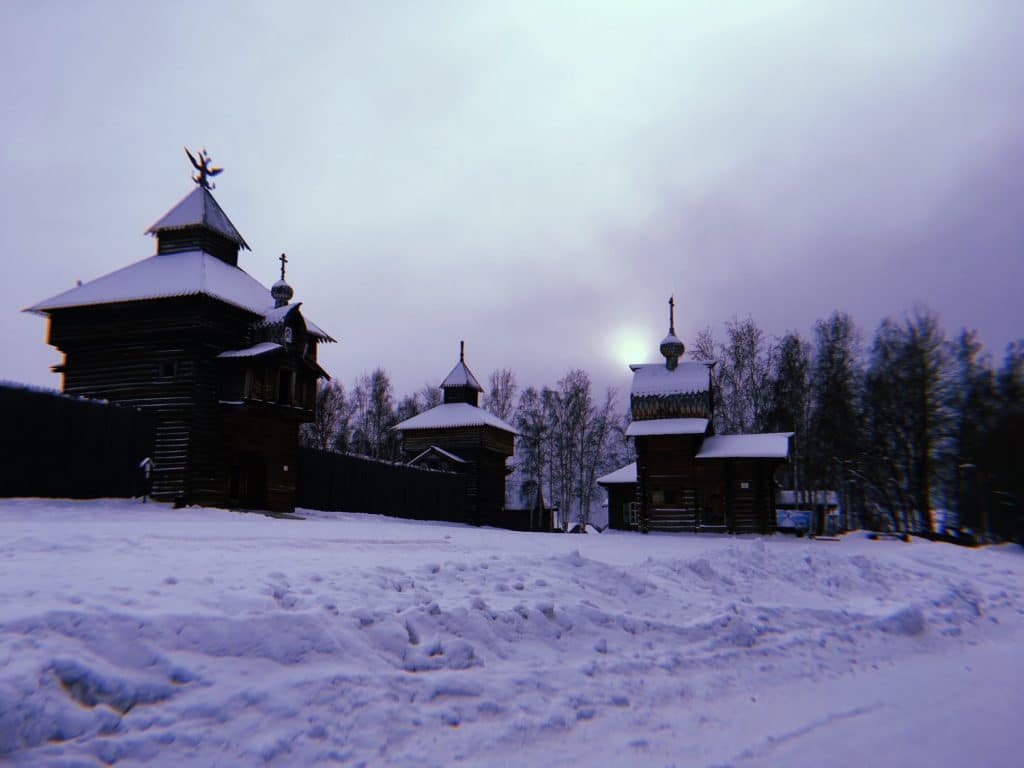 For our Lake Baikal tour, we were unexpectedly picked up by an old 1980s Toyota Corolla, when the tour description said we would be picked up by a tour bus. The guide explained that no one else would be joining the tour because of the abnormally low temperature (it was -35°C). The first stop was the Tsaltsy Museum of Wooden Architecture, an outdoor museum that features traditional Siberian wooden architecture. The museum itself was very interesting, as each building you entered was decorated to show the lifestyle of the person who once have lived there. There is a church, peasant's homes, merchant's homes, and a school house. If you want a snack there is also a small café with Russian food like pirozhki. It was also useful to have a guide for this museum as there are no write-ups to describe the village's history and cultural significance.
When we arrived to Lake Baikal, it was extremely cold and the sky was foggy. We could not really see the mountains that surround it and make for picturesque views. This is apparently common as the water, due to its depth and density, stays considerably warmer than the air around it, creating a fog. According to our guide the water does not freeze until the end of January, when views tend to be better.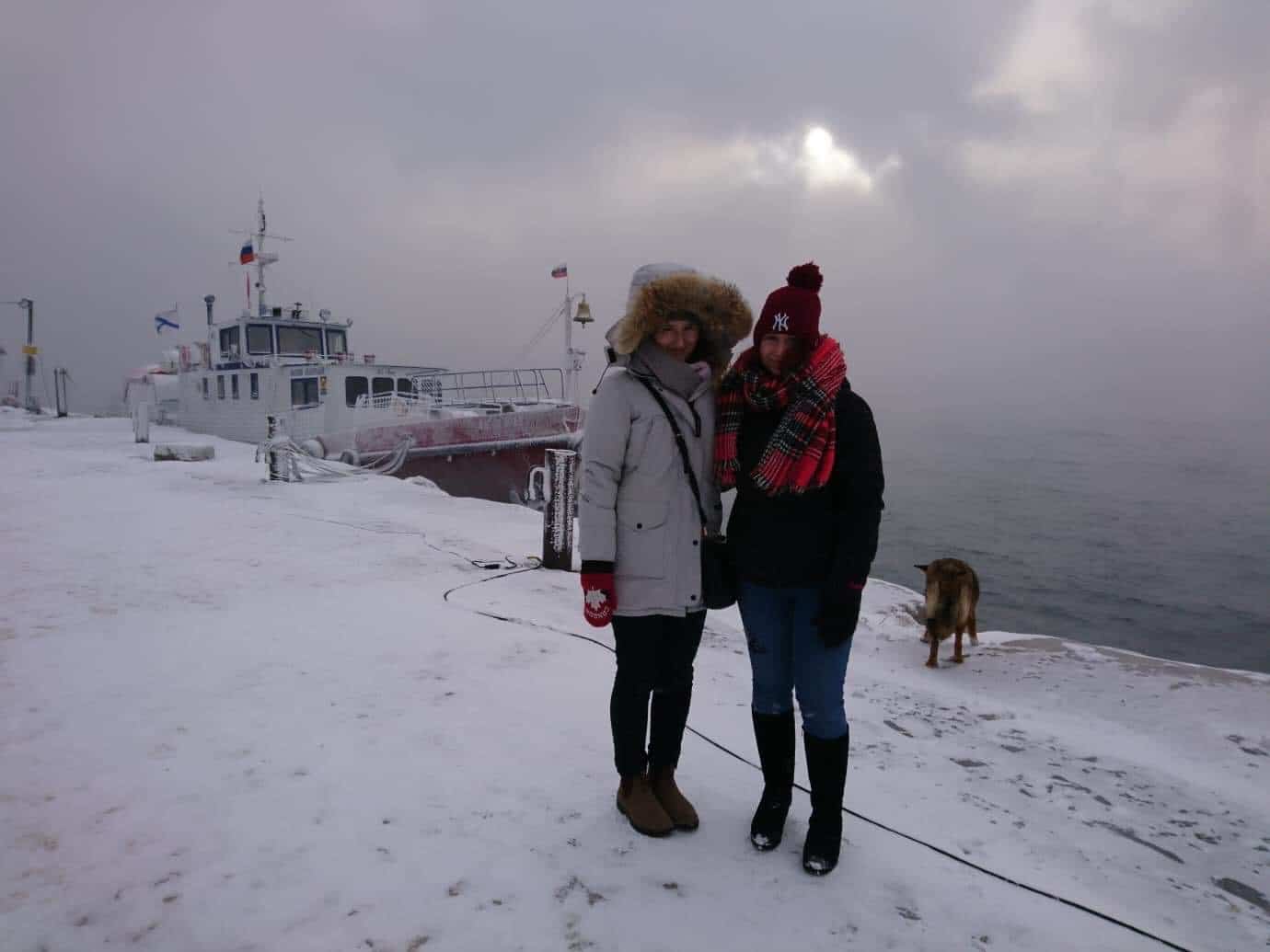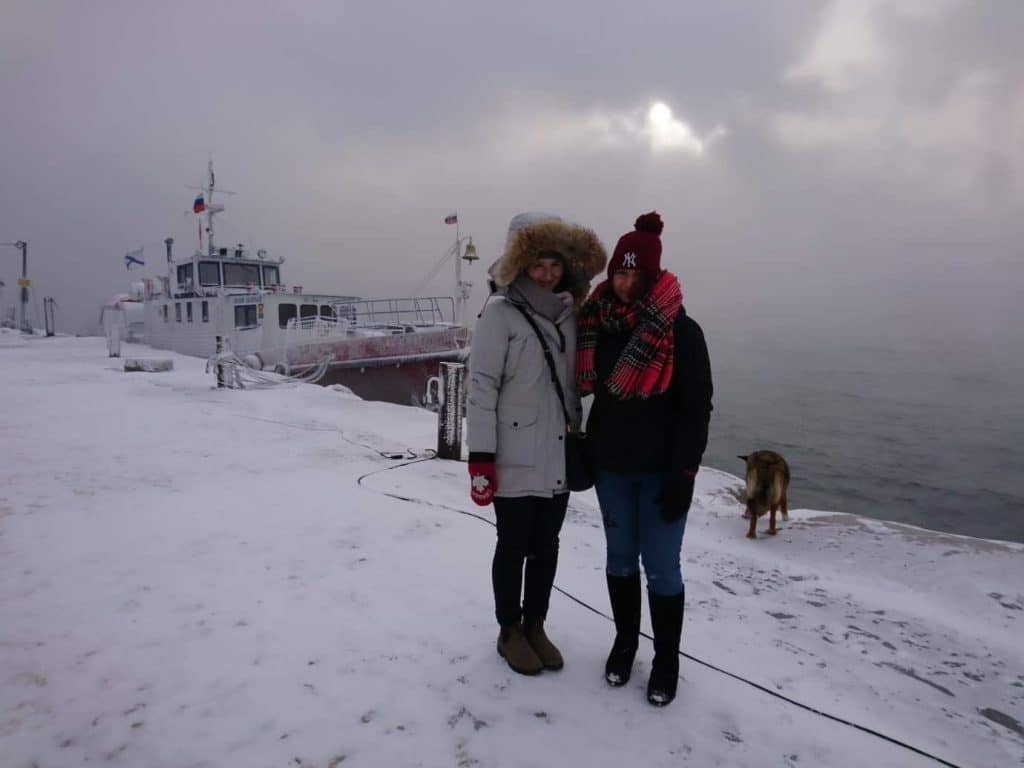 At the end of the tour, we were taken to a fish market where we were offered to buy Omul for 100 rubles. This is a type of salmon that is unique to Lake Baikal. According to our guide people from Irkutsk often come to this fish market to purchase the fish year-round. Nina purchased it and thoroughly enjoyed it. As we drove back to Irkutsk the fog cleared a bit and we were finally able to see the mountains and hills.
As we were leaving the old white Corolla, our tour guide recommended we eat at Rassolnik, a Soviet style restaurant inside the wooden house district in Irkutsk. Rassolnik itself is a traditional Russian soup made from pickled cucumbers, pearl barley, and meat. We decided we would go there the next day. Unfortunately when we arrived the restaurant was closed for a private function. However, the district where the restaurant is located, an area of restored and faux-traditional wooden architecture called 130 Kvartal is definitely worth a visit regardless, with a number of shops and restaurants around. We decided to eat at Khinkal'naya, a Georgian restaurant with a variety of dishes and drinks.
Another day, we tried to do a walking tour of the city. However, after spending twenty minutes in the low temperatures, we decided we were unable to complete the walk. Luckily for us, Irkutsk has a well-connected public transport system of buses and trolley buses and each ride only costs 15 rubles. We were able to stay under budget and still see all the sights, which include Kazan Church, Savior Church, Kirov Square, and The Museum of Decembrists by taking advantage of this.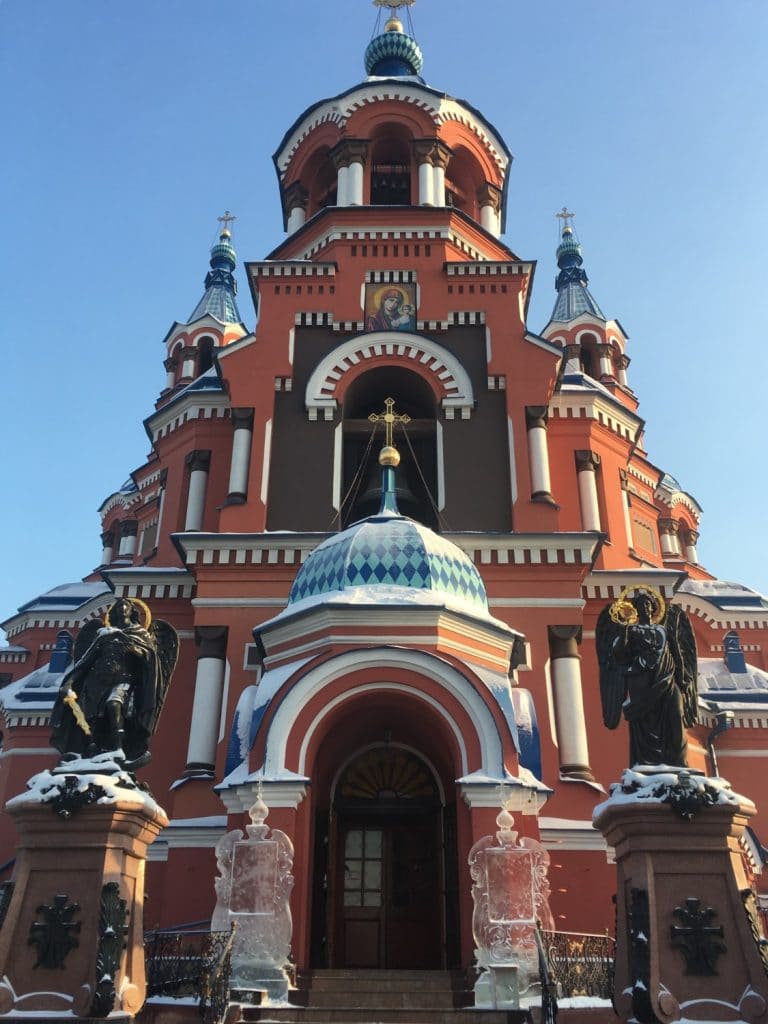 Although the weather was bitterly cold, I wouldn't say this was a reason not to go. We can now say that we've experienced a real Siberian winter. Also, Irkutsk is beautiful in the winter with ice sculptures everywhere, in particular lining walkways to the churches. This is how cold it is – they stay frozen all winter. These sculptures are incredibly detailed and worth seeing.
You'll also probably find some well-priced valenki at this time of year as well. In Irkutsk we quickly found out that boots were the most important part of any winter accessary. The cold from the ground somehow always went through our boots and chilled us to the bone. If you are looking to buy a souvenir that you can use while you are in the city perhaps consider purchasing valenki. These are traditional Russian winter boots made from felt and fur. Everyone in Irkutsk wears them and you should too to blend with locals! If you are from somewhere in the northern part of the US, you'll definitely find them at least as useful as (and more original than) Uggs.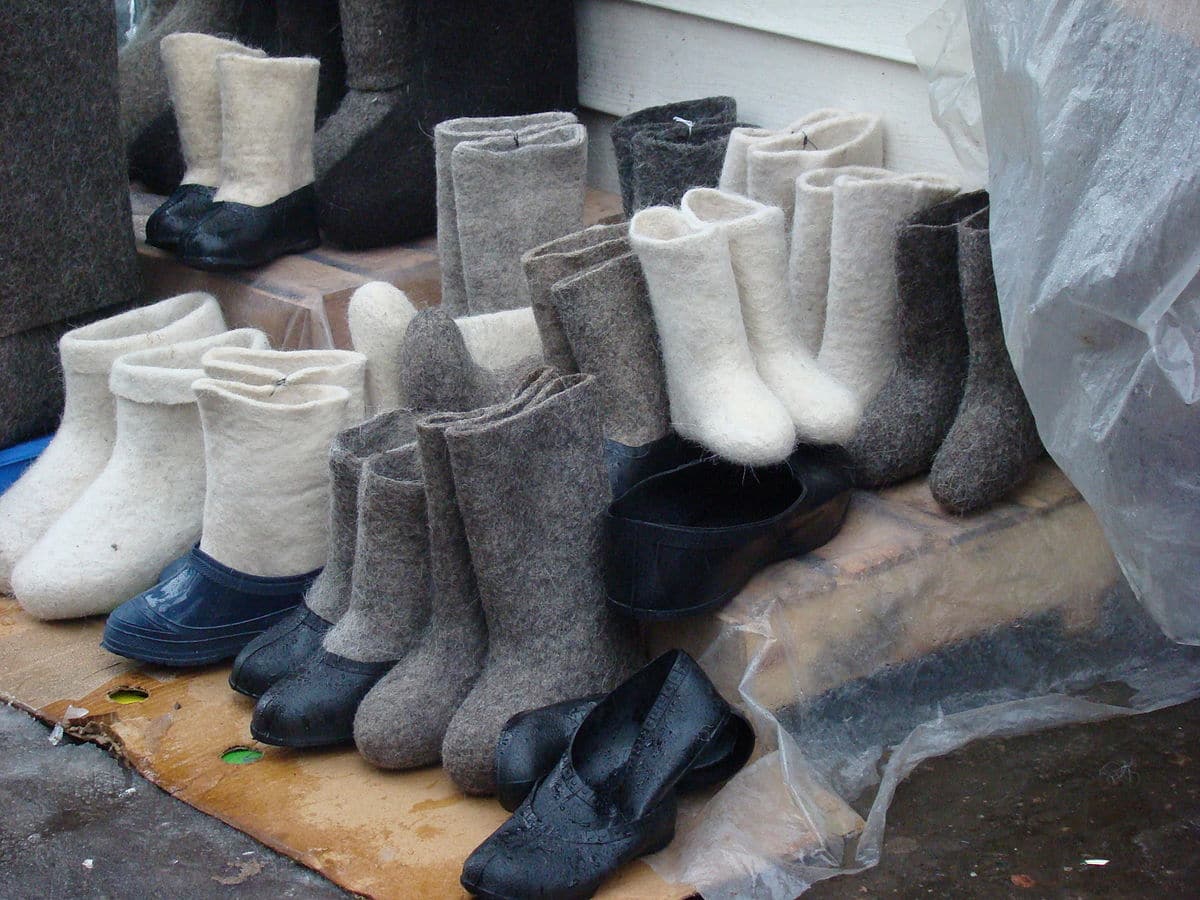 As with any foreign city make sure you bring a working cell phone in case of emergency and be cautious! Otherwise enjoy your trip, you will not regret it!
Trip to Irkutsk from St. Petersburg
Four Days
Total budget: $550-650