Students in Irkutsk report spending about $35-50 a week average over the course of their stay. This covers groceries, eating at the university cafeteria, city transport, an occasional meal out, school supplies, modest weekend entertainment, and other general living expenses. Note that this guide assumes 65 rubles = 1 US dollar. Prices current as of September, 2018.
In This Guide
1. Getting Started
Packing beforehand: Bring appropriate clothing, any electronics you need, and any prescription medication you are taking in amounts to last your time abroad. Check our packing guide for more information on preparing for your trip.
Card Fees. Call your banks and credit cards! Let them know the dates you'll be abroad, otherwise, they tend to shut them off when they appear abroad – assuming they've been stolen. Note that most US banks will charge fees for every transaction you make abroad. $5 and/or 3% for every ATM withdrawal, for instance, is not uncommon. Make sure you understand these fees and factor them into your budget. See our Guide to Managing Cash Abroad for more information.
After You Arrive: There are usually a few initial, one-time expenses for students getting started. All of these can be bought inexpensively near the main dorms at area at Snegir, a small shopping mall. A few common costs include:
Electric kettle: $10 (for coffee/tea/instant noodles/oatmeal)
Pot/silverware/plate/cup: $10
Water filter: $10-15 (or $2 for 5 liter bottles – folks generally don't drink from the tap)
Pens/erasers/school supplies: $10
Textbooks: $15 per semester (usually available on campus)
2. Incidentals & Other
Flexibility: You should always plan some flexibility into your budget. There will always be expenses that you didn't plan for – a new umbrella, a better coat, a short trip that a new friend invites you on that is too good to say no to, you get the point.
Hygiene: Shampoo, conditioner, deodorant, and toothpaste – in brands you are likely to recognize – run about $2.50 per package. There are quite a few local Siberian brands made of local herbs and ingrediants that are quite good and cheaper, though. Feminine hygiene products are around $4 per box. Haircuts for women can be found for $10.50
Gyms: Expect to pay about $12 per session or $85 per month for a clean, modern place. There are cheaper options – and the university itself has a lot of sports clubs and free courts that be taken advantage of for free. Ski rental at Dinamo (Динамо), a local facility, is only $3.50 per hour, and entrance to the complex itself is free.
Laundry: A laundry machine is provided in the dorms, but no dryer. You'll need to purchase your own detergent as well as at least a line and clothes pins to hang in your room. This can be done fairly cheaply and easily at the local grocery store. A collapsible drying rack (сушилка) is easy to find for $10-30, and generally more convenient.
3. Food and Shopping
Groceries: Most students shop at Udacha, a discount superstore about a 10-minute walk from the dorms. Making simple dishes is fairly comfortable in the dorms. Try frozen pelmeni for easy dinners – a $3-5 bag can be stretched into 3-4 meals. Average weekly grocery bill: ~$10-25 per week
University Cafeteria is quite cheap, around $1.5-3 for a decent lunch. You can also get pirozhki and other smaller items for less than 50 cents. Average weekly spending at the cafeteria: ~$8-15 per week
Eating out: Restaurants, including many near the university often have a "business lunch" deal where you get a main, side, salad, and drink for around 2-4 dollars. For fast food or street snacks, you might spend $0.5-$5. A mid-range sit-down restaurant will run you maybe $7-15.
Average weekly total food spending: ~$20-$30 per week
4. Transport
Public transportation is nearly always 20 rubles (about 30 cents) and 25 rubles (40 cents) after 8pm whether trolleybus, marshrutka, or tram. Buses and marshrutki are the most common, fast, and convenient mode of transportation; the trams are slower but more aesthetically pleasing. The approximate wait for transport is: Bus: 2–20 minutes; Bus: 5–15 minutes; Tram: 10–25 minutes. Be prepared to fight for your spot in the public bus, marshrutka, or tram during peak hours. For regular in-city buses and marshrutkas, you pay directly to the driver when you get off. On the tram, a ticket collector will come by once you board and give you a ticket/receipt.
Taxis: Yandex Taxi and Maxim are the favored ride-hailing apps. You can also call Maksim at 7 (3952) 500-600 or you can order online. Connect your credit card to the account for maximum security (no bargaining or cash involved!). Rides are usually around 130-150 rubles ($2.20-2.50). 300 rubles ($4.60) will get you to the airport – one of the most expensive rides to order.
Average weekly transport spending: ~$3-10 per week

5. Communications
See our Packing List for more information about bringing electronics to Russia.
Mobile service and data: SRAS will supply you with a simple mobile phone while abroad. Students that use only these phones to call and text report spending around $2 or less per month. Students with unlocked smartphones who get local SIMs for data and calling report spending around $3.50 to $10 per month. This is recommended, as it will allow you to use online maps and taxi service apps. Cell service in Russia is usually pay-as-you-go with a monthly fee or prepaid service. You will not need a long-term contract. Students can also look into international plans through T-Mobile and Verizon that can be handy if you plan to talk a lot to folks back home while abroad. Activate these before coming abroad.
High-speed Internet: Private high-speed wireless internet is available through private companies at the dorm. Costs run about $7-20 monthly, plus about $25-100 in startup costs for the router. If you are an infrequent internet user, it's fairly easy to log on to WiFi at cafes and coffee shops for free. You will need to use a Russian phone number to do so.
Internet cafes / City Hotspots / Free WiFi: Internet cafes are getting rarer – and largely are now either copyshops or gaming centers. Try Lider, at Krasnoarmeiskaya, 7, centrally located near Lenin and Karl Marks Streets. Costs run around $1.5-2 hour.
Average total MONTHLY spending for communication: $2-15
6. Free Time, Other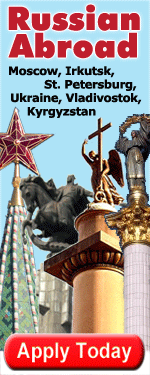 Entertainment and incidentals are the most variable expenses you'll face.
Random: A regular coffee is usually somewhere around $2, or $1 at a takeaway place or food stall; you can get fancier coffee drinks for $2–$3. Beers are around $1.50-$2.50 and mixed drinks between $3-4 at a bar.
Performances: Theater tickets at major theatres, ballet, and classical concerts won't be more than $10. IMAX movies are about $10, and standard movies $4 or $5.
Souvenirs: never EVER buy anything in the center, and make sure to check out Izmailovsky Market. Matryoshka can be purchased for anywhere from 400-40,000 rubles.
Travel: If you are going to blow some money in your budget – SRAS recommends you do it on travel. See more of the country and wider region and meet more of the people while you have the chance to do it quite inexpensively. Look at SRAS's extensive travel site for info about in (and out) of country destinations. Train tickets to nearby Ulan-Ude are about $60 round trip and hostels there about $8-10 per night. Look for tickets on pass.rzd.ru or tutu.ru and for hostels on booking.com. You can also look into flying via Skyscanner, but Irkutsk actually isn't much of a passenger air hub and tickets can be more expensive than you'd think. You can find more information about domestic air travel in Russia or domestic train travel in Russia from our site. Let SRAS know EVERY TIME YOU LEAVE Irkutsk! This is for safety, but also because there may be registration or visa issues involved in your trip that we may need to advise you on.