I'm Thankful for Today Cafe and Bar
Гороховая ул., 24
10am-3am everyday
Meals from $10  
This small chain of restaurants in St. Petersburg offers an attractive atmosphere, friendly staff, and reasonably priced food. I stumbled upon the place by accident on one of my many "lost in the big city" outings. It wasn't very busy and they were more than happy to let me sit with my laptop at a corner high top table and write this blog entry as I ate lunch. The location on the corner of Gorokhovaya and Sadovaya is arranged with a long communal table in the center and about five high top tables along the walls. There is a medium-sized bar with a large wine selection and plenty of fun cocktails – try the apple-ginger!  You can watch the chefs at work through a glass window into the kitchen.
The vibe was overwhelmingly hipster: they play diverse music from modern pop and hip hop to indie rock, the check is brought in a cocktail shaker, and my waitress had dreadlocks and a nose ring. There is also free WiFi (ask for the password – it was 12345678 when I was there)! Although the name is "Café and Bar", it is more of a restaurant by American standards with a large menu and geared more towards an evening crowd.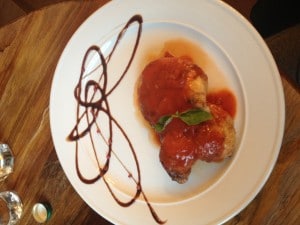 The menu is in Russian and English, with some Russian favorites like  борщ (borsch) and chicken Kiev, but is mostly general European/American dinner fare. My waitress noticed my stumbling pronunciation and immediately switched to English for me. I ordered chicken in tomato sauce and a 7Up. The soda came in the standard 250 ml bottle for 100 rubles and the chicken was 280. The entrees are meant to be paired with a side or two, bringing an average meal with drink to around 450 rubles, but even without sides I was more than satisfied with my portion size! The food was hot and served quickly, the delicious sauce made up for the chicken, which was a little dry.
The location in the city center is just off the often busy, overcrowded, and overpriced Nevsky Prospekt, but the establishment is convenient and affordable. Overall, I thought I'm Thankful for Today had a cute, inviting vibe and would recommend it for a lunch or dinner in the city! It is not, however, likely to become your everyday hangout spot.
For groups and faculty-led tours, the communal table would work for a group of 8-10, but it gets fairly crowded in the evening so it would be best to book in advance.