Idealnaya Chashka/Идеалная Чашка
http://idealcup.ru/
Садовая Ул. Д. 25
Mon-Fri 7am-11pm
Sat-Sun 8am-11pm
Lunch for around $10; Coffee/Tea for $3-5
Идеальная Чашка (Idealnaya Chashka; "Ideal Cup") is the oldest and one of the most successful St. Petersburg coffeeshop chains. The menu is extensive, offering a variety of sweet treats and lunch snacks like sandwiches and wraps. Beverages include coffee drinks, tea, juice, smoothies, milkshakes, and even alcoholic specialty drinks. The prices are reasonable, although not the cheapest in the city. A light lunch and coffee is easily attainable for less than 350 rubles (~$10). They also offer a small vegan постное меню (fasting menu) during Lent. Idealnaya Chashka seems to have its finger on the pulse of St. Petersburg, with a very nice, easy to read website (no English version, but pictures of all the products), trendy décor, and interesting ideas such as a mail box and message board to leave notes for friends. The café has smoking and non-smoking sections.
I ordered a pot of fruit tea for 140 rubles and a veggie wrap for 180. The wrap may have been better heated up, but I wasn't disappointed for the price and I left satisfied. It was easy and comfortable to sit for a couple of hours with my laptop and there were a few other patrons who also seemed to be telecommuting. During my early afternoon there, several groups of friends, couples, and mothers and daughters out shopping popped in for a quick coffee and cake. The Black Forest cake is especially good. Idealnaya Chashka offers more than 30 unique coffee blends, including Borgia (equal parts coffee and hot chocolate) and a delicious caramel mocha. The café can get pretty busy at peak hours- mornings before work and evenings after work- so plan accordingly.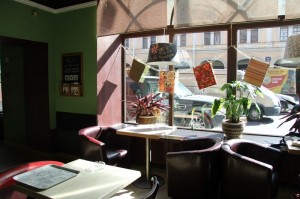 I appreciated the relaxed atmosphere and friendly staff who promptly cleared tables and kept the floor clean of the infamous St. Petersburg spring mud. Customers order at the counter and sit at their choice of table or booth. WiFi access comes with a purchase, look for the password on your receipt. While the barista who took my order did not speak English, she was very patient with me and clearly they are used to dealing with foreigners. The café is popular among locals, tourists, and the occasional expat. Overall, I had a wonderful experience at Idealnaya Chashka and will definitely be coming back!
I visited the Sadovaya location, but you can also find Idealnaya Chashka at Каменноостровский пр. д.2, Кирочная ул. д. 19, Заневский пр. д. 14, Средний пр. д. 46, Пр. Космонавтов д. 14 ТЦ in the "Радуга" shopping center, г. Колпино, and Октябрьская ул. д. 8 ТЦ in the "Ока" shopping center.
For groups and faculty-led tours, Idealnaya Chashka would only work with a small group. Five or six people would be able to find a table together during off-peak hours.