After a nice winter break and going home for the holidays, I have arrived back in Vladivostok. Unfortunately, I missed the big snowstorm here by a week or so, but there is still plenty of snow in heaps around the city and it is still quite cold here. Coming from a warmer climate like the American Southeast, this has been my first winter seeing anything beyond a thin veneer of ice covering a pond. Experiencing an entire saltwater bay frozen over is, I must say, an awesome sight. With the expanse of newly traversable space, the people of Vladivostok put it to a myriad of recreational uses.
Ice fishing
Ice fishing is probably one of the most common activities to see in the deep winter months. Along almost any part of the frozen coast, lone figures huddle with diminutive fishing poles over the ice, bobbing their lines up and down in six-inch holes to attract the fish beneath. I tried my hand at it for a few minutes when I approached a Russian family to ask about the activity. It's pretty straightforward (although I didn't catch anything in my few minutes), and it seems to be a peaceful and relaxing pastime. I spoke to a few different people ice fishing, and all of them were quite amenable. This is certainly worth the time to at least stop off and watch for a few minutes. The standard equipment seems to be a simple auger, the aforementioned tiny fishing poles, and a chair.
Ice driving
I don't know if you can own a car and not want to try this. Driving on the ice for no functional purpose looks like a pinnacle of motorized fun: Rev the engine, hit the gas, spin the wheel, and slam on the brakes. The car goes careening around in circles like a drunken merry-go-round. Bonus points if you can manage this whilst your passengers hang perilously outside the windows howling like crazed hyenas.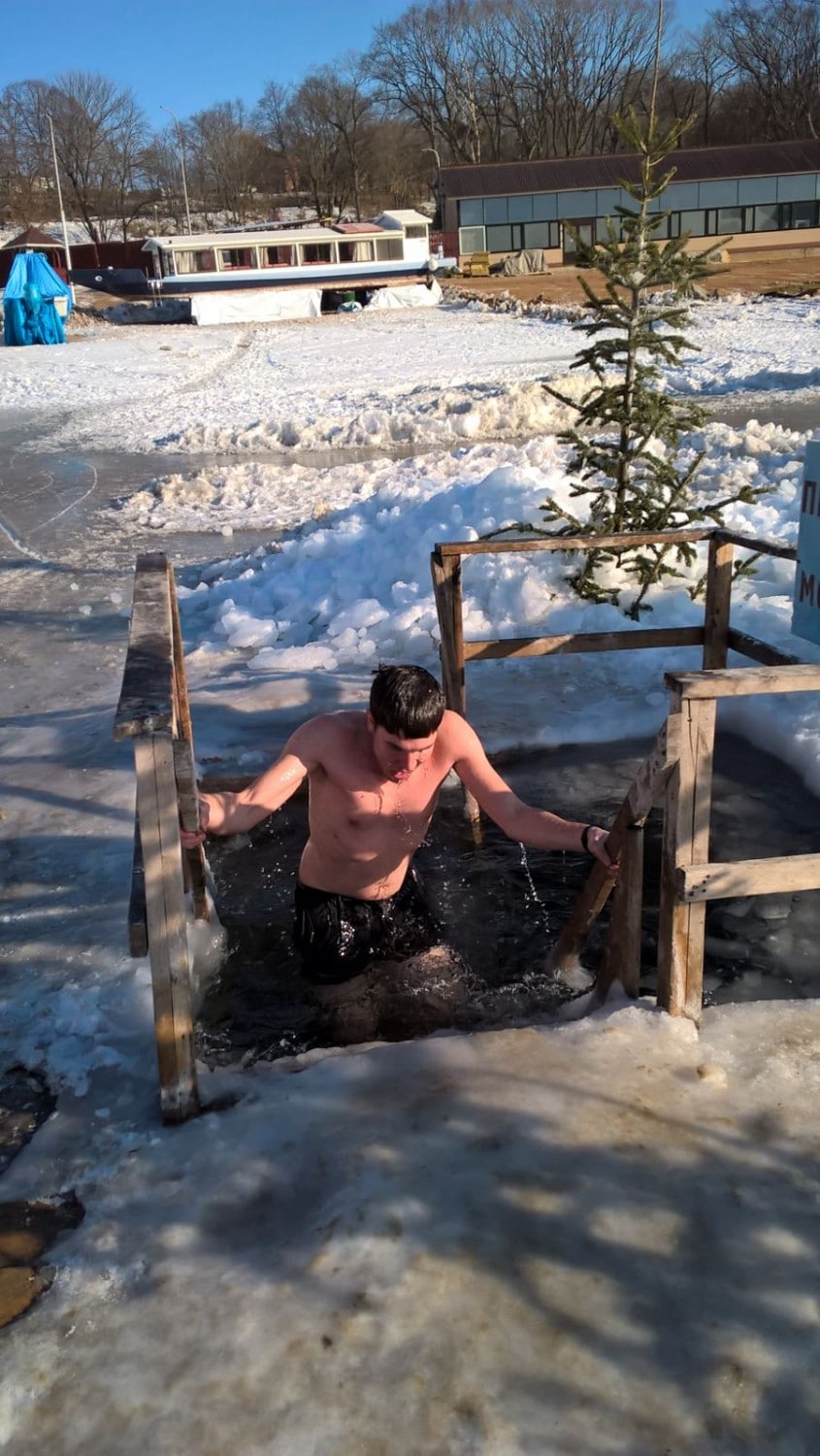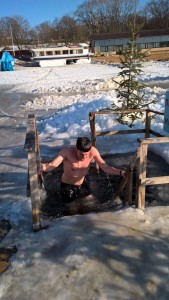 For the record, I did not get to do this. But it's on the bucket list now.
Ice plunges
During the Russian Orthodox celebration of Epiphany in January, it is traditional that people go to be baptized each year. Sadly, I missed this icy expression of faith, but fortunately, Russians still enjoy partaking of that invigorating dip, sans the religious pretext. A change of clothes and a nearby changing room are strongly recommended from my point of view.
So how was it? Honestly, it was not as life-numbingly cold as I expected. Don't get me wrong though, it still takes a reasonable degree of mental fortitude to follow through. Commitment is key.  I waded into the pool and took three full submersions. As I got out of the pool into what felt like balmy 14°F weather, my friend Sasha remarked with a chuckle, "This is our Russian entertainment."
That wraps up a few of the experiences I've had since my return, and looking forward to seeing what else the winter has to offer in the weeks ahead. For now, it's great to be back in Vladivostok, reconnecting with friends and gearing up for the new semester.