How to Survive as a Vegetarian in Irkutsk
By Lacey Reimer
I knew that being a vegetarian studying abroad in Irkutsk would not be easy. Most Russian dishes are filled with chicken, beef, and/or fish. Although I was a little upset that I would not be able to enjoy some of the more traditional Russian foods, such as caviar, meat-filled pelmeni, and plov, I was not going to give up seven years of being a vegetarian for my three-month term abroad. Accordingly, I knew I would have a challenge ahead of me for finding the most delicious, authentic, and (maybe) healthiest meatless foods in Irkutsk! To my surprise, it was not nearly as difficult as I thought it would be to be meat-free in the city. I was lucky to find several different restaurants that catered to my needs, and I even found peanut butter, a rarity in Russia, at a local Alye Parusa, a chain of French grocery stores, at ул. Карла Мяркса, 14 not far from the Irkutsk Okhlopkov Drama Theatre. This added another source of protein to my diet.
In addition, I had really positive experiences at three restaurants in particular:
Govinda (ул. Фурье, 4), is an Indian, 100% vegetarian eatery. I tried their cauliflower, mixed vegetables, spinach and cheese piroshky, and a vegetable patty that tasted like a vegetable potato pancake. All of the dishes were absolutely fantastic and the food was very fairly priced. Read more about Govinda on this site!
Kabuki (ул. Советская, 130) is a Japanese place I went to. Its vegetarian options were relatively extensive. I enjoyed cucumber rolls, miso soup, and white rice. Another satisfying option was avocado rolls.
Kochevnik (ул. Горького, 19) is a Mongolian restaurant, which, to my surprise, had numerous meatless dishes that I could choose from. My friend and I split vegetable buuz, which is a traditional Mongolian dumpling, a vegetable noodle dish, and a vegetable patty.
For more vegetarian cafes in Irkutsk, click here! For more general information on being vegetarian in Russia, see this article by a vegetarian in Moscow.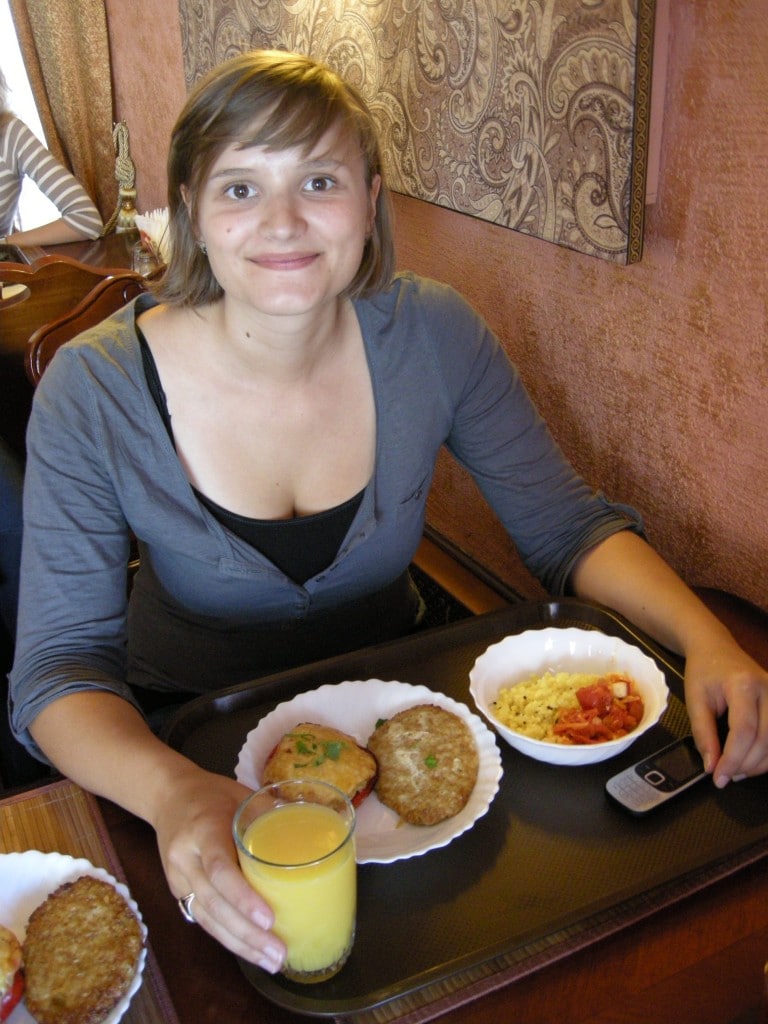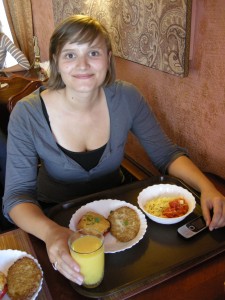 In addition, the host family that I am staying with was very accommodating, and found dishes to serve me that were more than just carbs (which is all I really expected that I would be given). During my time in Irkutsk, my host mother made me:
Soy products, such as soy chicken, which can be purchased at the Chinese Market, in the city center of Irkutsk
Lots of dishes with kidney beans
Different vegetables (mushrooms, carrots, cucumbers, etc.)
Eggs (scrambled, hard boiled)
Moreover, I thought it would be interesting to find out how local Russian vegetarians like to eat in Irkutsk. During my time in Irkutsk, the topic of vegetarianism came up frequently enough that I started to get to know my fellow vegetarians in Siberia. Accordingly, I asked them what their typical and favorite meals are, and a couple of the responses I got included:
"I think my favorite restaurant dishes in Irkutsk are any form of vegetables—steamed, fried, or boiled. We have a vegetarian café called Govinda, where I love to go. This café has many delicious and unusual dishes. I love sweets, like chocolate and cakes. I also love fruit! I have a lot of fruit. Typically, I eat cereal, lots of fruit, and chocolate," -Sasha
 "Sweet potatoes, masala, rice, and cheesecake," –Maxim

Sweet potatoes and masala can both be purchased at many "western-style" supermarkets in Irkutsk, see Alye Parusa at ул. Карла Мяркса, 14, for example.
All in all, I had a really positive experience as a vegetarian in Siberia. Though I was not able to eat my typical American diet of tofu and veggie burgers while I was in Irkutsk, I was able to try new foods, realize I could survive as a non-meat-eater in a foreign culture, and even find some dishes I could bring back with me to the United States! This was a delightful surprise, and definitely made my term abroad in Irkutsk that much better!