Holly McMurtry was a bit of a pioneer for SRAS: she was the first SRAS student to attend our Nizhny Novgorod program. That was in 2001. Since then, she has written a master's thesis in Russian, presented papers in Russia, and will soon be working as a linguist.
Holly recently shared some thoughts with us about studying, researching, and living in a "smaller" Russian city.
SRAS: You first went to Russia when you were fifteen. Do you remember your first impressions of the country?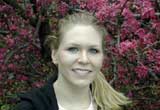 Holly: My first trip to Russia was in the summer of 1995, with my dad. I remember the exact moment when I realized we were flying over the country. I looked out the plane window and was so shocked that there was green grass and blue water down there. I guess I expected everything to be gray. That was my first major impression of the country. My other major impression was of the people I met. They were so warm and open-hearted. Even though I couldn't communicate with most of them, they would do everything possible to communicate with me and make me comfortable. I just fell in love with them and they are what kept me coming back. Or maybe it was the chocolate?
SRAS: You have been to Russia several times since that first visit. How have your impressions changed? Or have they?
Holly: I would say that my impressions have definitely changed. I was so wide-eyed and innocent on my first two trips and knew nothing of Russia other than what I had experienced, that I know I didn't even begin to comprehend what Russia was and what it meant to live in Russia. When I moved to Russia, I was immediately thrown into "the Russian reality," as one of my Russian friends likes to say, as I only knew about 15 Russian words. Even though I was sheltered from a lot of that reality because I had the money to live in a way that most Russians can't afford, I still got a good dose of that reality too. I fought my way with everybody else onto the marshrutkas everyday to and from the university; I stood in long lines at the grocery store and somehow managed to communicate with the store clerks; I went to the markets just like everybody else; I had to learn to cook and clean all over again po-russki because my khozaika (hostess) didn't like the way I cooked and cleaned po-amerikanski (she was particularly surprised that I didn't know how to slice bread properly); I had to learn to hand wash my clothes. So, I very quickly came to understand the Russian way of life in practical sense. I also began to understand the Russian people and the Russian way of viewing the world much better through extended conversations with my khozaika, my teachers at the university, and my Russian friends. They were able to show me a Russia that very few foreigners come to understand. I'm not even sure that I can describe it in words other than that they gave me a window onto the struggle for physical and emotional survival that most Russians experience everyday. So, yes, my impressions have changed in that I understand a great deal more about Russia and her people and in that understanding have gained a new and much deeper appreciation for them.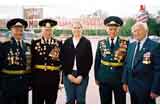 SRAS: When you traveled with SRAS, you chose to attend Nizhny Novgorod State Linguistic University, in a city not often visited by western students. Why did you choose this university?
Holly: I chose this university because, not knowing the language, the idea of living in Moscow or St. Petersburg was very intimidating. I wanted to attend school in a smaller city where I felt I could better orient myself. My dad travels to Russia quite frequently including to Nizhny and he had heard of the university's excellent reputation, plus, we already had contacts in the area who could help me get settled and keep tabs on me.
SRAS: Do you think that Nizhny Novgorod provided you with opportunities you would not have had in, say, Moscow or St. Petersburg?
Holly: The best opportunity that Nizhny provided me was the opportunity to get to know Russia outside of a metropolitan area. Of course, there isn't nearly as much "to do" in Nizhny and it isn't nearly as westernized as Moscow and St. Petersburg, but I think that is one of its advantages. Moscow and St. Petersburg provide foreigners with all kinds of ways to live an American or Western European lifestyle. For instance, when I lived in Moscow, I was constantly going to movies in English and often frequented American restaurants, etc. I couldn't do that in Nizhny because there were no American restaurants (other than McDonald's, of course) and there was only one very hard-to-get-to hole-in-the-wall movie theater that showed movies in the original language. So, I couldn't escape from Russia. If I wanted to see a movie, I had to see it in Russian. If I wanted to go out to eat, I had to learn what the stuff on the menu was and how to order it in Russian. It was great for my language and cultural skills. It was definitely the right choice for me because I think that I wouldn't have practiced my Russian if I had first gone to Moscow or St. Petersburg, knowing that I could fall back on my English almost anywhere and anytime.
SRAS: You recently presented a paper on Russian artist Nicholas Roerich at the International Centre for the Roerichs in Moscow. What attracted you to research this particular artist?
Holly: That is a long story. I first learned about Nicholas Roerich when I lived in Nizhny. My teacher knew that I was interested in art history so we had talked about several Russian artists, including Roerich, as part of our class material. On my last day of class she took me to the city's art museum as a culmination to these discussions. It was there that I saw my first Roerich paintings. They have several of his works that he gave to his friend Maxim Gorky who then bequeathed them to the city. These particular paintings are from Roerich's series "Maitreya." I was completely taken with the vibrant colors and unusual style of the paintings. After I got home from Nizhny I attended my first summer session at Middlebury College's language school in Vermont. We were required to give a short presentation on a Russian artist for class and I chose Roerich. That is when I began to research him as an artist. When I moved to Moscow that next fall, I visited the Nicholas Roerich Musuem, which is part of the International Centre for the Roerichs. I found his paintings from his Russian period to be fascinating and bought a book on Russian Orthodox themes in his works. I read this book thinking about possible topics for my Masters thesis and when I read about his series "Sancta," I knew that I wanted to research it more in depth. That is how it all began.
SRAS: What challenges did you face in researching that thesis?
Holly: The biggest challenge I faced in researching my thesis was just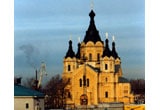 trying to find material on Roerich. The museum was great in that aspect because even if a book was out of print, somebody who worked there had it and loaned it to me. The other challenge I faced was putting my foreign Russian into intelligible Russian. My contact at the museum and I spent many hours discussing my ideas and what exactly I wanted to say and then trying to figure out how to say it in Russian.
SRAS: What has been, so far, your most memorable experience in Russia?
Holly: I have had so many memorable experiences that it is hard to pick one. I will say that the following is one of my favorites. My roommate and I went down to Volgograd for the May 9th holiday this past spring. We spent the first day sightseeing and went up to Mamaev Kurgan to see the statue and then went to the war museum. Afterwards we walked around downtown enjoying the warm weather and watched all of the veterans walking around proudly displaying their medals. We stopped and talked to four veterans from the Ukraine who were there together at the Battle for Stalingrad. They told us all kinds of stories and even tried to pick us up for their grandsons back home. The next day, May 9th, we got down to the parade square early in order to get a good spot. I don't think I've ever felt such an atmosphere of excitement like I felt that day. We watched the parade as the commander greeted and congratulated every military division there and then watched as the division marched past the VIP stand. It was an awesome experience that was topped off by a mini-concert from a folk group that included spontaneous dancing from onlookers. What were particularly memorable from that trip were the faces of veterans that had returned to remember and to celebrate. I payed careful attention to their facial expressions, body language, and tears. Those faces are now engrained in my memory forever.
SRAS: Do you think your time in Russia has better prepared you for your future plans?
Holly: My time in Russia did indeed better prepare me for my future plans. But, it did more than give me a career as a Russian linguist. My time in Russia taught me to see the world in a different light; it taught me to see myself in a different light. I came into my own when I was in Russia because I found out what I am made of. I now know that I can handle just about anything, I know how to roll with the punches, I know how to be flexible, and I know not to take myself too seriously. All of this I learned in Russia and these lessons will definitely benefit me as I go through life.
SRAS: Anything you would add for students looking to Russia, and especially to Nizhny Novgorod for opportunity?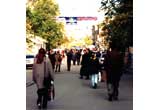 Holly: Oy! My advice to students who have never studied in Russia before is to go to a smaller city, unless they are already a big-city person. As I said before, a smaller city provides a better opportunity to focus on the language and the culture. However, if a student can handle the big-city, they should definitely spend time in Moscow and St. Petersburg. Other than that, I would tell somebody to take every opportunity to see as much of the country as possible: take the bus or the train to cities close to where they are, or get on a plane and go down south to Sochi or Volgograd, or better yet take the Trans-Siberian for a few weeks cross-country. They will probably never get another chance like it.
As far as concerns Nizhny in particular, the people at the Linguistics University are great and very helpful. Don't be afraid to ask questions. They can help from everything to finding an apartment to getting tickets to the opera. If a student likes to go out at night and stay out, they should try to find a place to live downtown because public transportation shuts down pretty early in Nizhny. I chose to live in the suburbs and really loved it there because it was quiet and there was a park next door to my building and all of the stores were really close.