Upon my arrival to St Petersburg, Russia in September I was fully aware that I would be spending the holidays in a foreign country. This was because roundtrip flights back to North America are expensive, especially during the holiday season. The only reassuring thing about being away from my family in Canada during the holidays was that I knew I would have over a month long break between semesters that would allow me to travel within Russia, which was something I was looking forward to.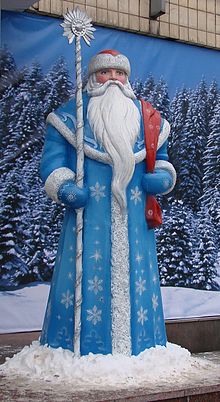 In Russia, the holiday season starts on New Year's and runs through the first week or more of January. Since the Russian Orthodox Church follows the Julian calendar, the birth of Jesus Christ falls on the day we call January 7 by our Gregorian calendars (the Julian is two weeks ahead of the Gregorian). This means that unlike in my native Canada, where things close on December 24 and remain closed until the shopping spree that is Boxing Day (the day after Christmas), everything is open in Russia until New Year's Eve.
In Russia, celebrating the New Year is far more important than Christmas. Although some Russians go to clubs or major public squares to ring in the New Year, most do this at home with family. Typically, a family gathers for a large meal and watches the clock strike midnight on Red Square on the television. It is also on New Year's Eve that Ded Moroz (Russia's version of Santa Claus) delivers gifts to children.
Christmas is a purely religious holiday in Russia. Traditionally, Russians celebrate Christmas Eve with a feast that consists of 12 dishes to represent the 12 disciples of Jesus. This is followed with either prayers or a trip to a late service at church (typically beginning at midnight). However, most Russians, while identifying as Russian Orthodox, don't directly celebrate the holiday – although it is still usually a day off because of the extended New Year's holiday that give Russians an extended vacation of usually 9-11 days.
While there are differences in dates in the Russian and North American traditions, the spirit and the joyful feelings associated with the holiday season are the same. Although I was in a foreign country, I felt no shortage of the Christmas Spirit. In St Petersburg it was as if overnight that the city transitions from a city suffering through winter into a winter wonderland. In early December, lights are hung overnight all over St Petersburg. This made the city feel a lot like home. Furthermore, restaurants, universities, hotels, and shopping malls also embrace the holiday spirit with large decorated Christmas trees, lights, and ornaments.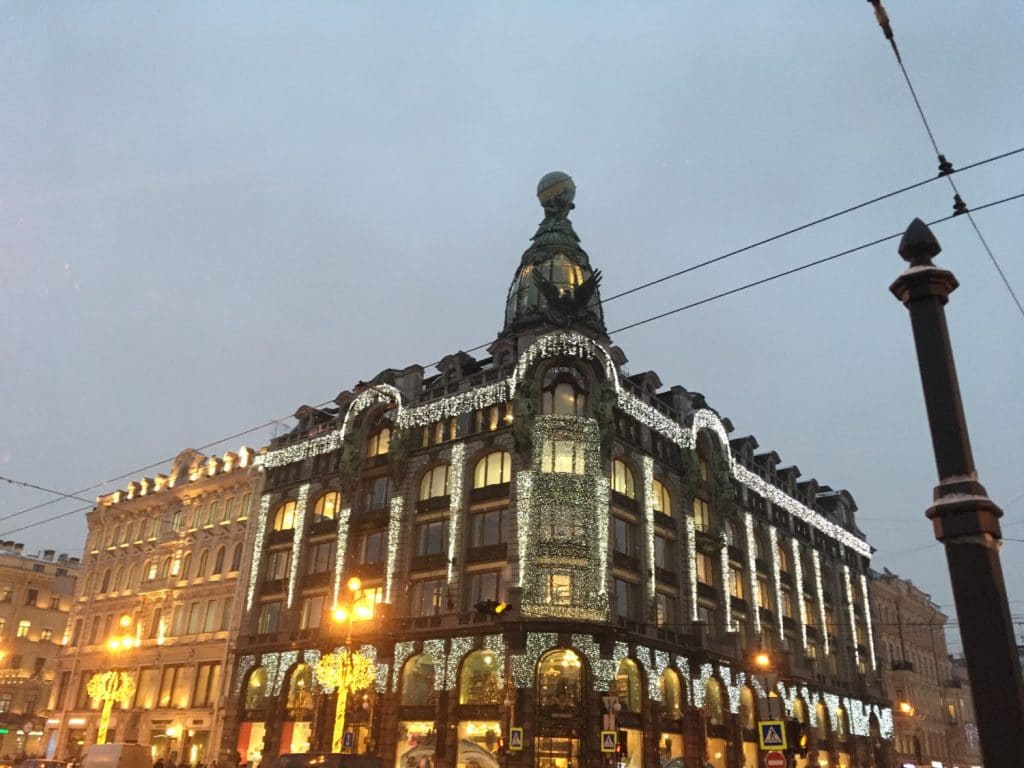 On December 25, I was in Irkutsk, as I had already completed the university semester and had begun my travels. As the city is geographically far from Europe, I thought perhaps the spirit would be different. It was not. Upon arrival to our Airbnb I noticed a variety of Christmas decorations all over the apartment and a small Christmas tree in the living room. Our host wished us a happy holiday as she handed us the keys and gave us recommendations. On December 25, I went on a tour of Lake Baikal and upon entering the car the tour guide wished us a Merry Christmas in English. That night when I ate out at a restaurant I could not help but notice the Christmas lights hanging around us and the Western Christmas music playing in the background.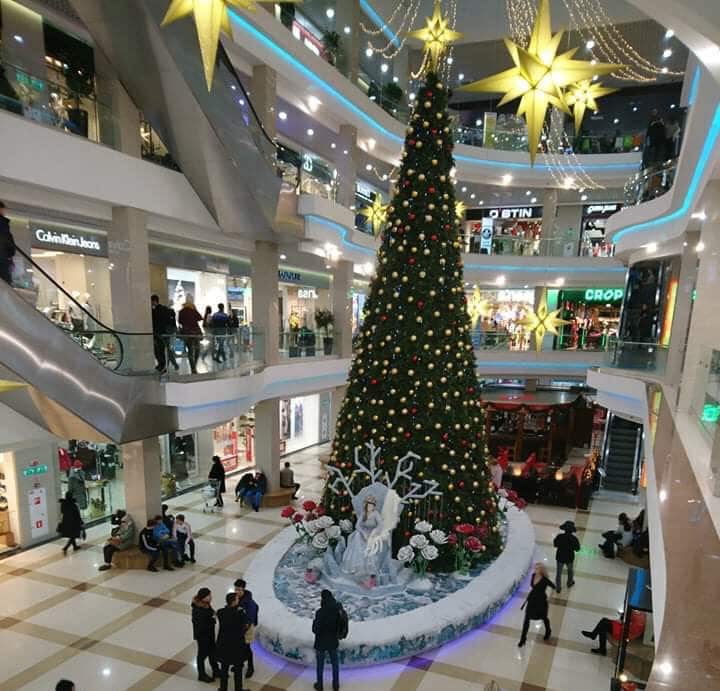 I celebrated New Year's in St. Petersburg and could not help but notice how the city came alive. There were people everywhere celebrating and it made you feel a part of the city's community. Every step you took Russians were screaming "С новым годом" (Happy New Year). I spent the holiday with friends in the dormitory where we cooked, watched Putin's annual speech, the clock strike midnight in Moscow, and then visited Palace Square in front of the Hermitage.  On New Year's Eve, the Hermitage is the centre of activity in St Petersburg where you can find music, entertainment, and fireworks. Although it was different from how I would celebrate the New Year at home, it was a welcome change that I will remember for a long time.
If you are celebrating the holidays in Russia you will never feel alone. Russians are incredibly welcoming and always eager to talk to you about the differences in holiday traditions. You will notice that the lights, happiness, and feeling of community that is espoused during Christmas in North America is also in Russia. Do not be afraid to try new things and allow yourself to enjoy and embrace cultural differences!
About the Author
Lucy Harnish has an English Literature degree with a double minor in Russian Culture and History from McGill University in Montreal, Quebec, Canada. Lucy will spend two semesters with SRAS studying Russian as a Second Language in St Petersburg, Russia, partly funded by a Home and Abroad Scholarship. Lucy hopes that by the end of her time in St Petersburg she will be able to reread the works of Turgenev, Dostoyevsky, and Tolstoy in the Russian language. She plans to utilize the experience she gains while studying abroad to pursue a degree in journalism.