The following article originally appeared in Russian on Vegetarianskij.ru. It has been translated and adapted by SRAS for presentation here.
History of Vegetarianism in Russia
The official coming of vegetarianism to Russia was inaugurated with the opening of the first vegetarian society. This was in Saint-Petersburg in the mid-1860s. The society was humorously called "Ни рыба, ни мясо» (Neither Fish Nor Flesh).
The society's perennial chairman was Alexander Petrovich Zelenkov, a surgeon. He served as chairman until his passing in 1914. He had turned to vegetarianism due to health issues, when other methods of treatment proved ineffective. He was also an advocate of homeopathy and campaigned against alcohol use.
In 1913, his wife, Olga Konstantinovna Zelenkova, published Russia's first-ever fully vegetarian cookbook. It was called «Я никого не ем» (I Don't Eat Anybody). The book contained 365 vegetarian meal menus, 1500 recipes in total. It was re-published several times, selling thousands of copies.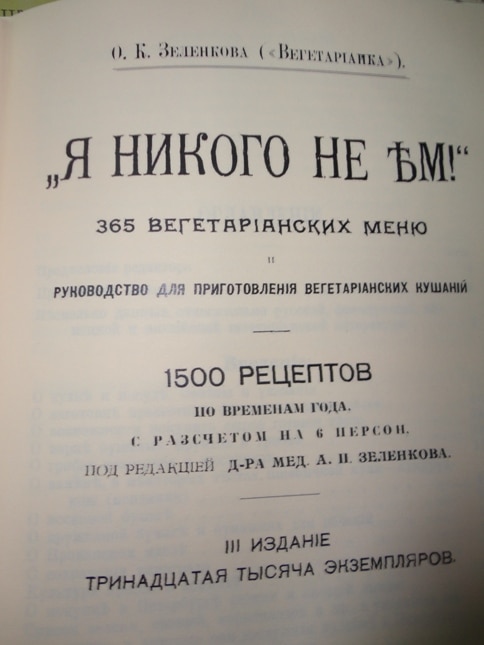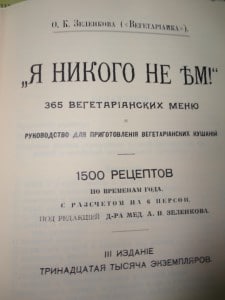 Earlier, in 1902, Zelenkova wrote a book «Нечто о вегетарианстве» (Something about Vegetarianism) that came out in 4 issues/volumes, each is an extensive study on the topic of vegetarianism based on historic records, scientific studies, statements of famous people of different times. It also included an analysis of "Питание человека в его настоящем и будущем" (The Diet of the Individual in Its Present and Future). This treatise was written by Andrey Beketov, a botanist, in August 1878. His modest essay in defense of a vegetarian diet and lifestyle had a significant effect on the society of his time and was eventually translated to many languages.
Formation of "Ethical Vegetarianism" in Russia
While early advocates viewed vegetarianism as an effective method of health improvement, beginning in 1890s, vegetarianism gained a new interpretation. After the publication of «Первая ступень» (The First Step) by Leo Tolstoy, society discovered a deep ethical argument for a vegetarian diet. In 1884, Tolstoy gave up meat and started actively promoting ideals of vegetarianism with special emphasis on its ethical aspects.
Tolstoy's example caught on. The number of vegetarians in Russian began to grow rapidly. Many well-known figures, such as Nikolai Peskov, Ilya Repin, professor Alexander Voeykov, Nikolai Ge, Sergey Esenin, and many others joined the movement. Most of the supporters came from Russian intelligentsia – scientists, doctors, teachers, writers, poets, etc.
Beginning of the XX Century – the Height of Russian Vegetarianism
In 1904, a group of professors, in particular B.A. Dolyachenko, founded the first Russian vegetarian magazine. It was called «Вегетарианский вестник» (Vegetariansky Vestnik/The Vegetarian Herald). It closed only a year and a half later for reasons lost to history, but it provided its readers with 18 substantial volumes.
Later, in 1909, Iosif Perper continued the endeavor, founding and publishing «Вегетарианское обозрение» (The Vegetarian Review / The Vegetarian Journal) in Kiev. That publication ran until 1915.
In 1909, The Moscow Vegetarian Society opened its doors. In April 1913, the First Russian National Conference of Vegetarians took place in Moscow with over 200 participants. One of the questions on the agenda was creation of All-Russian Vegetarian Society. It is no wonder, as at that time vegetarian societies were being created unbelievably fast in many cities of imperial Russia: Warsaw, Kiev, Chișinău (Kishinev), Vilno (Vilnius), Minsk, Saratov, Poltava, Odessa, Rostov-on-Don, Kharkov (Kharkiv), Zhitomir, Ekaterinoslav (now Dnipropetrovsk / Dnepropetrovsk), Ekaterinodar (now Krasnodar), Tumen and more.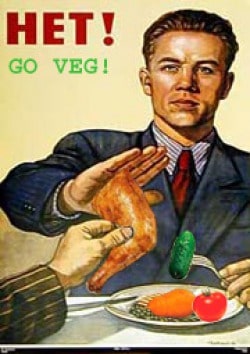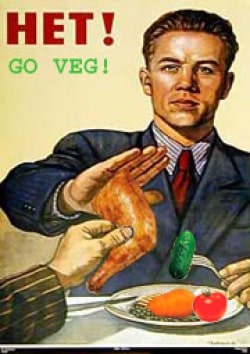 By the end of 1914, the total number of their combined membership equaled approximately 2000 people. With the same speed and enthusiasm pre-war Russia opened vegetarian eateries: in 1904 there were only 10, but by the end of 1914, this number had grown to 73 in 37 cities. Meals in vegetarian cafeterias were cheap and diverse: sausages made with split-peas, potato links, cabbage patties, blini-pies and much more. It was very new, but it was accepted enthusiastically as an original idea.
The War, the Revolution…
The grandiose plans of Russian vegetarians were halted by the war. Many of the plans never came to fruition. In those difficult years supporters of "no-kill" nutrition often became subjects of ridicule and scorn, as many believed this trend to be nearly immoral when people were dying by the thousands and food shortages were common. However, social activists did not give up. They volunteered at army hospitals, provided free meals for the military in their eateries, created infirmaries for army horses.
The Russian Revolution and following Soviet regime, however, closed the chapter on the vegetarian movement's development in Russia. Ideas of "no-kill" vegetarian nutrition were banned (unofficially), many activists of the vegetarian movement (who were mostly members of the intelligencia) were sentenced to long terms of imprisonment, and the term "vegetarian" was removed from dictionaries. Vegetarian societies were shut down in all of the territories of the USSR. The Moscow Vegetarian Society closed in 1929, one of the last to hold out.
In 1961, in the Большая Советская Энциклопедия (Great Soviet Encyclopedia), a massively popular publication at the time, it was printed that: "the ideas of vegetarianism were founded on faulty hypothesis and do not have followers in the Soviet Union."
Only in 1990s, after пересторойка (perestroika), vegetarianism came into public light once again and its ideas reappeared and, over the last 30 years, vegetarian movement has once again been slowly and steadily gaining momentum in Russia.