While there is plenty to do in Bishkek, the main reason many people choose to study there is to experience the breathtaking landscape of Kyrgyzstan's countryside. The SRAS program organizes hiking excursions to Ala-Archa and around Issyk-Kul, but there are also free weekends when you can hike independently to lesser-known areas. My friend Allie and I researched places where we could hike not too far from Bishkek. We found a place on TripAdvisor called Alamedin Gorge. People said it was beautiful and an easier hike than Ala-Archa. No address was provided, and we had difficulty finding the gorge's precise location or any other information about it. Undeterred, we decided to wing it — surely the cab driver would know it. We grabbed another student, Cole, and went to Burrito (about a 15 minute walk south of the school) to get delicious burritos for lunch on our hike. I called a Namba Cab and our adventure began.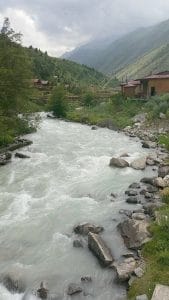 We told the cab driver where we wanted to go with the help of an online translation. He nodded and started driving. He drove north, away from the mountains, and eventually stopped outside a restaurant called Jasmine Café. Befuddled and a little concerned (since we had said neither the word "jasmine" nor "café") we reiterated where we wanted to go. Alamedin popped up as a city north of Bishkek, and a long park ran through it. We assumed that this was the destination we wanted, so we showed him and took off again. We hadn't even left the city when we arrived at what was supposedly the park. There were no mountains and certainly no gorge. The cab driver asked locals where the park was, and they essentially said that there was no park. Frustrated by the difficulty of communicating where we wanted to go, we had the driver drop us off. We were wearing breathable clothes and hiking boots, and were standing in the middle of a sweltering, smelly city. We were not dressed for our present location. We searched online again for Alamedin Gorge. This time when we searched we actually found something about the location. It was located not in Alamedin City, but somewhere near a village called Koy Tash, which was in the south. I called Namba, and, much to our embarrassment, the same cab driver returned.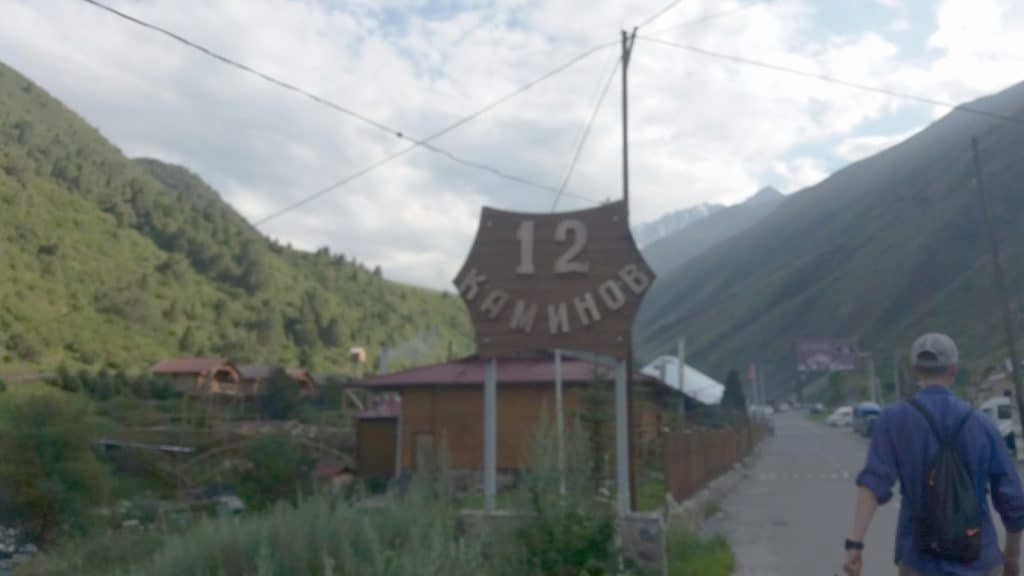 I asked him if he knew where Koy Tash was. He said yes. I asked if he could take us there. He said he could. And so we took off again. This time, we were correctly headed toward the mountains. When we arrived in Koy Tash about half an hour later, our driver asked what we wanted to do there. When I said we wanted to hike, he pointed to the mountains and said he would take us to see some beautiful nature. We drove through and past the village, with no sign of either a gorge or hiking trails. We finally made it into the mountains, and about fifteen minutes later reached a fork in the road. The driver asked me which way we should go, as if I should know. I, horrified, just said "no," so he shrugged and picked a direction.  We ended up next to some kind of resort, and he pulled over. The driver grabbed a guard to speak English with us. We tried to communicate that we wanted to see Alamedin Gorge, but he didn't understand. So we defaulted to simply wanting to hike, because at this point that was all we wanted to do. The guard talked with the driver rapidly, both pointing in various directions. Our driver hopped back in the car, and without a word or look, started off. I looked expectantly, waiting to hear the plan, but received none. Soon we began passing people pulled off on the side of the road enjoying the river. We were getting closer. We came upon a complex, which I later learned was a restaurant called 12 Kaminov, and we finally spotted paths running along the mountainside as well as a bridge to cross the river! We hurriedly asked our driver to stop. He told us he would wait for us because taxis don't go that far from Bishkek, and we took off. This time, when we stepped out of the car, we were appropriately dressed for the location.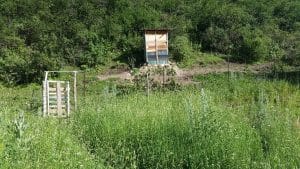 We made our way to a suspension bridge and admired the scenery. The river rushing below was a beautiful blue, and green mountains surrounded us. In the distance to the north we could see dark, snowy peaks. After taking plenty of pictures, we crossed the bridge and went through a gate to a dirt path. We turned right to find more hiking. The area had far more weeds than Ala-Archa or Issyk-Kul, as well as more thorns. We eventually made it to an open slope, where we ate our burritos on a rock next to some cows. Over the next ridge, we found a spring where a family told us we could drink. The water was cold and refreshing, and none of us got sick later. From there, we climbed the next ridge and decided to make it to a low peak. Cole played old country music on his phone, which complemented the serenity of the mountains. We trekked upwards and eventually had to climb. I questioned our ability to make it down, but Allie told me to not think about it and just go. We made it to a nice rock where we could look all around us. It was unbelievably beautiful. After a while (and more selfies), Cole and I began to feel our skin burning. Thus, we began the perilous descent. The dirt was loose, and thorn bushes riddled the mountainside. There were times when I wasn't standing on solid ground, just thorn bushes. The way down was slow, and we emerged with cuts and scratches all over our legs and arms. We looked like we had been attacked by a pack of wild cats, which may have happened had we stayed in Alamedin. The rest of the way down was like a dream and blessedly free of thorns.
As promised, our Namba driver was waiting for us. He had done some hiking himself. The drive back was silent, as we were all exhausted. Before long, we were at the corner where Vefa Shopping Center is located. We tipped our trusty taxi driver and trekked back to the school. To get to 12 Kaminov from Alamedin, it cost us 500 som (about $7). Leaving from the school would have been significantly cheaper; the ride back took  only about half an hour.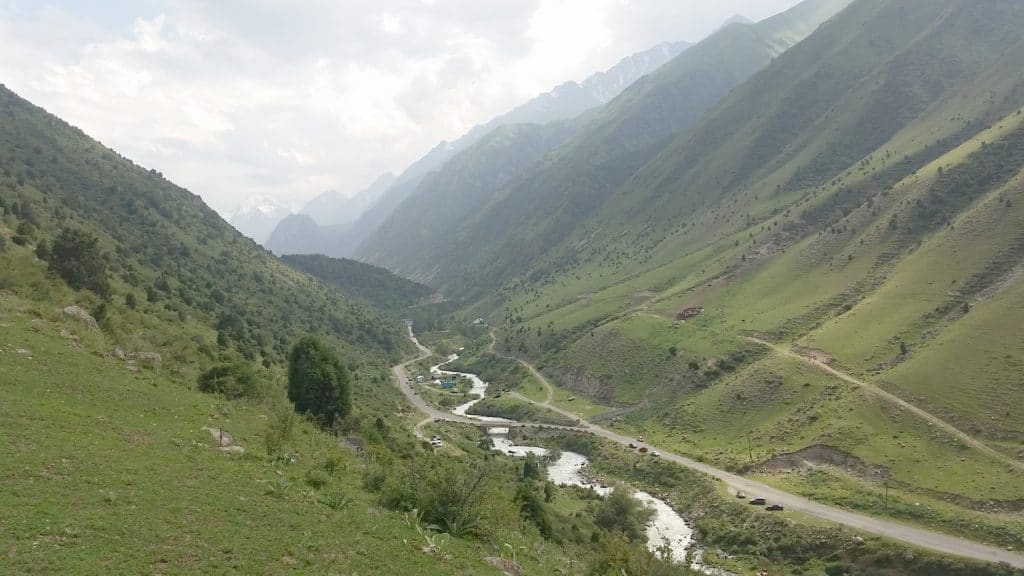 If you'd like to know where Alamedin Gorge is to do some easy, beautiful hiking, I still couldn't tell you. I can tell you, though, that there is some stunning hiking next to the 12 Kaminov. The trails we used were made by cattle, not people, and the only people we ran into were the family at the natural spring. Hiking independently of the program allowed us to fully enjoy ourselves. We took our time exploring, free of any schedule. Our party stopped several times to marvel at our surroundings. It's easy to settle into life in Bishkek and forget what awaits just outside the city. With a little bravery and a patient driver, you can find adventure waiting for you in the mountains a short cab ride away—just make sure you actually drive toward the mountains.