At some point in your SRAS program in St. Petersburg, there will be a trip to the Hermitage. Sergey is the usual tour guide for this trip, and he is full of stories and inside facts that you would have never gotten if you had gone on your own. When you're walking toward the Hermitage you may recognize it easily– it's pretty hard to miss. Whether you cross a bridge, go through a tunnel, or turn a corner, at some point during your time in St. Petersburg, you'll unmistakably run into the big fancy blue building by the water.
A guide is generally recommended, especially on a first visit, as the museum is absolutely huge. There are currently over three million works of art, and the museum is known as the second-largest in the world. With over 400 rooms, all with their own unique and extravagant qualities, just spending five minutes in each one would take up a week of your time! So, it's good to have someone who can help focus your first trip and introduce you to the museum.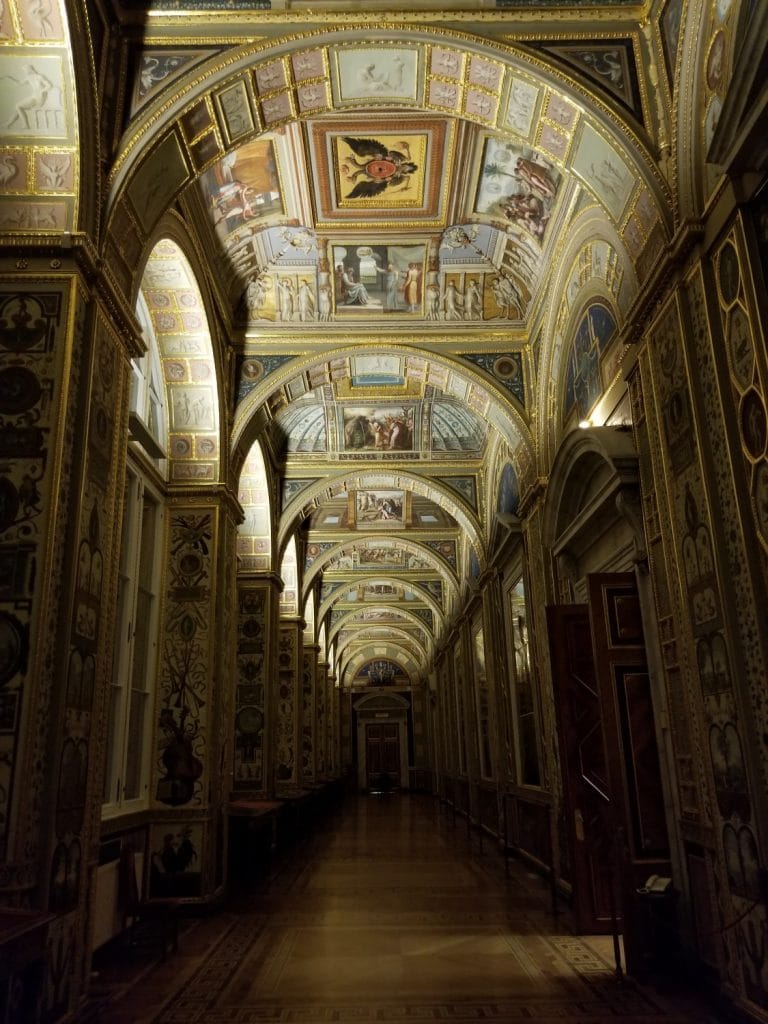 The Hermitage, though, is a unique experience that deserves more than one visit. There is no one specific showstopper that you must visit, but instead numerous significant pieces across walls and halls. Luckily, student admission is free, so you won't hurt your wallet if you decide to take multiple trips. While on tour, your group will be asked for art and history preferences so that Sergey can help you get the most of your experiences.
If you come during colder months, when you enter, be prepared for heat. During winter, the city is known to turn the radiators on full blast! I recommend wearing layers. Decide how many to remove based on your comfort, and any extra sweaters, jackets, or coats, can be easily turned in at the coat check. Just simply walk up to one of the employees, and they'll hand you a tag.  
Just a quick security check or two later and here you are — surrounded by luxury in the form of gilded walls, red carpets, and numerous sculptures of various shapes and sizes. Even the map may leave you confused about where to start because there are so many choices. Maybe you like that and want to get lost, or maybe you think it better to take a step back and decide on a plan of action. There are certainly enough velvet chairs on which to sit and ponder your next move. Big-name artists you can see here include Leonardo Da Vinci, Michelangelo, and Rembrandt, Van Gogh, Matisse, Monet, and Picasso, to name just a few. There is even a mummy with broken legs and one of the biggest vases in the world.
There are both temporary and permanent exhibitions that you can lose yourself in. While you're observing the art, the rooms, and the historical pieces, be sure to keep an eye out for the Hermitage cats, as they do exist. The cats were originally brought in as rodent control, and through the years they have remained within the Hermitage's walls, even though you are quite unlikely to see a rat there today.
An extra bonus if you really enjoy this place is that you can apply to be a volunteer. Just search "Hermitage Volunteer Service" and you can then download the application that can be either emailed or turned in.
The Hermitage has the unique ability to cater to practically any type of art or history lover, so be sure to put it on your list when you're in the city and make sure to take full advantage of Sergy's excellent tour when it is offered!
The State Hermitage Museum
State Hermitage. Russia, 190000, St Petersburg, Dvortsovaya Naberezhnaya (Embankment), 34
Students and children get free admission.
300 Rubles is the cost for only one branch of the Hermitage complex.
700 Rubles includes the Main Museum Complex, the General Staff Building, Winter Palace of Peter the Great, Menshikov Palace, and the Museum of the Imperial Porcelain Factory.
The first Thursday of each month is free, and there is an online ticket option.
Hours are: 10:30-18:00, Wednesdays 10:30-21:00, and Mondays are closed.