Hanuri Restaurant / Ханури ресторан
ул. Батерейная 3а
Hours; 12-Midnight everyday;
meals from 450 rur ($7)
VL.ru/hanuri
With two weeks of the spring semester already behind us, both second semester students and the newly arrived were united in a collective desire to get into the city and relax. Thus, we headed into the center of Vladivostok for an evening meal. Influenced by some of our Korean constituents, we collectively decided to give their ethnic cuisine priority. Having called ahead to assure our group of 10 could be adequately accommodated, we made our way down to a Korean restaurant located in the center of the city.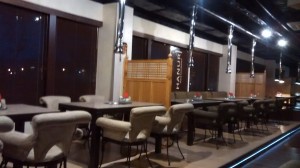 Nestled in between Dinamo Stadium (Стадион Динамо) and a circus-like children's park (детский парк), is a long gray inconspicuous building. It houses office space of a sort, a Royal Burger fast-food outlet and Hanuri – "restaurant of traditional Korean cooking" (ресторан традиционой корейской кухни). While these outer appearances are fairly unflattering, upon entering the second floor establishment, one is met with a clean, peaceful, warm environment. After checking our coats, we were shown to a long table which very comfortably accommodated our large group. After a moment's rest, a five-piece vegetable platter was laid before each of us, accompanied by a cup of a very light traditional Korean tea.
Our Korean friends praised Hanuri's adherence to Korean tradition, though remarked that the spices had been markedly reduced in sympathy with the poorly acclimated Russian palate. This, however, was not the first time I have been so informed by a Korean when dining in a restaurant with roots to their homeland. However, I will also remark that I noticed very few unfinished portions when the dishes were cleared.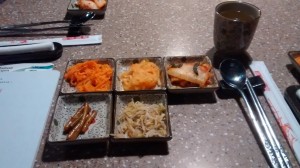 Just a short time later our host returned to take our drink and entrée orders simultaneously, the former of which where brought out a short time afterwards. As it was the birthday of a newly arrived student, we celebrated the event with beer and cocktails. The half-liter («нол пять») of the Korean beer Hait (Хайт) on tap (на разлив) was a popular choice for many at $5 (300 rubles) a glass, while others opted for more exotic concoctions such as the strawberry mojito (мохито клубничный) for $6.50 (390r). While gifts were being presented to the guest of honor at the other end of table, I took a few moments to take in the sparsely populated main room at this early evening hour. Sleekly outfitted with comfort in mind, the wooden floors were lit with soft blue runway lights, while slender ventilation tubes descended from the ceiling over the center of every table. Each one was fitted with a coal-pit in the center for those who wish not to leave the decision of what distinguishes rare from medium-rare up to the discretion of the cook. Light-samba styled covers of Beatles and Rolling Stones songs whispered overhead a hardly noticeable volume.
Having passed enough time to relax with our beverages and largely finish the complimentary starter dishes and tea, our orders arrived all together, some in portions that went around the table a couple of times before being fully consumed. Popular choices were the Gun-Mandu (Гун-манду), spicy fried vegetable dumplings for $6, Tak kejang (таккеджан), spicy chicken soup with vegetables also for $6 (360r) and Dolsot bibimbab (Тольсотбибимпап), mixed rice with beef and vegetables for $7.50 (450r). I myself ordered Hobak chuk (Хобак чук), a sweet pumpkin porridge, for $3.50 (200r). While I would have inverted the excess level of sweetness for the less distinguishable pumpkin flavors, I was presently surprised by the serving size and was satisfied as the spoon hit the bottom of the bowl. With the exception of possibly one or two, most dishes were cleaned with some even tipping back their bowls in the traditional Korean fashion. Taking note of the winding down in dining, our host returned with two pitchers of tea – one filled with the light beverage that accompanied our appetizers, the second filled with a strong cinnamon tea that was a widely approved favorite. The fact that both were complimentary at Hanuri made them all the more quenching.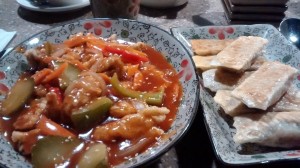 Despite the somewhat bizarre location and exterior, Hanuri was one of my more pleasant experiences with cuisine from the near orient. Considering that our tensome dined with alcohol for what averaged out to be less than $10 a person, I would further add good value to the list of pros already enumerated by good service, large portions, complimentary appetizers and beverages and comfortable atmosphere. Hanuri is a sure recommendation.