Most Russians travel by train, which is not surprising since the train system is quite well developed, comfortable, and can be much less expensive than flying. For those interested in experiencing everyday Russian culture, a train trip is a not-to-be-missed adventure!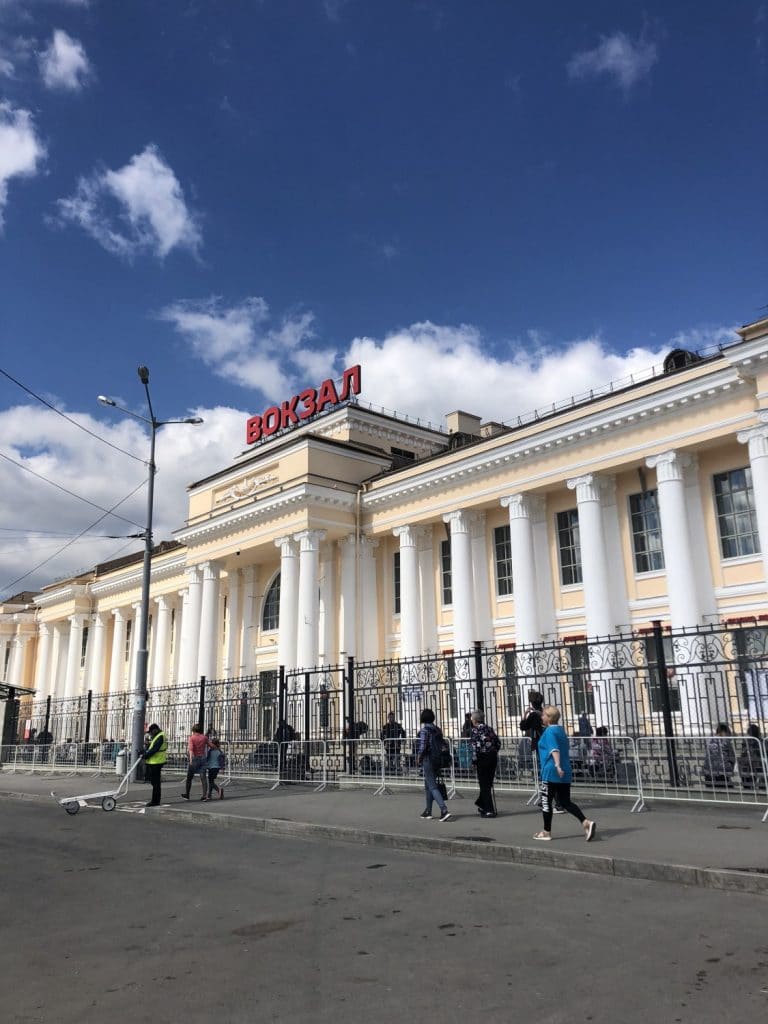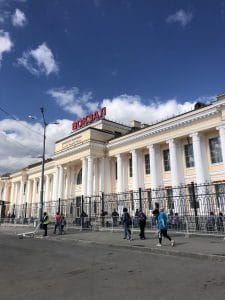 Table of Contents
Finding and Purchasing Tickets
It's better to buy tickets as early as possible because they get more expensive as time goes on. Please note as well that all prices are one way and you must purchase two tickets separately. The Russian train system no longer offers student discounts.
There are two options to buy tickets: online, and at the station. Online is usually the easiest because you can do it in advance, buy straight from the rail company, and they have their website in English.
If you buy online, tickets, you will receive an electronic ticket. We recommend that you print this ticket, just in case there are any questions – but usually you can just show up with your passport once the electronic ticket is purchased.


There will be some ticket/train options to choose from
There are often high speed trains and regular trains. Traveling high speed will generally save you some time overall, but usually during the day. Taking a regular overnight train can be handy to, first, possibly save you a hotel stay, but also because this can put you with regular Russians in a conversation-friendly atmosphere.
"Services" are sometimes included in the ticket price and sometimes not. These generally refer to costs for sheets and hand towels on overnight trains. If not included, there will be a charge of around 200 RUR or so to get them once aboard, but it recommended that you get them when getting your ticket.
Your biggest decision will be between kupe tickets (купе—"compartment"), which will provide you a bed in a closed compartment with three other passengers, and platskart tickets (плацкарт—"economy class") provide you a bed in an open carriage with about forty other passengers. Each option entails its own advantages and disadvantages.
Kupe is often a quieter, more comfortable place to eat and sleep, with less likelihood of having to listen to an all-night party. If choose kupe, and get placed in a compartment where you don't feel comfortable with your cabin-mates for any reason, tell one of the train officials and they will most likely try to find you a new place. Also, sometimes trains have kupes specifically for women, and in this case you can be sure that all of yourkupe-mates are women. Ask when buying your tickets if this is something that interests you.
Platskart is generally for those who prefer adventure (and cost savings) than comfort. It is often also preferred by women when there is not a female-only kupe, as platskart is an open space and thus prevents one from being in a closed compartment with three strange men. However, with up to about 40 people in one space, even though the lights get turned off around 11, many people will stay up hanging out and playing cards.
Entering/Exiting Russia by Train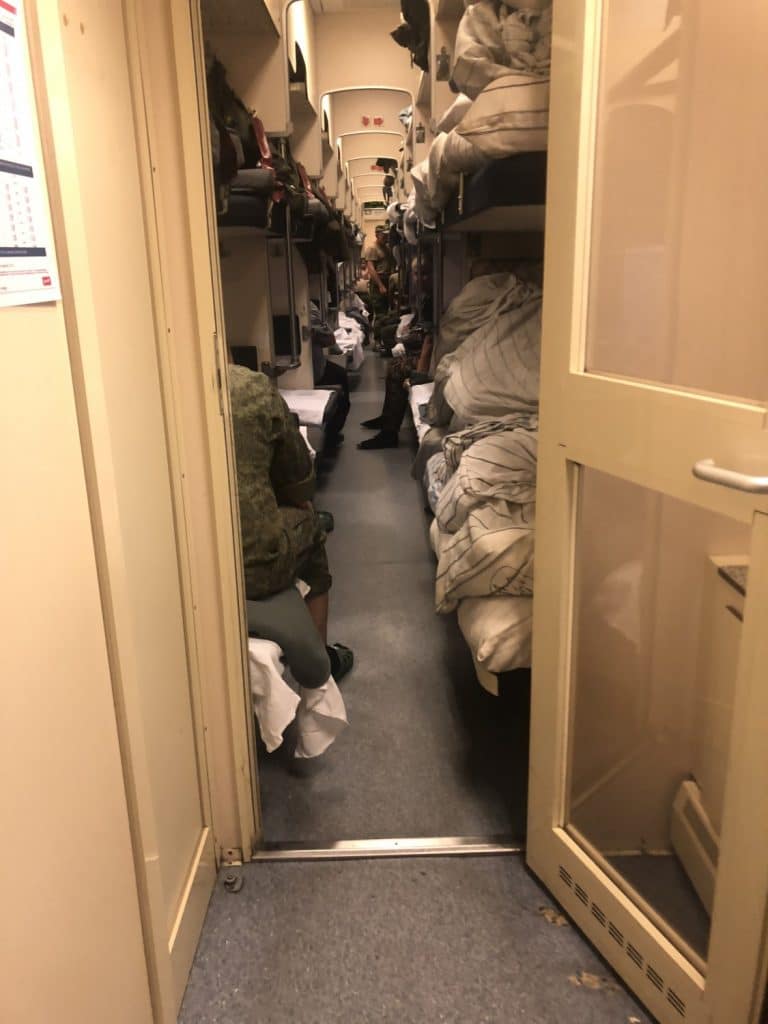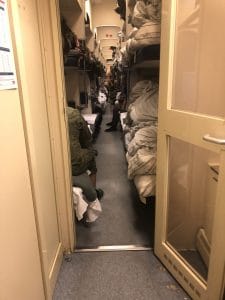 The platskart wagon – beds and people everywhere!If you cross an international border, you will need to prepare for this. For those on our programs, SRAS requires that you read our Visa Information page before departing your home country so that you understand your legal obligations concerning your visit to Russia.
At the border, face a long process where 3-4 different officials will go through each cabin checking passports, luggage, looking around for contraband, illegal immigrants, etc. The border guard will take your passport (where the visa is glued in) and your migration card. Usually they leave for a time, then return with both documents stamped and return them to you.
There can occasionally be some unpredictable moments on the train and it seems at times that each border control station has its own understanding of various points of the law. Also, for those entering via Europe with single-entry visas, do not plan on stopping in Kaliningrad on your way to "mainland" Russia. Your entry into Kaliningrad will use up your only entry visa and you will not be able to enter again.
If you will be entering Russia with more than $10,000 in cash or goods, you will need to declare these to customs. SRAS highly discourages traveling with items of such value. If you need to do this for some reason and are on an SRAS program, consult your SRAS representative first.
Packing and Preparation
While there are theoretical weight limits for luggage, the real limit is if your luggage will fit in your assigned space. Generally, you should pack for the train as light as possible. Especially if you are only going for a weekend, take a backpack and save yourself some hassle.
Newer trains will have luggage compartments below the bottom bunk and above the top bunk, giving each person about 3 feet by 6 feet of space to store their items. Older trains have luggage only below the bottom bunk –meaning that you'll be sharing the space with someone else.
If you need additional luggage space, a luggage carriage is available on most Trans-Siberian trains (and many other long-distance trains). However, you cannot book space there in advance. You must come to the train station early to book and pay for extra luggage space.
Some things you may want with you on the train:
"Tapochki" (slip-on sandals or good, rubber-bottomed slippers). This is a must if you will be on the train longer than one night. Make sure they are waterproof on the bottom as you will want to have them on in the bathrooms as well, which can get wet).
Toilet paper/Kleenex/napkins. Most of the train restrooms have TP, but seeing them run out is still not uncommon. You may still have to buy sections of TP in some train stations as well as you walk in. It is also not uncommon for provided TP to be of quite low quality.
Hand wipes/sanitary towels, especially for a quick DIY "shower"
Loose, comfortable, layered clothes. Trains tend to be hot and stuffy or really cold, so pack accordingly.
Money belt/fanny pack. Keep all valuables—money, credit cards, passport, and visa—on you at all time to prevent any debacles.
Bottled water (to drink and brush your teeth with).
Tea bags and/or instant coffee mix. There is a large samovar in every wagon, so no need to buy a cup of tea or coffee on the train when you can prepare it yourself for free. The provodniks will also give you a cup and a spoon if you ask.
Silverware
Food that keeps well. For example: sausage, bread, instant mashed potatoes, instant noodle cups, crackers, cookies, and/or candy. Anything instant that only needs hot water is good. No need to overdo it, though. If you are friendly, we guarantee that your kupe– or platskart-mates will be trying to feed you as much as possible—regardless of whether you brought your own food or not. If possible, bring something native to your home country. Russians are fascinated by peanut butter and peanut butter cups, for instance, and anything that is local to your area of America.
A couple of bags for trash
Chargers. Older trains have outlets in the corridors of each wagon, newer trains have them above each bed. So you can charge your phone or camera on the train – but don't let the phone or camera out of your sight while you do so! Trains are public spaces.
Also use your phone for:
o Pictures of home. Russians love to see these!
o Notebook/address book for contact info of new friends
o Pocket dictionary. (You will probably learn some new words talking to people!)
Cell reception can be spotty on trains, particularly for Internet access.
The Station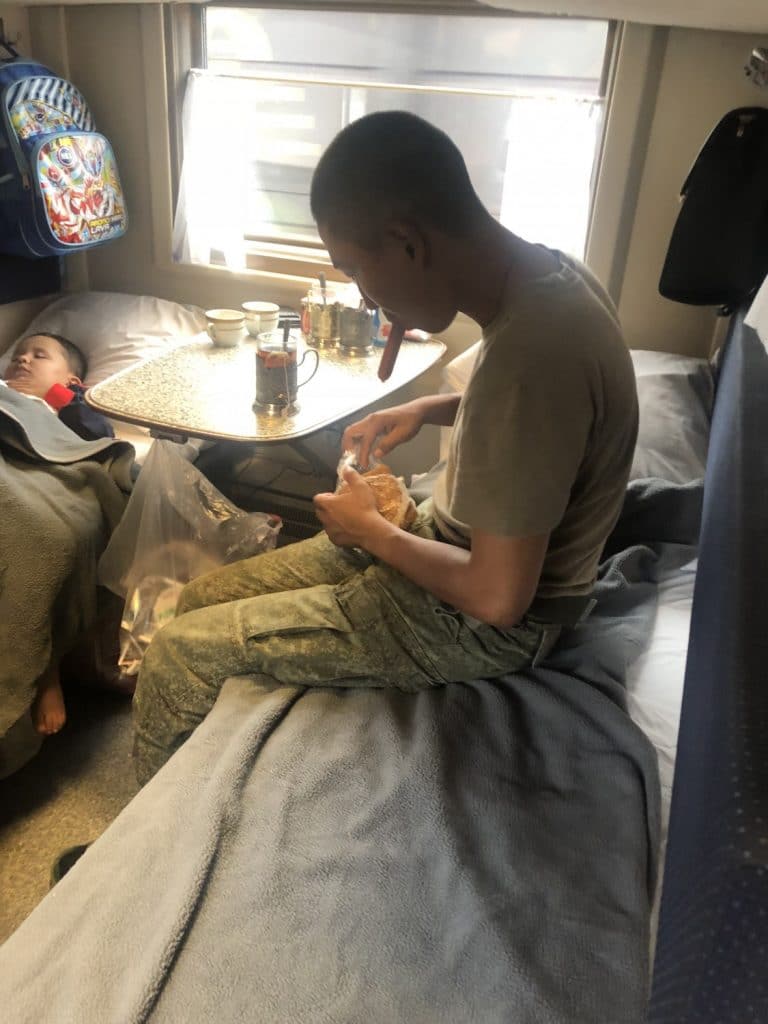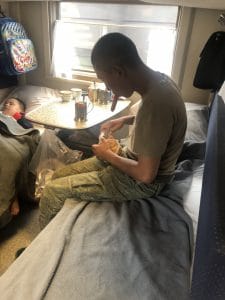 Make sure you understand your tickets and know what station you will be leaving from (larger cities often have a few!). Also, make sure you look for the long-distance train timetable and not the prigorodni (commuter rail) schedule. These will usually be in separate parts of the station. Timetables will indicate train number, destination, scheduled departure time, actual departure time, and track number.
At each track, there will also be a sign with the train number, time of departure, and destination. Be aware of arrival and departure delays or last minute track number changes. Although any delays or last minute changes are announced, they are usually announced only in Russian. If you do not understand the announcements or feel uncertain about anything, address the Spravochnaya (Information) window, usually in the main hall. You may find that they also only speak Russian, but just show them your ticket and they will point you in the right direction. You can also try asking other travelers.
When looking for your wagon, look for numbers that are on a white sign in the window near the door of each wagon. Don't be alarmed if train cars don't appear to be in order. This is common. Ask the provodnik (wagon attendant) in front of each wagon if you don't know where to go.
When you find your wagon, hand the provodnik your passport (and ticket if you have it printed or on your phone). They will check the information on their phone/tablet and direct you where to go. If you have an actual ticket, they might take it then, or once you are already on the train. When everything has been checked and confirmed, head onto the train!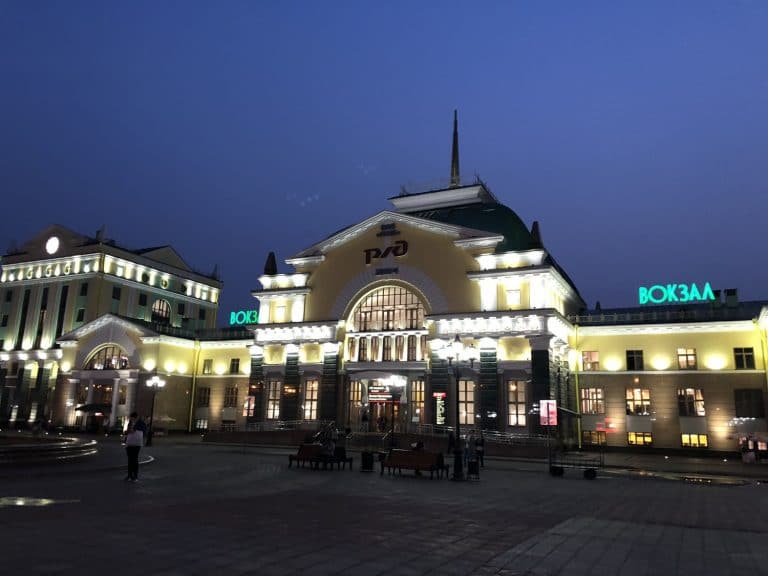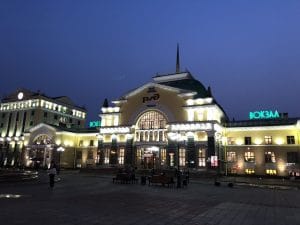 The Train
The ticket lady will come around to re-inspect traveler's information early on. For overnight trains, there will also be someone that comes by with sheets and hand towels. If you have a ticket "services" are not included in the ticket price – for which there is usually a charge of around 100-200 RUR or so. Always opt in for the sheets because otherwise you will be stuck either sleeping with someone's old sheets, or sleeping on the same mattress and pillow that everyone uses without anything.
Many Russians will change into tracksuits or shorts and tapochki (slippers). You may be asked to step out of the cabin for a minute to allow people to change if on kupe, or just head to the bathroom to change there (but try not to take too long). You will only need this one outfit for the train, most people sleep and spend their days in this outfit on long distance trains; fashion is not a concern on trains.
There are only two toilets per 35-40 people (second class) and for 18 people (1st class). Mornings and evenings there are lines. Especially in the morning, passengers can take a remarkable amount of time in a space you personally wouldn't want to spend more than necessary in. There is usually always toilet paper and paper towels, but if not, just tell the provodnik, and they will put some in. The bathrooms are also usually clean, but of course with 40 people using them, they can get dirty. Do not forget your tapochiki there as well. Bringing bottled water to brush your teeth with is a good idea.
Vendors will usually come by at least once selling drinks, chips, peanuts, etc. Tea and coffee are almost always available, just ask (and pay) the provodnik (wagon attendant). There is also a large hot water boiler on each wagon for free hot water if you ask. On long-distance trains you will stop for 15-45 minutes at some stations and passengers will disembark to stretch and buy food from the babushki that make extra money selling baked goods there. Often these are quite good, but the quality can be questionable at times. Stick with non-meat/non-dairy options; cabbage and potato piroshky are usually a good bet! Lastly, your traveling companions may offer you food – it is impolite not to at least try what you are offered, and you should preferably have something to offer in return (bringing fruit or candy is recommended for the socialable!)
Always keep your valuables with you. It's best to take your purse/wallet/phone with you when you leave the bed area, and also to put them under your pillow when you sleep.
Note that the provodnik will make every effort to wake people up an hour before arrival, but make sure to set a quiet alarm anyways. There will be a line for the toilet in the morning and, if you are on a train that still has an older style bathroom (not the bio-toilet), the toilet is locked about 15-20 minutes before stops.
Personal Suggestions from Students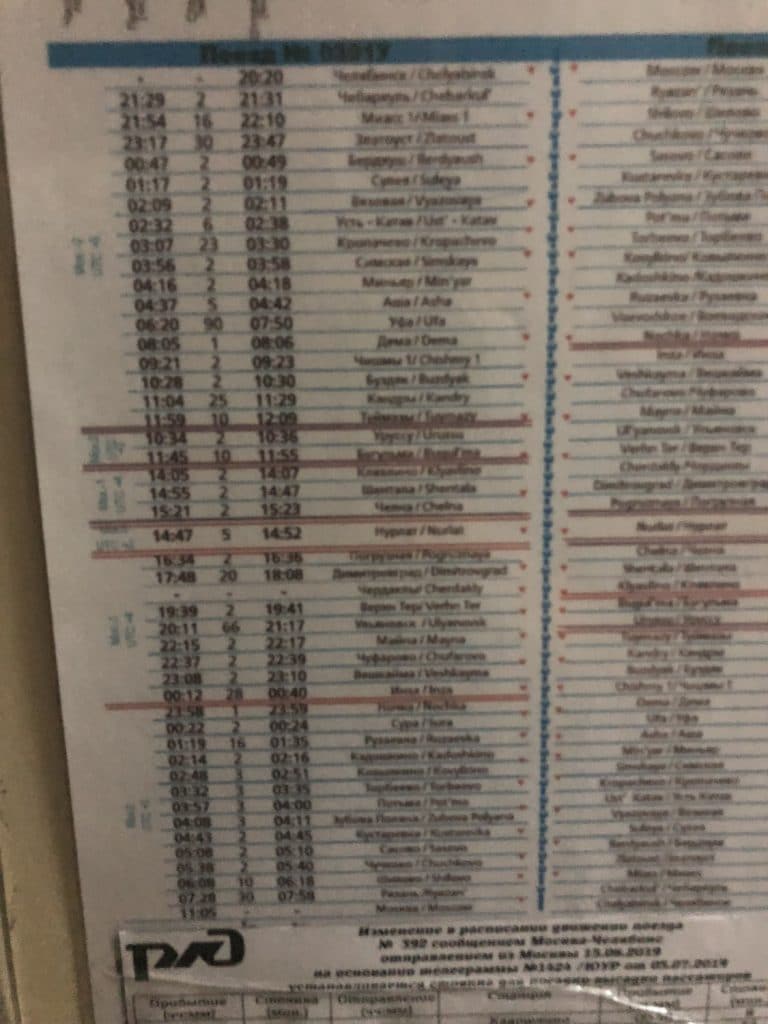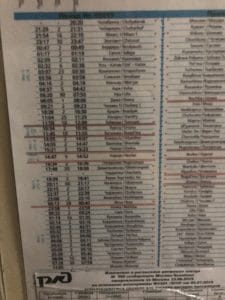 From Sarah Kapp, SRAS student 2008
My chief suggestion to the foreign traveler is: don't travel in a large group! If you aren't keen on going alone, bring a friend, but I would try to limit your company to just one other person, especially if you are riding kupe. If you are a group of 3-4 foreigners occupying one kupe compartment, it will be more difficult to get acquainted with other passengers—and getting to know your fellow passengers is half the fun of a Trans-Siberian journey.
To prevent over-packing, prepare to wear one outfit per train ride. People on the trains aren't too particular about fresh clothes, especially since you can't shower anyway. Even when I was on the train for three days straight, I noticed that no one (including myself) changed clothes until the day of arrival. When I returned home after three weeks, I still had a couple clean outfits in my pack! Best to pack as lightly as possible.
If you plan on using your mobile while traveling, check with your provider to make sure you will have service at the next location.
Bring an up-to-date guidebook. The main guidebook that I used throughout my trip was Trans-Siberian Railway (Lonely Planet Travel Guides) that was only a couple of years old. However, as many cities throughout Russia are rapidly developing, some information in the book was already outdated! Be prepared to not always find things where you think they will be, and don't hesitate to ask at your hostel or hotel for directions.
Take advantage—listen to people's stories, practice your Russian, try new foods, and have fun!
From Katya Grigerman, SRAS student 2019
Pack essential toiletries, a few changes of underwear, and your train clothes in a plastic bag, and put that with your food bag. That way, when you get on the train, you don't have to dig through all your stuff to find the stuff you will need.
Do not be afraid of platscart, I usually only travel on it, and I have had an amazing time on it!
Be nice to the people working on the train, and you won't have any issues
Bring playing cards! (or some other small game to teach others)
There is a newly updated (2018) Lonely Planet guide for the Trans-Siberian Railroad, but I used the Lonely Planet guide for Russia (also updated in 2018) since I am only traveling within Russia. They give lots of suggestions for the train, but also gave more information about the cities in Russia themselves.