Govinda is a surprisingly progressive restaurant for the conservative, Siberian nature of Irkutsk. Styled with an Indian flair, it is the first restaurant I've been to in this city offers a completely vegetarian menu. Ordering your food begins with approaching a large display of colorful dishes behind glass. Picking out what you want in the cafeteria-style setting should be familiar to anyone who has ever gone to a столовая (stolovaya; cafeteria) before. Try as one might, it is impossible to find, among the varied and interesting selection, a dish containing meat. Indeed, while the restaurant's Indian ambiance and optional floor seating are atypical of Siberia, it is the restaurant's organic and vegetarian flavor that marks it as truly anomalous in the typically meat-centered restaurant scene of Irkutsk.
Perusing the exotic selection, I settled on a mixed plate of fried rice and vegetables, called biryani, with a side of vegi-pizza, and a kettle of flavored green tea. The entire ensemble was quite filling and only ran about 300 rubles in total. If I have anything to be neutral about it, it might be the service. It wasn't bad by any means, but the cafeteria and self-seating nature of the restaurant leaves little chance for one to interact with the staff in any sort of meaningful way. Not a strike against the place, but not a tally for it either.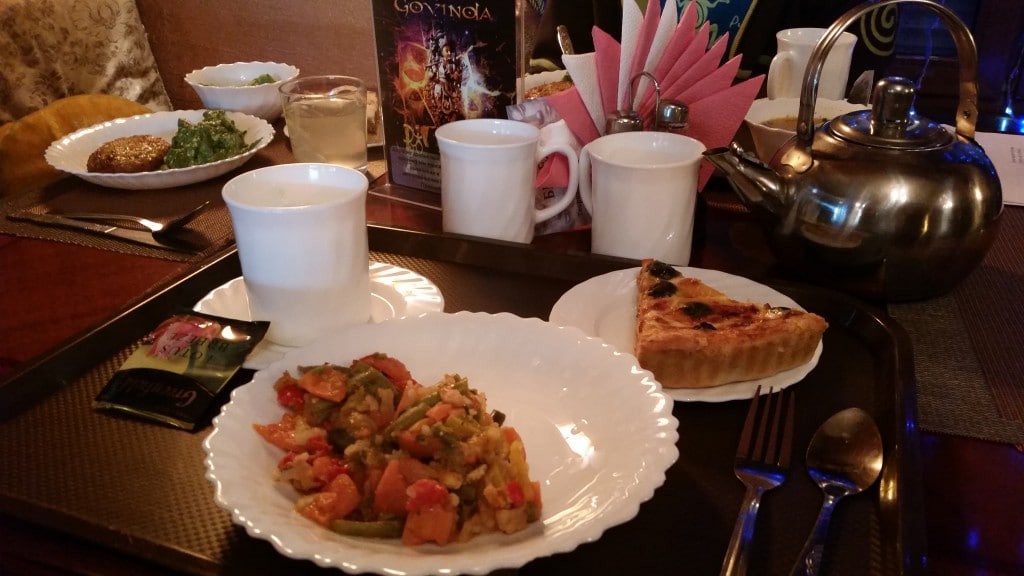 I went with a few friends, and seeing as one orders food via a line, it was more than easy enough to pay for our meals on separate tickets. We opted to partake of the floor seating, positioning ourselves around a low table, sitting cross-legged on a thick and colorful rug. The tables themselves were all very small, so it would be rather difficult to have a large group of students dine there at once, but not impossible.
Overall, Govinda is a very interesting and affordable restaurant, and definitely an oddball in Irkutsk. It's the first Indian restaurant I have been to here, and I definitely felt like it was a new cultural experience. While it's not the most amazing restaurant in the city, and the food is nothing to die for, its unique nature, quick and easy service, and cheap tab makes it easy to see how this café has survived for years in Irkutsk, becoming a community staple despite seeming a bit out-of-place. It also makes it something one must experience if one plans on spending a considerable amount of time in Irkutsk.
For groups and faculty-led tours, Govinda might be suitable. Though the groups would probably need to be on the small side, as the entire restaurant is not terribly large.
Govinda / Говинда
ул. 2-я Железнодорожная, 66в
11:00 – 19:00
Meals from $4
www.Govinda.cafe