Ganga/Ганга
Океанский проспект, 69
Hours: Mon-Fri 9am-7pm, Sat-Sun 10am-8pm;
Meals from 350 rubles
Gangacafe.ru 
Living in Russia, I am frequently asked to explain the reason for my vegetarianism. Despite its almost daily nature, every time the question is put before me, my head practically starts spinning as my heartbeat quickens and the diatribes lying dormant inside of me are prodded awake.  Constrained as much by common courtesy as by my lack of Russian speaking prowess, I usually keep my answers to short anecdotes about valuing animal life and my time spent working on a farm back home in the state of Kentucky. Such reasons for adopting a vegetarian lifestyle are common in my modest experience living in a handful of American cities.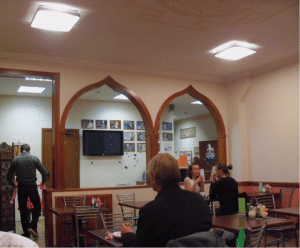 For the limited but perceptibly increasing population of vegetarians in Vladivostok, however, reasons stated, almost without exception in my encounters, revolve around personal health. The slogan scrawled above café Ganga, a vegetarian restaurant in Vladivostok, is "health strength beauty" («здоровье сила красота»), which well embodies the mindset of the local vegetarians.
The name «Ганга», is the genitive declension of the Russian word for the Ganges river (Ганг), giving the meaning "of the Ganges," the great river of India..The dining room's only painting is a large depiction of three figures, a goddess, a bull, and a mortal, on the bank of a river. Classical Indian archways reservedly serve as decoration for the remaining three walls. While most of these are simply painted on, one wall does feature two bonafide archways, which work to, if only slightly, open up and soften the otherwise rigid feel of the layout. There is also a collection of placards featuring the visages of a broad swath of famous personages, from Brad Pitt and Natalie Portman to Charles Darwin and Sir Isaac Newton. Each plaque displays a quote from its owner propounding the benefits of a vegetarian lifestyle.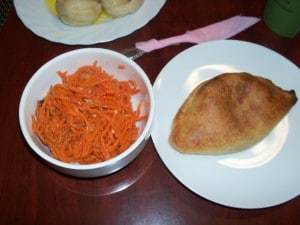 The menu is rather complicated – to the extent that I and my my non-vegetarian but happily obliging friend had not yet decided when the first attendant came to take our order. When a new attendant arrived for a second attempt, we were informed that one must order from the daily menu (сегодняшнее меню), which represents only those items on the larger menu currently available. This menu looked to have been drawn up in Microsoft Excel, presenting not the easiest of tasks to piece through. We again requested more to time to assess our options.
On the next attempt, several of our choices were shot down due to Ganga's having run out (закончились) of some or all of the necessary ingredients. Eventually, however, we placed our order and relaxed in the hope that we would be in the clear until our food arrived. Alas, another item was unexpectedly unavailable, requiring yet another new staff member to approach the table expressing regret and suggesting alternatives.
All of Ganga's offerings come in the form of inexpensive and modestly apportioned à la carte items. As I am still largely unable to determine what, exactly, is an appropriate amount of food in terms of the gram measurements almost ubiquitously shown on menus, I placed a cautionary petite order. Carrots with eggplant (морковь с баклажанами) at 120g for 50 rubles ($1.25) and a small (80g) cabbage pie (капустный пирожок) for 30 rubles ($0.75). My friend ordered the 250g green soup (зелёный суп), primarily composed of spinach, for 65 ($1.50) rubles and 250g of potato dumplings (вареники с картошкой) for 80 rubles ($2). We both topped off our orders with a mango flavored 300g lassi (ласси), a yogurt-based drink not so far removed from a milkshake, for 85 rubles a piece ($2). The host had also enthusiastically explained their juice (sok; сок) selection, another current Russian health trend, but we didn't delve into that.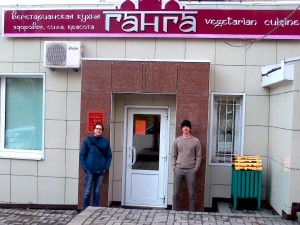 The freshness of the food and its preparation were obvious and certainly helped amend some of the earlier discomforts. While my meal was not the most filling, it set me back a mere four dollars and could have easily been sufficiently substantiated by an additional pair of items. The staff, although always polite and helpful, was a little intrusive and made the rather cramped seating arrangement feel even closer still. Accordingly, I would not advise groups of more than four to seek out this location for a rendezvous, as its capacity would likely prove unbecoming. The atmosphere too was not quite up to snuff, as the simplicity in style leaned more towards bland than elegant. One should also note that, in accordance with Ganga's focus on physical health, alcohol is not a part of their menu selection.
All in all, there were many stumbles. Even despite the seemingly minutely varying theme of the stereotypical Hare Krishna melody playing all the while, I was not exactly enchanted by the experience. That being said, I will still likely return to Ganga. Why? 1) inexpensive, wholesome food 2) the promotion of a movement I support, whatever the motivation 3) my somewhat negative experience appears to be anomalous in relation to the positive experiences others have relayed to me.