Friendship Bar /
Дружба бар
ул. Пограничная, 6, Владивосток, Россия
Hours: Sun-Thurs. Noon-3am, Fri & Sat. Noon-7am;
Meals for under 360 rubles

Fear not hipsters! Your culture lives and breaths even thousands of miles from home in Friendship Bar (Дружба бар) in downtown Vladivostok. The bright red exterior signaling your arrival rests on the corner of on of the hottest stretches of road in the center of the city's nightlife scene. It is Friendship Bar's lack-of-a-theme theme, however, composed of a strangely pleasing conflagration of styles simultaneously retro and modern, comfortable and abrasive, that seems to be its main draw.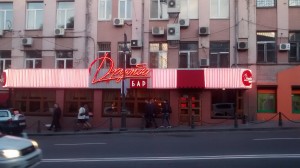 To explain, allow me a short commiserating indulgence of the moments immediately following my walking through the front door.
Having checked my coat at the entry, I slipped off to the restroom where I was greeted by a portrait of Arnold Schwarzenegger as Terminator. Returning to our cushy red tweed-upholstered booth outfitted with floral pattern placemats my grandmother must have misplaced ages ago, my accompanying diner pointed out a collage of photos of Yuri Gagarin, all featuring him partaking in hoppy refreshment, hanging over my right shoulder. Funky re-mixed '80s music assured the validity of the disco balls twinkling overhead and a neon sign proclaiming "BEER FISH FRIENDSHIP" (ПИВО РЫБА ДРУЖБА) spanned the length of the smaller of the two bars. Perhaps the only real consistency here in décor was a reddish glow that seemed to emanate from an unseen source. Though in many ways an aesthetic assault, the pummeling was a surprisingly pleasant one.
Once I had come to my senses, I began scanning the menu for what would eventually become my evening's sustenance. However, despite the diner theme perceptible via the white linoleum tabletop booths that Friendship Bar additionally wove into its constituent fabric, I quickly realized that this is no cheap-eats grubbery. My first tip was the lack of gram (g) measurement allotted to every dish – a staple of most eatery menus in town. Secondly, in terms of distribution, the options were heavily skewed towards beverages (напитки) and appetizers (закуски), those served both hot (горячие) and cold (холодные); the latter being traditionally taken with strong drink (крепкие напитки). However, as the name clearly states that this is a bar and not a restaurant, I was not greatly taken aback.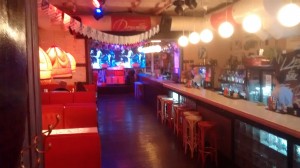 For 140 rubles ($3.50) I eventually sided with a serving of cabbage-stuffed vareniki (Вареники с капустой). A half-liter of Japanese produced Asahi beer, dark (тёмное), cost me another 250 ($6). Though it should be noted that the regional standard, Zhigulevskoe (Жигулёвское), costs only 130 rubles ($3). Across the table from me, apropos of recent class discussions regarding traditional Russian dishes (блюда), came a request for Navy-style pasta (Макароны по-флотски) at 180 rubles ($4.50) and the yang to my beer's yin, the Asahi light (светлое).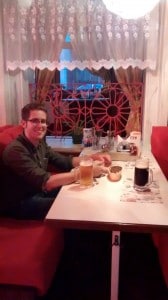 As the drinks arrived quickly, we fell into a continually digressive conversation – no doubt urged on by our chaotic surroundings. The crowd was still light at eight o'clock on a Saturday evening and our food arrived in reasonable time. The vareniki came topped with diced, lightly sautéed onions, dill to garnish, and a side of sour cream. The classic dish of Vladivostok's revered seamen (моряки), Макароны по-флотски, was a mixture of Garganelli shells, diced tomatoes, ground beef and the ever-present Russian dill, frying pan finished. Both dishes, while not heaping in their portions, were properly prepared and went down smoothly with the help of the complimentary basket of sliced black and white bread.
In summation, Friendship Bar is a fitting destination for anyone more concerned with what they will be experientially consuming, rather than physically. While this is not a knock on the food, and a filling meal could be had rather inexpensively by combing smaller dishes or even going in for one of the limited number of entrees starting at around 300 rubles ($7.50), they clearly operate on a nightlife-first agenda here. Although, considering the amount I've heard about this Friendship Bar in my first several weeks here, they have pretty accurately hit their target. I would have to agree, as I hope to make a more thorough acquaintance with this bar they call Friendship.