Friends Cafe
Семеновская ул., 25a // 25a Semenovskaya Street
8:30am-9:00pm
Small, cute cafe with tasty treats  
Friends Cafe is a quaint, sit-down, little arts cafe hidden off Semenovskaya Street on the way from the university down to the center. If you take the #38 bus going into the center, you can get off at изумруд ("emerald", also the last stop before you get to the center) and walk back up to it for half a block.
When I first walked into the cafe, I messed up speaking and gave away I was American. Some Russians, who had some relationship with the cafe (but were not in work uniform) jumped at the chance to speak English with me. That experience was slightly awkward because everyone in the cafe stared at me. (Important cultural note: for some reason, it is socially acceptable to maintain obvious, hard stares at people. I've been here for three months and I still am getting used to it. On a bus, in a restaurant, out in the street. They won't try to hide it; if you stand out, you will get attention.)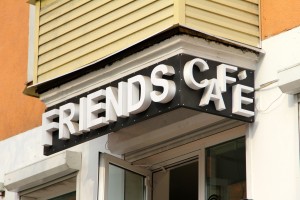 After they situated me at a table in the absolute center of the cafe, I studied the menu. They have a wide variety food options, ranging from salads to sandwiches, blini to soup. They also have a large drink variety, including coffee, milkshakes, mojitos, and tea.
I ordered a cheese, ham, and egg sandwich (150 rubles), berry mocha (125 rubles), and was talked into trying their blini cake (150 rubles) by the translator helper. The sandwich contained egg, cheese, ham, tomato, and lettuce. It was incredibly tasty; the eggs were made sunny side up and had a lot of flavor. I would say the cheese complimented the egg/ham combination nicely. The berry mocha didn't have that much berry taste, so I would recommend just getting a regular mocha to save money. It wasn't bad, just didn't taste that much different than a regular mocha. I will say that I was surprisingly full after eating everything. Where sometimes cafes will hike up prices and give small amounts, Friends Cafe offers a balanced price for the amount of food you get.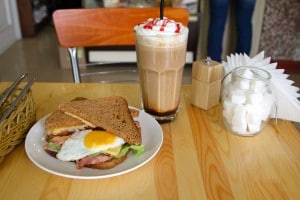 Service was well-received, though the person who appeared to be the manager of the place seemed worried that I couldn't speak Russian and his only translator had to leave. When approached by the translator, I told her that I was able to speak and complete the transaction when I finished. She was very relieved. I stayed awhile to write this, so I got the opportunity to study others as they came in and found that the cafe is simply very touchy with where people sit. They would direct people to certain tables and were very high maintenance with ordering (they were constantly at patrons' sides, checking up on to see if they needed anything even if they were in conversation). So, you can definitely expect that you will get attention here. There are only six tables and a bar section that sits four, so a group of 12-20 people is not possible.
Takeaway – Friends Cafe is another well-run cafe, but nothing special.
(+) free wifi, wide variety of food, well-priced, clean, and tasty
(-) very small and high maintenance/touchy staff, not an ideal place to study
⅘ – Tasty, small cafe for relaxing, but not for studying.