Free Laundry at MGU
Сектор Б / Sector b
MGU Main Building / Main Dorms
Monday – Friday, Sunday,
from 9:00 – 12:00; 16:00 – 23:30
Closed Saturdays
Free of Charge!
MGU offers two student laundry facilities. One is a paid service that comes with free detergent and various service options, such as the ability to drop off your clothes and pick them up later. You can read more about that here.
There is also a free laundry facility for students living in the Main Building. You must bring your own laundry detergent, which may be purchased at Ashan, the major grocery store within walking distance from the dorms. Although the laundry is available six days a week (closed on Saturday) from 9:00 – 12:00, and again from 16:00 – 23:30, you may not start any new loads after 11:15 and 22:45, respectively.
The laundry room is located in Сектор Б and can be a little hard to find the first time. To find it from Сектор Е (where many SRAS students are housed), exit Сектор Е and enter the main area of the Main Building from the courtyard. Once inside, walk up the steps directly in front of you. At the top you'll see the school store — do NOT proceed. Turn around. Сектор Б is behind you. You will see a sign that says "Б" and a guard station just inside the door.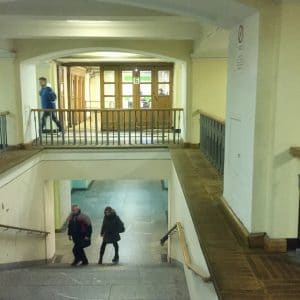 You may pass through the Сектор Б checkpoint by showing either your student visa and propusk, or just your student ID. If you'll return to your home sector after 23:00 make sure to bring the appropriate credentials.
Once you've entered Сектор Б, turn left and walk through a long corridor — near the end you'll find a staircase on your right. Take the stairs all the way to the bottom, walk through the only threshold and the laundry room will be on your right. There are about 20 washing machines and 15 driers. The laundry room rules are written in English on a bulletin board near the entrance.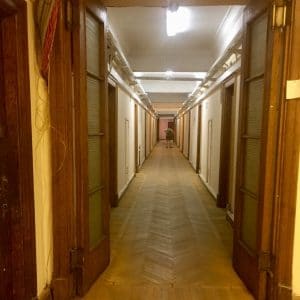 The laundry works on a first-come, first-serve basis. You'll want to walk around the washing machine room and find a machine that shows the cycle is done or almost done. If none are available, place your bag on top of a machine near the end of the cycle and wait – this secures your spot in line. If the owner of the clothes doesn't show up to take their load out when their cycle is finished you have the right to take their clothes out, place them in one of the baskets provided, leave it on top of/near the machine, and put your clothes in.
Once you have secured a machine (washer or dryer), you MUST write your name and machine number in the dezhurnaya's notebook.
Once you start a cycle you can wait, either in the room or the hallway, or you can leave and come back when your cycle is complete (there's no cell service or internet in the basement – bring something else to do if you're going to stay). If you're not back in time the next person in line retains the right to take your clothes out and put theirs in. It's also possible to arrive 30 minutes early to secure a machine as soon as the laundry opens.
The process is the same for securing a dryer, but these literally take forever. Some students prefer to install makeshift clotheslines or get a "shushilka" – a collapsible contraption that allows you to hang clothes compactly in your room. This is particularly effective when the heaters are turned on. If you do your laundry in the morning your clothes will likely be dry when you come home from classes. If you'd rather use the drier be prepared to wait three hours. The laundry also has a free ironing board and iron you can use.