Five O'Clock
Admirala Fokina Street, 6
11 am – 11 pm Daily
$3-6 for Good Coffee  / English-Speaker Solidarity
www.five-oclock.ru

Looking for a place in Vladivostok that resembles England? A place that you can hold pleasant conversation with a variety of great British rock in the background? I found the place for you! The Five O'Clock Cafe located on Admirala Fokina street has the English touch that will warm your studying-Russian-induced freezing soul!
As a small, quaint sit-down cafe run by Englishman Barry Adamson, the Five O'Clock is both friendly and affordable. While it might not be the best environment for silent study, I was able to work with the great music choice in the background. Expect British rock. I ordered a cinnamon latte and a cinnamon roll (I was craving cinnamon). They also have incredibly flavorful French toast for 100 rubles. Unfortunately, the Five O'Clock doesn't have WiFi, but because of that fact it was a happening place for Russian conversation. Everyone around me was engaged in some sort of conversation, whether it was the young couple cuddling in the corner or a group older women just chatting about their lives.
They have assorted warm beverages, from tea to coffee, and some cold beverages as well including milkshakes (the American kind, not the runny Russian equivalent)! If you are curious about their menu, Barry recently updated his website here.They also have a nice selection of pastries, both Russian and English. Pastries are baked daily, so they vary on the day. The place is made for groups of 2-4 people at a time, but more than that would be pushing it.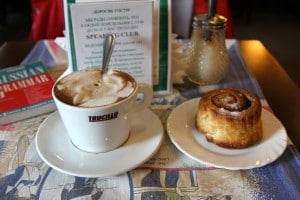 The drink prices are really nice, whereas the other cafes I went, prices for drinks were around $3-6 (220 rubles), prices at the Five O'Clock were $1-3 (40-65 rubles). The service is exceptionally fast as well with four workers and Barry working behind the counter. I also found out that there is an ex-pat meeting the first Tuesday of every month at the Republic Bar from Barry, so I will get to meet other English speakers very soon. Sometimes the constant translating in your head can be cumbersome on your mental health and its nice to simply speak your native language.
Final rating: 5/5 I recommend the place as a nice cafe, but not a place to get a full meal. It has good pastries and drinks, but don't expect to get full. It's built around the social atmosphere, so it serves in that manner to fulfill the expectations of a cozy, quaint English cafe in the heart of Vladivostok!
+ Cheap, tasty drinks and pastries/English atmosphere/you can speak English without stares
– No wifi
5/5 Because it exceeds its expectations and sets the bar for other cafes in both service and price.