When studying abroad in any country, it's completely normal to go through periods of culture shock and homesickness. Every student will discover their own ways to fight this, whether it be through watching a favorite movie or calling a friend or family member. Personally, whenever I find myself missing home, I typically go on a hunt for a delicious burger joint and end up treating myself to a large burger with fries. While this isn't always the healthiest option, there really is something to be said for pleasure food.
To my great surprise, St. Petersburg is overflowing with top-notch burger places. With Russia's booming agricultural industry providing a rapidly growing amount of locally-produced, quality beef, the burger market has developed remarkably fast.
Luckily, my host university is located in the heart of the city, so I'm surrounded by countless restaurants and cafes. On my first couple of days in St. Petersburg, I remember walking around and taking note of all the burger restaurants within walking distance of my dorm; there's more than ten burger places within an eight-minute walk from campus! While I highly recommend all of my fellow SRAS students to dive into the Russian culture and cuisine, I will also say that you should not leave St. Petersburg before you've tried one of the many burger places that are around the city!
Here are my top five favorite!
Ketch Up Burgers
This burger restaurant is probably my favorite in St. Petersburg. There are only two locations, but one of them is right down the street from the university dorms. It's quite popular among both the local and international students, and it is a convenient spot to grab a Friday night dinner. The restaurant is sit-down style, with a wait staff and a talkative environment. The burgers are reasonably priced, though slightly more expensive than some take-out places. Burgers themselves are only 300-400 RUB (~$5-$7), and fries and a drink are roughly another 250 RUB (~$4). You can also order different types of alcohol, including some popular craft beers. The only downside to this burger place is that you have to pay for all extras and dipping sauces, ironically including ketchup itself. This means that this restaurant isn't the cheapest option in town. However, it's certainly one of the best, with average-sized, delicious burgers!
Address: Sadovaya Street, 40
BB & Burgers
Like Ketch Up Burgers, this burger joint is also a sit-down style restaurant, but has a bit of a fast-pace feel to it. You order your meal at the counter, and they give you a buzzer for when your meal is ready. There are a few locations in St. Petersburg, mainly in close vicinity to Nevsky Prospect. The closest location is only a three-minute walk from campus, and is where I had my first real meal when I arrived in Russia. Many students go here to grab a quick lunch before returning to class or to sit and have a nice chat with friends. The menu includes everything from a simple cheeseburger to an extravagant pile of bacon, cheese, veggies, and several patties. The average meal cost, including a burger, fries, and soft drink, is around 550 RUB (~$8.50). If you're in a hurry but craving a great burger, this is the place to go!
Address: Griboyedov Channel Embankment, 18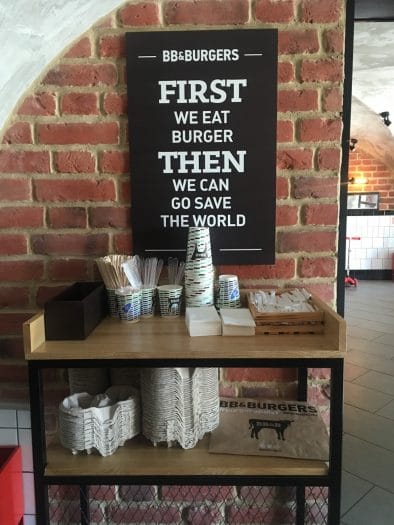 First House Burger
Also within a three-minute walk to campus, First House Burger is a go-to place if you're looking for a laid-back dining experience. It's a restaurant/bar with great craft beer and huge meal portions, which isn't always easy to find in St. Petersburg. This is a great place to go to with friends after a long week; it's not too crowded, and the staff is a fun bunch who love speaking with foreigners. Their menu includes far more than just burgers, as well! Whether you're in the mood for an award-worthy omelet or some traditional Russian soup, they've got it all. Meals here can be slightly more expensive, ranging from 500-700 RUB (~$8-$12), but it's definitely one of my overall favorite restaurants in the city!
Address: Sadovaya Street, 29
Moo Moo Burgers
Out of all the burger joints close to campus, Moo Moo Burgers is probably the best place to go to if you're looking for a bang-for-a-buck. They serve the largest burgers I've found in St. Petersburg, and they also have one of the cheapest menus! The average cost for a burger and fries is 400 RUB (~$6). Students typically go here when they need a quick meal; I've come to compare this burger joint to fast food chains such as In-n-Out or Five Guys in the US. There has always been a large crowd there every time I've eaten there, but the service is quick and efficient. My favorite thing about this burger joint is their milkshakes. A large milkshake only costs 200 RUB (~$3), and their variety of flavors leaves options for everyone. Overall, Moo Moo Burgers is the best place if you're wanting a cheap, delicious, and filling meal!
Address: Sadovaya Street, 42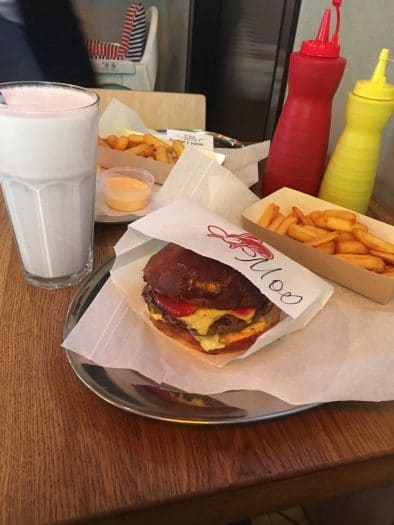 SB Burgers
This burger joint is located right on Nevsky Prospect (just four minutes from campus) and is great for a late-night outing. They have a small bar with a popular beer and wine list, as well as a cheap menu with just about every kind of burger, including a veggie burger. Open 24-hours on the weekend, it offers a great environment to all the night-owls and students. Their prices are average for St. Petersburg, and the close proximity to campus is all the more reason to explore it!
Address: Nevsky Avenue, 29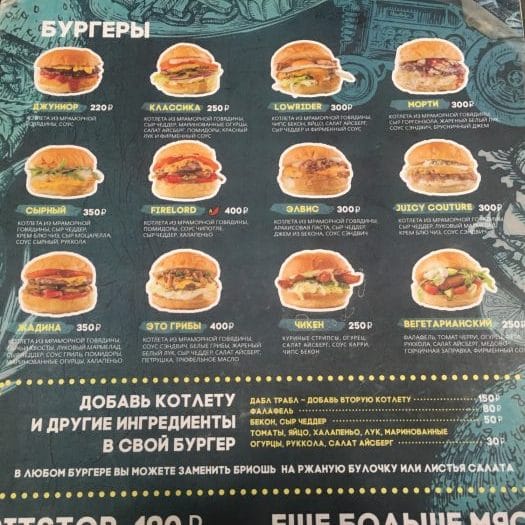 All in all, my mission to discover St. Petersburg's top burger joints turned out to be a delicious adventure! If you're ever looking for a taste of home while studying abroad, be sure to check out one of the many burger joints that are scattered around the city!