At the end of my term as a participant in the SRAS NGO and Cultural Internship program in Moscow, I have decided to continue my stay in Moscow independently. As just one part of my plans to facilitate this, I have found an apartment in Moscow in this monstrous city for the duration of the spring of 2015. This is not a task for the weak-hearted and is inadvisable for anyone not already on the ground in Moscow. The search sucked hours out of my life and yielded much disappointment along the way.  However, the end result – a beautiful apartment near Krasnopresnenskaya Metro station (станция Краснопресненская) with my MSU English roommate, a Russian-speaking roommate, and, thus, the opportunity to further improve my Russian language and learn about Russian culture  – was worth the labor.
Several websites exist with which one can search for an apartment in Moscow. Many of these are not specific to Moscow. SRAS has a page entitled, "Accommodation in Russia" where it lists all of the different Russian housing possibilities, including university dormitories, long-term apartments, short-term apartments and room rentals, home stays, hotels and hostels. Though renting an apartment is one of the more expensive housing options, as Moscow has some of the world's most expensive real estate, the price does not always have to be outrageous. As I found, particularly if one wants a Russian apartment mate, reaching out to Russians, via social media, and then searching on "Cian.ru" together can help one find something cheaper, in a better location, and in a much shorter time period than if one attempted the search on one's own. Russian people, especially ones who were born in Moscow, know the city better and know the intricacies of the Russian housing websites. However, as SRAS advises, one should read the article, "Renting in Russia" before one begins the search.
For long-term apartments, the most common website to use is Cian.ru. This site is only in Russian and I was only successfully able to use it after grasping the necessary vocabulary and watching a Russian friend use it. In the end, as plans with possible Russian apartment mates kept falling through, I found my apartment by using a real estate agent. One can find an agent by searching in the Moscow Business Telephone Guide, or looking at the real estate sections of various newspapers, such as The Moscow Times or The St. Petersburg Times. I, however, found one when I called about an apartment listing I had seen on Cian.ru. I was having very little luck finding anything on my own and, as the landlord of the apartment I was calling about wanted only Russian tenants, the agent I spoke with asked if I would like help searching. Exhausted and exasperated, I said yes.
Long-term apartments are usually considered to start at a year's rental length. For information on short-term apartment rentals, one can look at the SRAS, "Accommodation in Russia" page. However, these options may be on the expensive side as they are made to be competitive with hotel prices. Therefore it might be worth looking into long-term options, even if planning to stay a few months. Two more resources that I would recommend are "Locals", which helps searchers find apartments without using an agent, and the Facebook page, "Room Mate and Flat Finder" which helps searchers find rooms, apartments and roommates.
One should always remember that an agent often charges a high commission for an apartment in Moscow; it can be as high as 100% – one month's rent. However, the search is much easier and faster with the help of an agent and, if one can find an agent that charges a much more reasonable commission, one should consider taking the opportunity. One matter that makes searching difficult, and which complicated my search, is that landlords in Russia can be picky about who they rent an apartment to. At times they prefer to have Russian renters, though in general they would be happy to host foreigners from Europe and other Western countries. At the minimum, a landlord who is willing to rent to a foreigner will likely want to know where the foreigner is from and what he or she is doing in Russia. An agent, who will speak Russian fluently, can relay this information to the landlord without any confusion, whereas, if the foreigner, who might still be learning the Russian language, attempts to do so it could result in the landlord's confusion and even refusal to rent to said foreigner. I had searched for weeks with no success, and, after speaking with an agent, was presented with viable options within half a week. When actually signing the contract it might be a good idea to take along a fluent Russian speaker if possible to help in case there are any questions when reading the contract.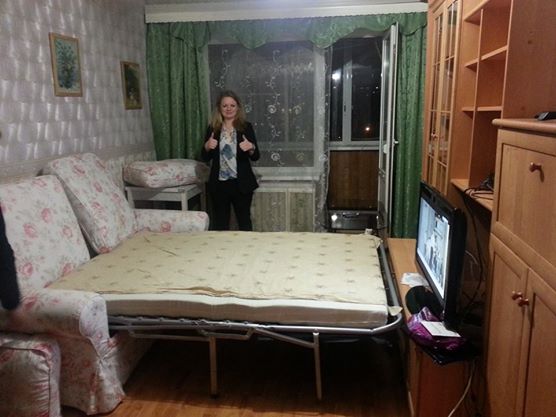 There are some very important matters to keep at the forefront when looking for an apartment. The price is a given. The location is also extremely important when looking for an apartment in Moscow. As Moscow is the largest city in Europe and, like any other city, has unsafe areas, one should make sure that an apartment is not too far from where one studies or works, and that it is in a reasonably nice area. The third important matter is one's registration – the document that allows one to legally remain in Russia. One typically gets registered where one lives, and it should be stated in the contract that the landlord will do this. If that is not the case, the organization that sponsors one's visa can do so, often for a fee. Another important thing to remember is that, on a listings website, the number of rooms  in an apartment will include the common room, or living room (гостиная). For instance, a three-room apartment (трёхкомнатная квартира), like the one I will rent, includes two bedrooms, a living room with a pullout couch, a kitchen and a bathroom. It is not uncommon in Russia for a tenant to sleep on the pull out couch. For this reason many apartments often have a door separating the living room from the rest of the apartment, effectively making it a closed-off room.
Do not let any of this intimidate you. It is more than possible to find an apartment in Moscow and in Russia in general. But one must go about it in the correct way; certainly use the websites SRAS provides. The best of luck to you on your search for an apartment in Moscow!