Euroasia Cafe/Евроазия Кафе
ул. Крылова, 10
Hours: 9:00-21:00 daily
Meals from 300 Rubles ($4.60)
While restaurant selections are plentiful in Vladivostok's city center, there is actually a dearth of options close to Vladivostok State University of Economics and Service. The university itself has several kiosks and cafes within the building, but they all share the problem of being short on variety. The immediate vicinity of the university has a couple of street food vendors and a cheap, fast-food burger joint, which doesn't expand the options much. Fortunately, one cafe remains which stands out.
Euroasia Cafe is a full three minute walk from the university's campus unless you have to wait for traffic to stop at the crosswalk. In that case, expect five minutes.
From the outside, Euroasia Cafe is not much to look at. In fact, it's even connected with a street food vendor with a far more prominent sign, which makes it easy to miss. The interior is a single room with less than 10 tables. The lighting is a little bit dim and a television hangs on the back wall, always playing the Russia-24 national news station. The volume is turned up enough to hear, but it blends easily into the background if you don't want to pay attention to it. The decor is Mediterranean in style, mostly understated but just enough to stave off blandness from the simple rectangular layout of the room.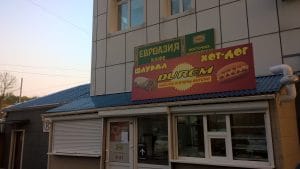 To order, usually you must go to the main desk, but sometimes they will ask you to have a seat first and bring the menu to you. The menu has a good variety of dishes, including salads, soups, meats/main entrees, and desserts. Expect most of these to be Central Asian or traditional Ukrainian and Russian foods. The proprietor is from Central Asia, and he runs the cafe with the help of his family. He is very friendly and will offer his recommendations or make conversation if you want to strike it up.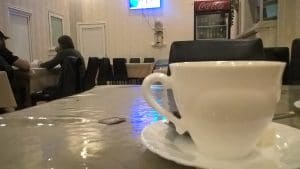 My meal at the most recent visit consisted of a platter of Manti dumplings, a Russian-style vegetable salad, and a cup of green tea. The service tends to be quick, as the cafe is not usually full of patrons, but the food is prepared fresh. When I ordered, the waitress told me right away that the Manti would take about 15 minutes to cook. As promised, 15 minutes later I had my full meal in front of me. I have been consistently pleased with the portion sizes, and they tend to be larger than average from the majority of cafes that I have visited in Vladivostok.
My bill totaled 320 Rubles for everything:
Manti (5 dumplings) – 180 Rubles
Vegetable Salad – 120 Rubles
Green Tea – 20 Rubles
Leaving the restaurant, I was satisfied with my meal. Given its proximity to the university, I have been to the Euroasia Cafe several times over the past two semesters. I have never been disappointed with the quality of food or service.