Emy holds a bachelor's degree in International Relations from the University of Sussex. As part of that degree, she studied at the Moscow State Institute of International Relations (MGIMO) through SRAS. Shortly after her program, we asked her about MGIMO and, at the end of 2005, we asked her how it has helped her get where she wants to be – and where that is right now.
SRAS: Introduce yourself to us, what is your background and what are your future plans?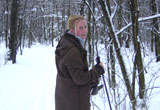 Emy: My name is Emy Wangborg, I am a 22 year old Swedish student, studying International Relations and Russian at the University of Sussex in the UK. Before coming to England I lived in Moscow for almost four years, while my father worked for the Swedish Embassy. I spent three years at the Anglo American School of Moscow. While at AAS I studied French, and it wasn't until after graduating that I started studying Russian. I took a Russian course at MGU for a term, and later a summer course. I really enjoyed living in Moscow, and enjoyed studying Russian and was sure I wanted to return in the future. Therefore I chose to study Russian as part of my university degree, and was very happy when I was allowed to go to Moscow to study International Relations at MGIMO last term. Now I'm back at Sussex for my last semester, and my future plans are first to spend some time in Sweden, but return to Moscow in the near future and try to find a job and do some traveling!
SRAS: How did you first hear about MGIMO and why did you decide to go there?
Emy: While studying at MGU I had friends who were studying at MGIMO and my parents were familiar with it. As I study International Relations, MGIMO was the obvious choice.
SRAS: MGIMO is the top school in Russia for that subject, yes. So what was studying there like?
Emy: I was at MGIMO for one term, as an exchange from my university, and therefore I had to take courses equivalent to the ones I'd be missing at Sussex. A full time student at MGIMO takes 3-4 courses, I took 3 (International Law, Russia in the Context of World Modernization, and Russian Domestic Policy) and had a Russian class on the side. Each course consisted of one seminar per week for eight weeks with a professor and lectures.
SRAS: How were the professors, any favorites?
Emy: The professors were good, very friendly and enthusiastic. Two of the courses were in Russian, and the third one in English. They all spoke English, so if we didn't understand they were happy to explain in English. My favorite would be either Yuri Dubinin or Valentin Korneyev.
SRAS: Did you meet many Russian students while you were there? What were their backgrounds/career aspirations? Will you continue these relationships after the program ends?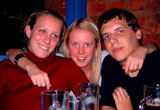 Emy: I met some Russian students although mostly other foreign students. I joined a class of Russians who studied Swedish, which was interesting, two of them had similar backgrounds to me, lived in Sweden when they were younger and were keen on returning. The other two had been to Sweden and liked it and wanted to learn the language in order to return to work in the future. Another girl I got to know, Masha, from Samara, was in her last year of studying economics at MGIMO and has already been offered a job at Coca Cola in Moscow.
SRAS: The world is certainly not getting any bigger. Can you describe the research you did here in Russia? What was it like and what kind of guidance did your professors give?
Emy: The major barrier when doing research for my essays was that we were told that our contract did not allow us to use the libraries that belong to each individual 'kafedra'. The main library hardly has any books, mainly journals, newspapers, encyclopedias etc, while each individual kafedra as books for that particular subject, so that was a bit of a disappointment. However, the professors were very helpful and even gave me their home numbers in case I had questions in the evenings.
SRAS: So did you spend all your time traveling, or did you get to soak up some culture and do some traveling as well? Any good stories from this?
Emy: As I have spent a lot of time in Russia before I was well prepared for the culture difference. A lot of Russian friends who knew my parents were very friendly and helpful and invited me to their homes. As I only spent four months in Moscow I didn't have much time for traveling, but managed to squeeze a trip to Archangelsk in which was excellent. The 22 hr train ride was fun, met interesting people from soldiers to women on their way to sell their knitted gloves in the bigger towns. I saw a few concerts and plays in Moscow, including a very memorable Pyatnizzaconcert which ended with the Soviet national anthem reggae style!
SRAS: What advice would you offer a student thinking about taking courses at MGIMO?
Emy: I would definitely recommend taking courses at MGIMO, it is a fun and memorable experience! Unfortunately however, we didn't have seminars with other Russian students, which made it difficult to meet Russians. Furthermore, as we didn't follow the same program as the Russian students we didn't really have any pressure on us – it was up to us if we wanted to take exams or write essays.
SRAS: Interesting, so do you think that your time at MGIMO was well-spent? Do you feel better prepared to meet your future goals?
Hopefully my time at MGIMO has improved my Russian which will be beneficial when looking for jobs in Moscow. Also, having attended a Russian university along with Russian students has made me more familiar with Russians, and obviously what I learned from the courses will be of use in the future.
Several months later, we caught up with Emy, who was again in Moscow, to see how her plans were progressing. This is what she had to say:
Emy: I spent the fall term of my last year at university in Moscow, as an exchange student through SRAS at MGIMO, the Moscow State Institute for International Relations. It was a great term and an interesting experience. While in Moscow, I took the opportunity to do research for my final year paper which focused on the conflict in Chechnya and globalization. I visited several human rights organizations in Moscow to gather information. Upon completion of my bachelor degree (with honors) in International Relations with a Russian emphasis in the summer of 2005, I was eager to return to Russia. I looked at different options of combining my interest in human rights with my personal commitment to Russia. An internship with an international organization seemed like the obvious choice.
I got in touch with the UN Refugee Agency (UNHCR), in Moscow, which accepted me as an intern. Full of excitement and looking forward to a valuable experience I left Stockholm for Moscow again. Once at the office, I was introduced to the various members of the UNHCR staff and to my supervisor, a very friendly Kyrgyz lawyer. Although the official language at the office is English, I was able to make use of my knowledge of Russian with many of the employees who were mostly from Russia or the CIS countries. After several weeks of listening to refugee interviews, taking part in workshops, reading various reports etc, my supervisor let me have more and more responsibility.
I got the chance to assist in conducting interviews where I listened to the terrible traumas the people who came to the UNHCR had endured. There was a clear majority of Afghan refugees but also refugees from other countries such as Nigeria, Cuba or Iraq. Apart from learning about all the legal aspects of establishing refugee status, I also got a clear picture of the complexities surrounding UN cooperation with other international organizations and in particular with the Russian authorities. Considering the trouble with racism in Russia and the Russian residence registration laws, many of the refugee seekers face various difficulties while waiting for their refugee status to be determined. These are aspects which the UNHCR also needs to engage in.
Within the office it was interesting to be part of an international environment on a professional level where people from different cultures and religions work towards the same goal. I made some good friends at the office who I will keep in touch with in the future. By teaching English at an 'elitny' private school in Moscow one day per week I was able to enjoy the Moscow cultural scene in my free time, despite not getting paid at the UNHCR. I believe my internship was a very valuable experience which I will benefit from in the future.
As I am keen on gaining a deeper knowledge of the work of the United Nations and staying in Moscow, I looked at other opportunities which would allow me to focus on Russia in particular. I was accepted for another three-month internship with the United Nations Children's Fund (UNICEF) office in Moscow where I will start in the new year. Their work includes various aspects of assistance to children in Russia, to for example victims of the Beslan terror attack or street children, so I am very much looking forward to engaging in and learning about another UN organ and their activities in Russia.