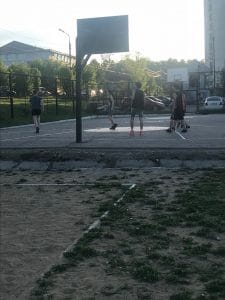 As spring arrives and the weather is getting better the urge to get out and active is getting stronger and stronger. While gyms can be found around the city they can be expensive unless you do some shopping around for a good deal. Luckily there is another way to stay fit and active for free. Located around the city are various sports areas. These are gated areas usually with a soccer field, basketball court, and bars to work out on. These can be found by walking around the city and checking more residential areas. In this post I will focus on the sports area near the IGU dorms.
Directly next to the dorms is a sport area where students can often be found playing volleyball, basketball, soccer, or just running or using the outdoor machines for lifting. The sports field is not the highest quality and is mostly sand and grass but it is well marked and has clear boundaries. Because of the close proximity to the dorms one can simply walk outside and enjoy the facility. There is no cost and it is always open.
Not only is this a great way to stay fit, but also a great way to meet Russian friends. If you don't have a ball, you can just play with the Russians. While it can be intimidating it is absolutely normal to ask to play. Just ask "Можно играть с вами?" (Can I play with you guys?) and nearly always they will let you join. Usually games start with one or two players and every few minutes there are new people asking to join until there are full games with teams and subs. This is something I love about this area, everyone is willing to play and share the field.
The downside is the lack of lighting. After dark, there are no streetlights so after a certain point it is impossible to play.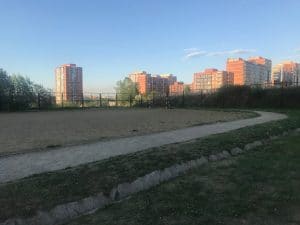 I personally found this a great way to stay involved. I love sports but I am not confident enough in my skills to join a formal team nor do I have the time. The first time I went down to play I was really nervous that people would be irritated that I wanted to join but I found just the opposite. I joined the kids playing basketball and quickly got to know everyone. I now look out my window and if I see people playing I immediately run out to join. Not only have I kept fit and played my favorite sport, basketball, but I also learned a bit of soccer and some cool Russian sports lingo.
Put yourself out there and don't be afraid to make mistakes. You will be pleasantly surprised by the kindness and friendliness of the other students.