Dong Dae Mun
ул. Адмирала Фокина 3а
Hours: Noon-Midnight; Meals from $7 (400r) 
It was my first International Women's Day (Международный женский день) and my university "groupmates" (одногруппницы) and I decided to celebrate the holiday over dinner. However, our collective newness to the holiday betrayed us as we discovered that, having not reserved a table (забранировать столик) at the first restaurant we had our sights on, no available spaces remained or were expected all night. Luckily, my quick-thinking friends recalled another nearby restaurant that, they remarked, was not usually crowded.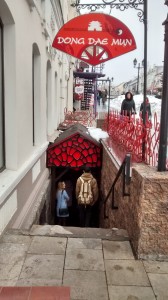 Located on the fountain-strewn walkway locals refer to as Arbat (Арбат) after the famous street in Moscow (Москва) of similar designation, one must descend a short flight of stairs to get into the little bungalow of a Korean café known as Dong Dae Mun. Having correctly recalled the light customer level, we walked in and seated ourselves at one of the five or six unoccupied tables. Despite the smallness of the interior that had my six-foot plus frame ducking here and there, the couch-lined walls and small partitions providing just enough sound and sight obstruction between tables made for a comfortable atmosphere. However, the Russian ballads playing overhead throughout our time there clashed a little awkwardly with the otherwise oriental theme.
Taking our time to skim Dong Dae Mun's menu, one whose price list, like those of most restaurants in town these days, are riddled with obvious signs of pasting-over to accommodate the fluctuating inflation levels caused the ruble's current volatility, a handful of things struck me right off the bat. First was the absence of alcoholic beverages. The second, a little more disconcerting, was the heavily animal product laden dishes. Indeed, apart from the fried tofu I don't believe there was a single dish absent of either meat or seafood. This, from what I am told, accurately represents the dietary habits of South Koreans. As the rest of my company was of Asiatic descent where vegetarianism generally has not reached the popularity it has in the West, they were unfazed by these circumstances and quickly made their selections.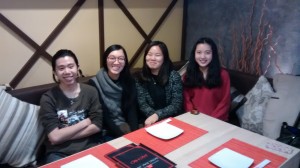 As requested, the communally ordered Milk Oolong tea (Молочный чай улун), which nowhere in the brewing process calls for milk of any kind I learned, was brought to the table before the main dishes. It was further accompanied by a complimentary pitcher of water and a small assortment of cold vegetable appetizers, amongst which of course was the omnipresent Korean staple, kimchi, a spicy, fermented cabbage dish. By the time I had once again acclimated my mechanically impaired hands to the fluid art of chop-stick (палочки) usage, our orders arrived.
Having not exactly been overjoyed with the prospect of crab meat in the Korean rolls known as kimbab (кимбаб), I was relieved to find the morsels both easily extractable and happily consumed by friends. Presented with thinly sliced ginger (имбирь), wasabi (васаби) and a small dish of soy sauce (соевый соус), I was otherwise fully satisfied. Various soups served with sides (гарниры) of rice and ramen with seafood (рамен с морепродуктами) filled out our table and, eventually, our hunger. While my order came in at $6 (370 rubles) plus an additional dollar for my portion of the tea, the heartier soups rang in at $9 (550 rubles for Хедянкук) and $10 (600 rubles for Хемультан), while dishes generally average about $7.50 (450r).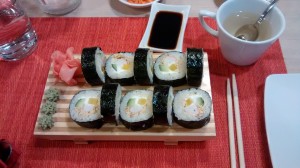 Considering the haphazard circumstances in which we landed ourselves here, we were all happy with the final result. The service was attentive without hovering, even was the other table vacated and we had the room to ourselves. Indeed, for a quiet little place to get something to eat away form the crowds, this might be the ticket. While Dong Dae Mun's menu was not exactly to my likings, I otherwise had few complaints. If life were nothing but binary parsings, this one would have to fall on the side of recommended!