Восточный квартал/кафе восточный квартал
Vostochnyi kvartal
Address: улица Арбат, 45/24, Moscow 119002
Telephone: 8 (499) 241-38-03
Meals from $12
www.vkvartal-arbat.ru
One of the first restaurants I ate at when I arrived in Russia was an Uzbek restaurant that claimed to serve traditional food from Uzbekistan, but that also serves some traditional Russian dishes! Восточный квартал, whose name means "Eastern Quarter," is located directly off of улица Арбат (Arbat Street) near one of the many Mu-Mu restaurants located in Moscow. If you are arriving from anywhere on the metro, кафе восточный квартал is quickly found after a and a short walk from Смоленская (Smolenskaya) metro station.
Entering the restaurant, you immediately walk into an outside seating area with a yellow canopy overhead protecting guests and waiters from the sun or rain. The fairly large seating area is spacious enough to fit different groups of guests of all sizes and is decorated with beige curtains, Uzbek Uzbek-themed pillows and cushions and a few small plants. We liked the look of the cushiony couches and wooden chairs on the beautiful, sunny day, so this outdoor area was ideal for our group of 6 to enjoy our meal! After entering the canopy, we were immediately greeted by a waiter that showed us to one of the larger tables that easily suited all six of our group, half on chairs and half on a cushioned couch.
Ordering off of the menu was not difficult at all as every entrée or side item had an accompanying picture and short English description listed below. Everyone at the table chose to order varying dishes, but my two favorites from the table were definitely the Kovuzma Lagman, which I ordered, and the regular Manty dumplings ordered by my roommate. The Koyuzma Lagman is a dish that has fried homemade noodles with eggs, onion and lamb. The dish itself was delicious and I would most definitely order it again (460 rubles) and would suggest you try it at Uzbek restaurants that happen to serve any style of Lagman! However, I would like to say that I did not like the thickness of the noodles. Although they complimented the dish very well, I personally am a huge fan of Angel Hair pasta and these noodles seemed too doughy and heavy for me. Nevertheless, I ate the whole plate!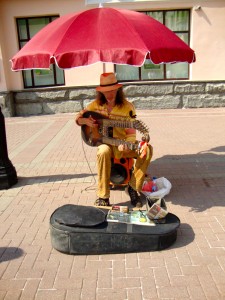 My roommate's manty was full of flavor and I would recommend trying them (220 rubles). Manty are basically Uzbek dumplings or pockets of dough with chopped lamb and spices inside of the pocket. My roommate's manty were very well prepared and, next time we return to this particular restaurant, we decided we want to try the manty prepared with a pumpkin filling! I also happened to order a delicious lemon tea and really enjoyed the flavor as well as the beautiful teapot that it was served in. I would suggest ordering one of the teas that they offer to see if you enjoy them as much as I did.
After checking out the Восточный квартал website for further information, I would also suggest trying a dish that they serve with some of their freshly baked breads. Their bread is cooked in a tandoor tandyr (a cylindrical clay oven) and seems as though it would be a great addition to the other meat and vegetable dishes that they offer. Another exciting point to this restaurant is that Восточный квартал is located directly off of Арбат (Arbat) street. Арбат is a famous big pedestrian-only road that is always crowded with musicians, small street market stands, indoor shops and people of all ages enjoying the atmosphere. Our group immediately headed out to Арбат street after we finished eating to explore the town while window and market shopping!
For groups or faculty-led tours, Восточный квартал would be a nice place to stop for lunch or dinner. The décor was enjoyable, the food was delicious and the service was quick and able to help with any problems that we had.