We try to anticipate everything before we head abroad – Where will I live? What kind of clothes do I need to bring? Where will I go if I get sick? What kind of transportation will be available in the city? But there's also a more obvious question that we may forget about until we arrive – Where do I meet new friends?
Of course, there are many answers to that question. However, meeting new friends in a foreign country may be more difficult in comparison to making new friends in a new city back home.  It's easy to get intimidated by language barriers, especially if you are a new student of Russian, and even more experienced students don't want to commit a faux paus or make an embarrassing language mistake in a social situation with a new crowd. Thankfully, there are ways to ease into the Petersburg social world.
One of the best ways to do this is to sign up for Couch Surfing. Ever heard of it? If not, it may sound pretty strange. At its heart, CouchSurfing.com is a web site and community where travelers can find a place to stay in a new city while visiting. The idea is, locals in the community tag their location and describe their amenities – usually an open couch or maybe even an extra bedroom – so that people who search for a place to crash in their city can get in touch. This way, travelers can get free housing during their stay, with the added benefit of meeting locals who can show them around.
But not everyone on Couch Surfing is a member just to crash a couch or offer one. Many join just to meet locals or travelers in the city through a number of fun and often free events. With more than 20,000 members of the St. Petersburg group on CouchSurfing.com and several weekly events, you're bound to find new friends just by dropping in.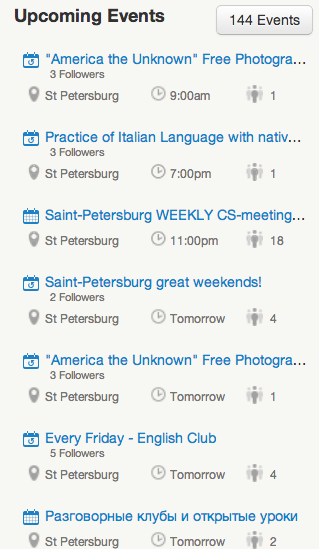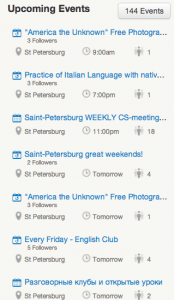 So what do Couch Surfers in St. Petersburg do? For starters, there's a weekly meeting held on Thursdays that brings together locals, international students, and tourists for a few hours of fun and socializing at a café or bar. Just RSVP, show up, and be yourself. What takes the edge off is knowing that a good portion of people you'll meet will be internationals like yourself, and it's not expected that you'll be fluent or perfect in Russian, if you're not. You'll probably find that many of the locals will want to practice their English with you, too. This makes for a nice, relaxed environment where people aren't as afraid to make mistakes. This certainly helps with boosting confidence for those situations where the locals aren't quite as patient!
There's also a weekly English language conversation group, usually held on Friday evenings. Here you can meet Russians eager to practice with or befriend an English speaker. Even if you're not keen on speaking much English while you're in Russia, it's still a cool experience to meet people who are trying to do exactly the same thing as you are, just reversed! These meetings are also great opportunities for finding  language exchange partners and friends to spend time with outside of the weekly meetings.
Rather spruce up your Russian? Never fear, there's a Russian conversation club, too. Usually held on Saturdays in the afternoon, think of these as informal classes where you can speak Russian with patient, understanding locals and other students learning the language. You'll learn colloquialisms, Russian jokes, and meet people excited about the language.
Less frequent but just as cool is the first Thursday of the month group walking tour of The Hermitage Museum. This group takes advantage of free entry to the museum every first Thursday and then goes for lunch. Conversation here is usually a mix of English and Russian.
Going to a Couch Surfing meet-up once a week (or more!) is one of the best ways to meet new friends and practice the language without the pressure. The social environment and welcoming attitude toward learners can be refreshing and confidence boosting.
Signing up for Couch Surfing is free and secure. You can find the St. Petersburg Couch Surfing page by clicking here.