Кофетория Кафе // Coffetory Cafe
ул. Светланская 61 // 61 Svetlanskaya Street
10am-1am
Fanciest, decently priced cafe in Vladivostok
www.coffetory-vl.ru
Coffetory Cafe is the swankiest place I have been to here in Vladivostok. It is also the place of choice for many of my Russian friends to meet for lunch or dinner. It is the largest cafe I have been to, with two stories. The basement floor is dedicated for smoking and hookah, the ground floor is non-smoking, but has a bar. The environment is very modern, like a classy nightclub. I've been four times, on both floors, and the energy is always popping.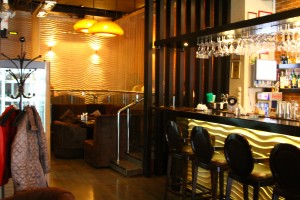 When you enter, you'll be immediately greeted by a young, attractive host/ess who will direct you to where they have space. It is usually busy and there are many waiters and waitresses buzzing and working, so watch out for them. The menu is expansive, but not expensive; they have literally about everything, from sushi to pizza, Italian pasta to Russian dishes, sandwiches and salads, burgers and more. Prices are in the 200-300 ruble range. They also have a large drink menu with assorted cocktails.
The basement floor has an area for a DJ who is typically mixing playlists while you eat. I must admit I'm pretty into the music that they play. It is primarily electronic, very trance-like but it varies from DJ and with time. The basement is made up of small, secluded table areas that sit 4-8 people. In these holdings are a blown-up, kitschy, female nude posters and a single dim light. A lot of people smoke hookah (which costs from 700-1300 rubles depending on flavor), so if you are sensitive to smoke I recommend you stay on the ground floor. The only way to get to the basement floor is by really steep stairs (that the waitresses have expertly learned to navigate without dropping food). The first floor has a bar on the right and smaller tables (that fit 2-6 people) on the left. There are large televisions that play fashion television everywhere, so even if you go alone you'll be entertained by weird, high end fashion shows.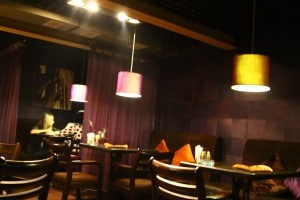 For the last two times I have gone, I had Nastya, for my waitress. She was exceptional at her job. She was always around whenever we needed her and very kind. Service was quite good at Coffetory; not too invasive, but not too absent.
I go for pizza every time I have been (just because finding decent pizza is quite difficult in Vladivostok). Pizza at Coffetory is tasty. I have not found a place that has understood the importance of crust here; most pizzas in Vladivostok are tomato sauce, cheese, and ham on warm bread or thin crust pizza. Coffetory at least has thin crust. I recommend the Пицца с яблоком и молодым сыром (Pizza with apple and young cheese, 250 rubles) if you're looking for a sweet tasting pizza or Пицца «Четыре сыра» (4 Cheese Pizza, 250 rubles) if you're looking for a more classical pizza. They are fairly large for Russian pizzas (like a small Papa John's pizza in the US) and have filled me up each time. I also super recommend their non-alcoholic strawberry lemonade (220 rubles). It is one of the best strawberry lemonades I have had; it is sweet with a kick of bubbles.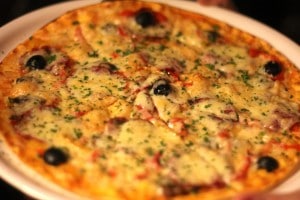 I would not recommend you come here if your interest is studying; there is far too much going on to complete an activity like that. With hot beats, dim light, and small tables, this cafe is made for social conversation.
Coffetory is located right under the Zolotoi Rog Bridge and near the Lazo bus stop. I typically take the фуниклер (funicular) down to Svetlanskaya Street and walk the two blocks to the cafe, but you can also take the #38 bus from the dorms to Center and then catch the #98д bus to 61 Svetlanskaya (which takes about 30 minutes).
Takeaway – Fancy, with a large menu and an energetic atmosphere, Coffetory is the place to go to meet with friends and have a social time.
(+) – Huge menu, modern cuisine, free wifi, fun atmosphere
(-) – Loud at times, hard to see
⅘ – Coffetory is a good, social cafe