Coffee Station
http://vk.com/coffeestation
26, Некрасова ул., Saint Petersburg, Russia
Hours of Operation: M-F 8.00 -22.30, Sat-Sun 9.00-22.30
Drinks from 70 rubles   
I have a romanticized, film-inspired, over-the-top corny imagination. It leads my mind to conjure images of many "perfect" days, several of which begin sitting at a boutique coffee shop, writing the next great novel on my laptop, surrounded by the smell of fresh roasting coffee beans and pastry dough. Although the novel may be a bit of a stretch, on the recommendation of a Russian friend I have discovered the setting of my daydreams!
Coffee Station is located on a quiet side street off of Liteny Prospekt, the front door is inconspicuous, barely marked with the café's logo, making it almost exclusive to those "in the know." As soon as you walk in you are hit with the smell of fresh coffee, a rarity in a country whose budding coffee culture cannot even be compared to the United States, and greeted with a smile by the baristas behind the counter. The specialty here is clearly coffee, at decent prices compared to the wallet-gouging big chain cafes on Nevsky Prospekt. More than half of the menu is dedicated to the caffeinated beverage of choice, but they also offer a lovely selection of teas, American-style hot chocolate (какао), and Russian-style melted chocolate shots (горячий шоколад). There is also a small case of fruit and sweets – cookies, cheesecake, pies – made in-house.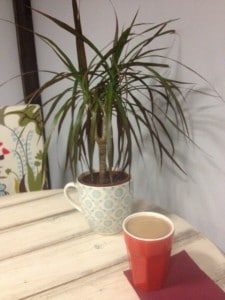 The front section is occupied by the counter with its espresso machines and cheerful baristas and a large custom-made communal table surrounded by avant-garde see-through chairs. There is a selection of board games to choose from if you come with friends. There is also a smaller back section with private tables if you are looking for a more intimate experience. The décor is charming: white washed walls, raw wooden floors and table tops, and live plants. Handmade doily "snowflakes" and cotton ball "snow" add to the personalized atmosphere. The entire café is non-smoking.
I ordered a small hot chocolate for 175 rubles and a piece of pumpkin cake for 170 rubles. The hot chocolate was just the right amount of sweet, topped with whipped cream and cinnamon for a spicy kick, the last sip coated my mouth with grainy chunks of real chocolate and a delicious layer of milk fat proving there was no instant mix here! The cake was moist and sweet, topped with cream cheese icing. They keep a pitcher of free water at the counter to wash down the rich flavors.
I stayed at Coffee Station for about two hours, enjoying the soft jazz and big-band swing music playing without being bothered by pushy wait staff or feeling pressured to keep buying things. Overall, I give it 5 stars! A visit to this adorable, high quality café is an excellent way to feel integrated into the city of Saint Petersburg and satisfy your caffeine fix.
For groups and faculty led tours, Coffee Station would make a convenient and delicious stop for 10-15 people.
---