Coffee House / Кофе Хауз
34 7th Line (Metro Vasileostrovskaya) and multiple locations
Open 24 hours daily
www.CoffeeHouse.ru
Meals from 220 rubles
One of the most prominent coffee shop chains in Russia is Coffee House, with more than 50 locations across St. Petersburg alone. Seemingly as ubiquitous as Starbucks in the States, it won't take long for you to find a store. With a location never too far away and with most being open 24 hours, Coffee House is a great place to meet up with friends at any time for coffee, dessert, or a hot dish.
Starting early at 6 a.m. and lasting through noon, Coffee Shop offers a variety of breakfasts. These hours are handy for students looking to grab a bite before 9 a.m. classes, which start at the same time many restaurants and cafes are just opening their doors. The location on the 7th line, a short walk from the University, is ideal for a hot breakfast and a study session before a day of Russian lessons. Here, 165 rubles can get you bliny with honey or jam, or muesli with mango and passion fruit flavored yogurt. 205 rubles will nab savory bliny with ham and cheese, chicken, or cottage cheese.  Coffee House also serves omelets. Your basic omelet with cheese and a side of toast will cost 195 rubles, and an omelet upgraded with a side of crispy fried bacon or smoked salmon will run about 40 rubles extra.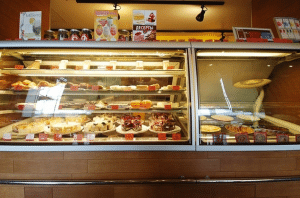 The best part is, at most locations, a drink of your choice is included with each breakfast item. You can choose from a mug of black or green tea, an Americano (a "regular" coffee as most Americans know it), or juice (usually orange or mixed berry). Not a bad deal. The location nearest the university is unfortunately not one of these select locations, but you can find the one closest to you by following this link. Only about a third of all the locations in Petersburg don't offer this special, including, unsurprisingly, the busiest locations, such as the three on Nevsky.
For lunch, Coffee House has four standard specials to choose from. Each option comes with your choice of a soup or salad of the day. The light lunch, for 220 rubles, includes the soup or salad of the day and two slices of bread or toast. For 40 rubles more, you can get the same with your choice of bliny with chicken, smoked salmon, or ham and cheese. One more step up is the "pasta lunch" for 310 rubles, which gives you a choice of salmon fettuccini or fettuccini with truffle sauce. Finally, the "Coffee House special," coming in at 335 rubles, includes a beef or spinach quesadilla. As with the breakfast specials, most locations also throw in a drink. Choose from house-made lemonade (delicious), cranberry juice, mors, black or green tea, and an Americano.
So what about the coffee, right? Coffee House offers the usual suspects – mocha lattes, espresso macchiato, and the classic cappuccino. A medium cappuccino (100 ml) will run 135 rubles, and the medium mocha (200 ml) costs 170. For 15 rubles more, you can add a favorite flavored syrup – and there's a lot to choose from.  Caramel, vanilla, maple, honey, tiramisu, German chocolate, mint chocolate, banana split, rocky road, and many more. The banana split is recommended for a mocha.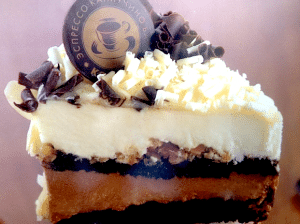 There is also a tea bar serving up some tasty spins on the classics. For a 300 ml teapot of the classics like Earl Grey, Jasmine, and Chamomile, it'll be 189 rubles. For 500 ml of some more adventures flavors, 255 rubles will get you green tea with basil and raspberries, chamomile with honey and mint, a mint-infused "hot mojito" flavor, and black tea flavored with currant with apple.
If you're more in the mood for a sweet treat, Coffee House offers a variety of pies and cakes. There are nine cheesecake flavors to choose from, including the delicious double cappuccino flavor and the classic New York style. Each cost 220 rubles. For the same price, you can also get the surprisingly tasty chocolate and sea salt cake or a slice of apple strudel.
Lastly, Coffee House also has a few items for sale that some students may find useful for dorm life. Miss your coffee maker at home? Here, you can buy a French press and wholesale ground coffee beans. A 3-cup French press is 550 rubles, though the more expensive variants can make more than 8 cups. A 3-cupper fits right on your dorm desk and is an easy – though manual – way to make a quick brew in the morning. If you ask a store manager, they'll even ground your coffee beans (sold in most stores) to the right specifications for you.
For groups and faculty-led tours, Coffee House is a great stop for a re-fuel or a snack. Booths are usually available for groups, the menu is extensive, and free WiFi is available. A complete list of locations of stores in St. Petersburg can be found here.