Cody White is an undergraduate engineering student at West Virginia University. He is currently halfway through a year long program in Russian Studies Abroad with SRAS, and has managed to use his ability to gain friends in any culture to have some truly remarkable experiences abroad. He hopes to work for the US government in the field of national security after graduation.
SRAS: Let's start with your recent 15 minutes of fame. How did you get picked to do the "Touch Russia" video? What was shooting like? It looks like they had some guy following you around for months to different locations. How long did it take?
Cody White: The fifteen minutes of fame was nice, but it took a lot of hard work and some sacrifice! I'm not sure if you are familiar with the term "по блату," or through connections – this is basically how the studio found me. One of my Russian friends here in Moscow knew this guy who was looking for an American, and he recommended me.
The shooting was fairly simple but exhausting. The idea was to make it look primarily as if I had taken my own journey across Russia and filmed at various locations doing various things! The truth is, we filmed everything in about two weeks. It was a tiring and wearing journey, not to mention cold. I had to dress down so to look more natural on camera – despite the freezing temperatures.
Cody in "Touch Russia"

SRAS: You originally went to Astrakhan for your first experience in Russia. Why did you choose Astrakhan and not, for instance, Moscow or St. Petersburg or one of the other "more obvious" choices? Tell us a bit about your experience in Astrakhan.
CW: This is a funny story, but I love telling it! During my junior year of high school I dated an exchange student from Russia. After she left, I went and followed suit! I lived in Astrakhan, Russia for one month. Despite the relationship being a disaster, I fell in love with the people and culture of Russia. Two years after I returned to America, I still had the passion for Russia which has led me to come back to Russian and study language.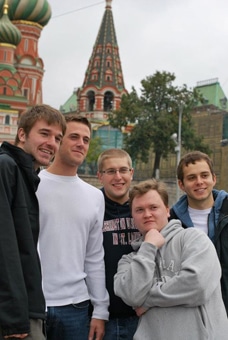 I did choose to go to Astrakhan because of the girl I had been dating, but honestly, I wasn't studying in Astrakhan. Regardless of this fact, it is where I learned the Cyrillic alphabet, learned a good deal of Russian, and began to understand the rich Russian culture. My time in Astrakhan was wonderful. Warm summer days, great company, and a loving family made Russia feel like my second home! It was my first time abroad and it planted a love for traveling inside of me.
SRAS: You are an engineering student – this is one field that doesn't often lend itself well to study abroad. Often, the fairly structured degrees and class requirements preclude taking a semester or year off from the program. It's also a field that often doesn't see itself as tied to international issues. Did you find that scheduling study abroad into your degree was difficult? Did you find folks in your department supportive or suspicious of your plans?
CW: Engineering is entirely tied to international issues. Every company is competing on a global level and needs experts who can understand social and cultural trends around the world. This not only allows them to predict and take advantage of markets, but will allow them to invest and grow to new places. By taking one year off from studying, I was able to avoid conflict by simply deciding to take a five year course to graduation. It means working my butt off for the next three years, but it will be worth it. Everyone at West Virginia University was more than supportive about my time abroad and encouraged, recognizing its importance.
SRAS: You are now studying with SRAS on our Russian Studies Abroad program in Moscow. How did you come across this program and what made you choose it over the (perhaps hundreds of) other study abroad programs out there?
CW: I came across SRAS on the Internet, while searching extensively for good study abroad programs. The truth is, I really wanted to study in Moscow! I had no desire to study in St. Petersburg, and SRAS has some wonderful Moscow-based programs. The program I choose was highly important for the scholarship that I was pursuing and won (the David L. Boren Scholarship). It had to be an extensive program, covering language and cultural aspects with a strong support system for the students. The programs at SRAS offered just these things and proved to be a program supported by the scholarship committee.
SRAS: Russian Studies Abroad offers a wide range of classes that students can choose from to customize their course to their specific interests. How have you customized yours?
CW: Part of the reason I choose Russian Studies Abroad is because of the wide range of material you can cover! I've dived into the history, politics, and culture of Russia already last semester! This semester (I'm taking the full year program), I hope to take in information about the media, past Russian intellectuals, and more. It is a great program!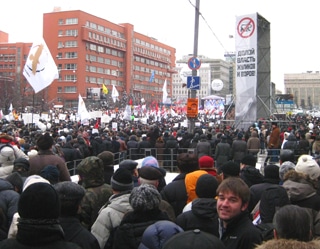 SRAS: You've also managed to arrange for yourself a remote internship with an engineering firm back in your old stomping grounds of Astrakhan. How did you arrange this and what are you doing for them now?
CW: The internship proved to be a little complicated, however I will going to Astrakhan when possible to do more of a job shadow to help familiarize myself with the "engineering culture" of Russia. I saw this as a good opportunity to gain invaluable experience!
SRAS: Besides your experience starring in a viral video, what has been your most memorable experience while abroad?
CW: I would have to say that some of the other unique experiences I've had! While here in Russia I've taught math classes in English to teenagers, I've worked with younger children teaching English, I've played in the popular competition «КВН», and made many memories with friends, such as spending New Year's on Red Square. It would be impossible to pick out one single event!
SRAS: I see that you also managed to meet the US Ambassador to Russia during your time here. How did you manage to score that invitation?
CW: The David L. Boren scholarship is directly related to the United States Government. Because of this, I was invited to a dinner where many students (of all levels and fields, who were in Russia on government related business) were present. This was a great opportunity to meet the Ambassador and gain a better understanding of US-Russian relations.
SRAS: What are your personal and professional goals post-graduation? How do you see all of your experiences in Russia helping you achieving your goals later in life?
CW: My experiences in Russia has provided valuable work, social, and life lessons! It has taught me so much personal responsibility. Living on my own, managing money, lacking direct authority… all of this has helped me to grow up! However, despite the life lessons, I'm here in Russia to study the Russian language. This will help me with my future career goals. I hope to use my Russian language in conjunction with my engineering knowledge to work with the US Government in a field of national security directly after graduation. However, after working for one year, I plan to continue my education while working in a field that would allow me to be active in both America and Russia.
SRAS: So are you already set to work for government for one year? Is this a program you are on? Can you be more specific about the position and how you will use your language skills or is it top secret?
CW: Essentially, I am given priority status for any government position I apply for that is related to national security. My scholarship requires that serve one year in a position related to national security, however my choices are fairly broad. As I continue my education I will further decide where and how I want to serve our government, but for now I am unsure.
"Touch Russia" Director's Cut!