Jalal-Abad Chaikhana
Address: Togolok Moldo 54/a
Meals for ~$3-6
Hours: 8am- 11pm
Telephone: +996 312 61 00 83
If I had out-of-town visitors this summer, I would take them to Jalal-Abad Chaikhana, a teahouse in Bishkek named after the central-western Kyrgyzstan province of the same name. Jalal-Abad Province is located about a 10-hour drive from Bishkek, and it is most known for Arslanbob, the world's largest natural growing walnut forest ("Arslanbob" in Kyrgyz means: "King of Forests.") Legend has it that it was Alexander the Great who, after his military campaigns in Jalal-Abad, first brought walnuts to Greece.
Jalal-Abad Chaikhana in Bishkek provides a classic Central Asian experience: You can dine outside in huts, or on the wooden terrace that snakes around the indoor restaurant. You can also dine behind wooden topchans, Central Asian table-beds on raised wooden platforms. Now that summer is approaching, it's getting warmer, and people are ready to just to relax and slow down for a bit, this teahouse is a great place to kick off your shoes and recline on bright, multicolored, multi-patterned Kyrgyz mattresses and pillows.
Jalal-Abad is best known for its classic Central Asian dishes: laghman, beshparmak, manti, samsi, ashlamfu, oromo, you name it. You will also find some Kyrgyz specialties native to Jalal-Abad, such as larzuro, which is fried beef and vegetables ($3.33). According to one of the restaurants' waitresses, the most popular dishes with customers are the plov ($23 for 1 kilogram – enough to feed 4-5 people easily) and manti ($1.87), the latter especially because Jalal-Abad offers wide variety of manti with potatoes, pumpkin, and/or meats of various sorts.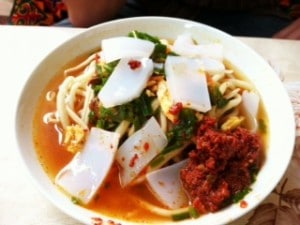 One Sunday afternoon, after a souvenir-shopping session at the nearby Osh Bazaar, one of the biggest bazaars in Bishkek, a colleague and I went to Jalal-Abad for two regional dishes. He got the ashlamfu ($1.87), which is a cold noodle dish with slices of starch jelly. (It's also got the reputation of being the best hangover food.) I got the Kyrgyz classic beshparmak, a hot noodle dish with horsemeat ($3.33). We also shared a basket of bread, and a dainty saucer of fresh Kyrgyz honey (62 cents). The honey was so delicious — not too sweet, not too thick — I spooned most of it straight into my mouth. Overall, we were satisfied with our dishes and the service. The beshparmak could have had less noodles (it overwhelmed the horsemeat, which was deliciously fatty and tasty in its own right), and it could have used a little more seasoning, or some kind of punch. But after sprinkling some of the spicy ashlamfu sauce over my noodles, it was quite good.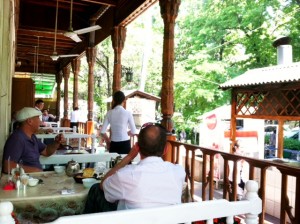 Locals flock to Jalal-Abad, too. I once went during a quiet Thursday morning around 10am, and in the peaceful atmosphere of the pre-lunch rush were Bishkek locals just enjoying nothing more bread and tea: old couples, young mothers, close friends. One Kyrgyz mother breastfed her baby while talking with her girlfriends. One old Kyrgyz couple, probably in their 70s, sat cross-legged from each other in their topchan, and smiled over their bowls of tea. (They were pretty cute.) Another elder Kyrgyz man sat in his topchan by himself (like me) and read the newspaper. If it weren't for the plastic Coca Cola ads that lined the huts, and the modern clothes, this could have been a scene from the ancient days of the Silk Road, when weary desert travelers stopped at these teahouses for tea and a warm meal.
I therefore recommend Jalal-Abad Chaikhana for a typical Central Asian outdoor dining experience. The standard national fare isn't exceptional, but the experience of sitting (or lying) on a soft pillow mattress in the warm sun, passing the time withblack tea with a good friend, surrounded by others who are equally relaxed, perhaps with a lovely saucer of honey, will make it worth your while.
For groups and faculty-led tours, I definitely recommend Jalal-Abad Chaikhana. It is a deceivingly large complex. In addition to the outside terrace and wooden huts, there is an indoor section and another garden section with smaller round, plastic tables. Prices are comparable, and the staff is accustomed to dealing with large crowds. Jalal-Abad is also in a central location. It is about a five-minute walk from Bishkek's main square, and about a 15-minute walk from Osh Bazaar.