Christine Jacobson graduated from Stetson University in Florida with degrees in political science and Russian studies. She studied with SRAS on a custom program in St. Petersburg in 2011. She currently lives and works in Moscow, but is hoping to attend graduate school in the fall of 2014.
SRAS: You worked for a year as the Assistant Director of Youth Programs and Marketing Specialist for the Russian American Foundation in New York. First, can you explain to us what your job entailed (emphasize use of Russian if any) and how you located and landed this job?
Christine Jacobson: The foundation posted an ad for a temporary summer position on idealist.org. After a telephone interview, I was offered the job and moved to New York. At the end of the summer, the foundation offered me a full time job.
As with many non-profits, a single person can end up wearing many hats. As Assistant Director of Youth programs, I was responsible for coordinating a student exchange program for American high school ballet students. This program was funded by the State Department as a National Security Language Initiative for Youth (NSLI-Y) program and done in coordination with the Bolshoi Ballet Academy in Moscow. I also coordinated two summer ballet programs at the Lincoln Center with the Bolshoi Ballet Academy — a Bolshoi training program for very young ballet students and a Master Class in the Bolshoi pedagogy for ballet instructors from all over the world.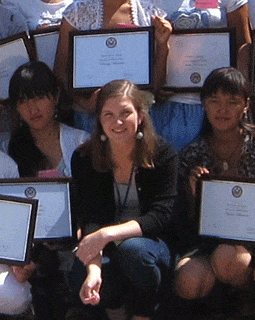 As the foundation's marketing specialist, I had to promote these programs as well as the foundation's cultural events, such as the New York City Russian Heritage Month. I wrote press releases, coordinated interviews and coverage with the press, and got the foundation active on social media.
In all of my projects and roles, I had to use Russian language – whether it was interviewing potential host families in Moscow, coordinating schedules with the Bolshoi instructors, or writing press releases in Russian. All of my coworkers were native Russian speakers as well.
SRAS: You now work for English First Russia as an English teacher. I would like to ask a few questions about this: first, what is the most challenging and what is the most rewarding aspect of teaching?
CJ: I teach adults and so I find it rewarding to know that their hard work in my classroom will help them achieve their professional goals or their dreams of traveling abroad. This can also be the most challenging aspect of teaching adults, because I feel deeply responsible for their progress.
SRAS: Second, how did you locate you job and what was the application/interview/hiring process actually like?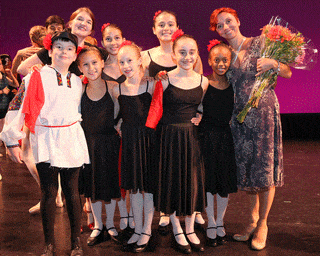 CJ: Once I got the itch to back to Russia, I started researching English Language schools. Instead of submitting applications online, I sent e-mails to recruiters listed on the schools' websites with questions I had about their available positions and terms of employment. English First not only got back to me right away, but also expressed their interest in me and asked for an interview as soon as possible. After a telephone interview with a recruiter, I received an offer for a position the next week. It was a whirlwind process! Luckily, they gave me several months to settle my life in the States before making the move to Moscow.
SRAS: Probably the most interesting line on your resume is your work in 2011 as an Intern with Public Affairs Office and the Political-Economic Office in the US Embassy in Bishkek, Kyrgyzstan. Again, how did you find out about the position and what was the application/interview/hiring process actually like?
CJ: I have always been interested in a career as a Foreign Service Officer, and I'm sure many other Russian Studies majors can relate. However, the process to become one is incredibly competitive and time-consuming, and so when I found out the State Department offered internships in many of their embassies around the world, I thought it'd be an excellent opportunity to examine the life of an FSO up close.
The application and hiring process for a State Department internship is long, complex, and a little unpredictable. For undergraduates, it is necessary to apply a year in advance of the summer you wish to intern. There is no interview, but the application packet is quite thick. If you are offered an internship as a primary or alternate candidate, you are then subjected to a full background check in order to obtain a secret security clearance, which is required to work at any embassy. I was an alternate candidate, which meant I would be offered an internship if someone else was not granted a security clearance, or if they did not accept the internship. For the background check, I had to fill out a lot of personal information and I was interviewed by several State Department Personnel. Once I was granted my security clearance, I had to wait several months to find out whether I would be offered an actual internship or not. Ultimately, the US Embassy in Bishkek offered me the internship three days before the start of the internship.
This internship was difficult because it was unpaid and I was offered no help on airfare. However, the embassy did arrange my accommodations and transportation to and from work for the duration of the internship. Additionally, it was an incredible experience and I worked on several fascinating projects while I was there, including the first Central Asia and Afghanistan Women's Economic Symposium and English Access Camps for Kyrgyz children.
SRAS: Wow, that sounds awesome. So, you double majored in Political Science and Russian Studies at Stetson University in Florida. You've also studied abroad and worked in Russia and Kyrgyzstan now. What first got you interested in Russia and Central Asia?
CJ: This question should get easier to answer with time, but it doesn't! I remember Russia seemed very enchanting and mysterious from where I grew up in tropical suburban Florida, and I fell in love when I began to study the language and literature my first year in college. However, later in college, as I watched the Kyrgyz revolution unfold and I actually spent time living in Russia, my love turned more into an insatiable curiosity for the fate of each region.
SRAS: Your senior thesis was "The Success of Ar Namys in the 2010 Kyrgyz Parliamentary Election: Kyrgyzstan's 'Dignity' Party as a Case Study of Party Supply-Demand Theory" can you give us a brief synopsis of how you researched this and what your findings were?
CJ: When I returned to Stetson from my internship in Bishkek, I brought with me Kyrgyzstan's latest census data and their latest parliamentary election data. The election had occurred just after the 2010 revolution so I thought it would be interesting to see what patterns emerged in the parliament after such great political upheaval. I had tried to learn as much as I could about the popular political parties while in Kyrgyzstan, but I still had a lot of questions. It turned out that one of my questions wasn't a bad research question: How did Ar Namys, a party without any ties to the government, nor a party that had ever successfully gained representation in the decade prior, find itself amongst the top vote earners for this election? I examined this topic by 1) running scatterplots between voter ethnicities and party votes and 2) placing their platform in the context of party Supply-Demand theory. I found that ethnic Russians and Russian-speaking Kyrgyz made up most of the party's voting population. Due to the party's internationalist party platform and official endorsement from the Kremlin, it filled a demand in the voting population that no other Kyrgyz party was able to.
(A note: This paper was not great or very interesting — this is actually why I went on to write the second one, "Against All", which SRAS published as part of Vestnik, The Journal of Russian and Asian Studies. I had a wealth of interesting data but no clear idea what to do with it on my first run. The second paper turned out quite a bit better – I even won the $200 Jury Award from Vestnik for that one!)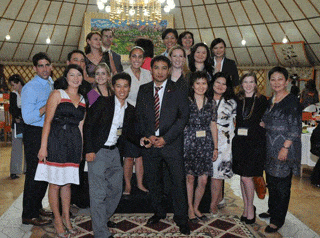 SRAS: What is the most interesting experience you've had while abroad?
CJ: As a student in St. Petersburg, and a government intern in Bishkek, I didn't get to know the locals as much as I would have liked. This time living in Moscow, I've made much more of an effort to make Russian friends and it's provided me with fantastic experiences! One example of this was spending New Year's Eve with a young Russian family. I spent much of the day helping the wife prepare the traditional New Year's dishes (Salat " Olivier" of course) and then the rest of the night seemed to last forever between all of the obligatory holiday traditions: we watched Putin's speech at midnight, burned and downed our written-down wishes for the New Year in champagne, made endless toasts, lit sparklers, exchanged gifts, lit fireworks in the street, and of course, sang karaoke. I've never felt more Russian.
SRAS: Indeed. Even after living here for 10 years, I still value experience like that! So, with all your international knowledge and experience, where do you hope to be in five years?
CJ: I've just applied to several PhD and Masters programs in Political Science, so I hope to have a higher degree in five years. I would love to then find a research analyst position with an organization like the Open Society or Freedom House, but I'd be happy in almost any position which put my language and research skills to use. Frequent travel would be icing on the cake!
SRAS: What advice would you have for other students hoping to study abroad or work abroad in Russia or Central Asia?
CJ: When you're young, try to get abroad as much as possible! You'll never be in a better position to nail down your language skills than you are now. It's no secret that as you get older, it becomes more difficult to learn a language — and I see examples of this every day with my adult students. Once abroad, put yourself in situations where you have to speak the language. If you can afford it, live with a host family. I did not my first time abroad, and I deeply regretted it. I also regretted not getting to know more locals and this time, my Russian is benefitting immensely from the effort I have put into my Russian friendships.