Chris Pike is a graduate student in Russian language and literature at Northwestern University. He is also an adventurer who has scaled mountains in Kamchatka and who has ridden a bicycle across the Gobi Desert. He has worked, studied, and interned in Russia as well and has recently completed another "arctic like" adventure on Lake Baikal in Russia. We recently caught up with him to talk about his studies, adventures, and outlook on life.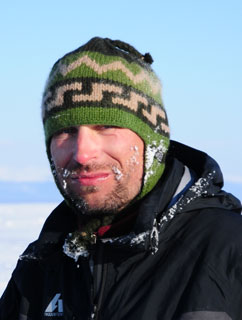 SRAS: You have earned an MA in Russian Language and Literature and are now pursuing additional graduate studies in the subject. Your experience inside Russia has included internships and volunteering in Irkutsk, study abroad and work experience in Vladivostok, mountaineering in Kamchatka, and now frozen-lake-bicycle-trekking on Baikal… What first got you interested in Russia and Russian?
Chris Pike: I initially became interested in Russia through my exposure to Russian literature and classical music in high school. However, it wasn't until many years later that I thought of travelling to Russia. Thanks to the economic boom in the information technology industry in Seattle in the late 1990's I had been able to work my way into a decent position in software testing. For the first time in my life I was making decent money and realized that this was my opportunity to fulfill my dream of living in a foreign country and studying a foreign language. I thought long and hard about where to go and all arrows seemed to point towards Russia. I arrived in Vladivostok knowing very little about Russian culture and only a few words of the language. By the time I returned home two years later my interest in the language and the culture had grown immensely.
SRAS: So why, if you were interested primarily in Russia, did you choose to go to Vladivostok – which is perhaps best known as a heavy mix of Asian and Russian cultures? Why not choose more traditional destinations like Moscow or St. Petersburg?
CP: I saw several advantages in deciding to enroll in a language program in Vladivostok rather than one in Moscow or St. Petersburg. First of all, I understood that a significant part of my experience would be getting to know the other foreign students at the school. I hoped that the smaller ratio of Westerners in Vladivostok would minimize the amount of English language in my environment and provide for a richer cultural exchange amongst the students. I was not disappointed. The majority of the students were from China, South Korea, and Japan. As a rule we spoke only Russian. The only exception I made was with three North Korean men who had come to Vladivostok to study English. Some of my most prized memories from my time in Vladivostok are the times I spent discussing politics and moral convictions with the North Koreans. I will never forget the overwhelmingly positive impression that these men made on me. They were incredibly generous and inspiring people.
Secondly, Vladivostok was geographically closer to mountains and "wild" nature. I was full of aspirations to embark on all sorts of adventures: rock climbing, mountain biking, mountaineering, backpacking, etc, and I figured that my chances of making these sorts of trips happen in Vladivostok were higher than in Moscow or St. Petersburg. Again I was not disappointed. At least once a month my Russian friends would show up without any advance notice, tell me to pack my backpack, and then drive me off into the wilds of Primorye. I often would not return until early Monday morning just in time for class – shattered and satisfied.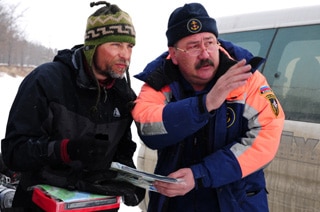 Finally, the price of tuition and housing in Vladivostok was much less than in Moscow or St. Petersburg. If I had gone to Moscow or St. Petersburg I would have had enough money to support myself for one year. By choosing instead to go to Vladivostok I was able to afford two years in Russia.
SRAS: Your most recent expedition to Russia involved participating in an international effort to make the "first-ever human-powered winter circumnavigation of Lake Baikal"on mountain bikes. How does the idea to do such a thing come about?
CP: While living in Irkutsk I spent much of my free time recreating on or near the lake: skiing in winter and building trails and bicycle touring in the spring and summer.
One of these trips was a 5-day ski tour from the town of Listvianka to Ol'khon Island. A friend and I had chosen to use light-weight edgeless cross-country skis to move quickly over the snow, only to find that there was very little snow where we were on the lake. The surface was predominantly blue ice. Due to the weight of our backpacks our skis were flattening out completely in the middle and it was a real struggle to remain balanced, keep the skis parallel, and make forward progress on the ice. During one of these long days of double poling on wobbly legs and skittish skis I came to the conclusion that a mountain bike with spiked tires would be the most efficient and enjoyable way to travel on the ice of Baikal. The idea of a full circumnavigation of the lake came to me shortly after. It seemed to me the perfect adventure; having everything that appealed to me about a polar expedition – cold, ice and snow, and isolation – with less risk, less cost, and a whole lot more cultural interaction. Also, the Russian adventurer Pavel Koniukhov had told me a few stories from his trans-Russia winter crossing by bike when he and his partners had traversed Lake Baikal end-to-end and his impressions of riding a bike on the ice of Baikal had stayed with me.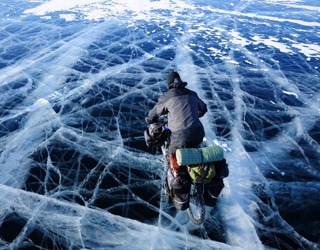 SRAS: How is that you came to know the Russian artist and traveler Pavel Koniukhov?
CP: Shortly after my arrival in Vladivostok I started hunting around for outdoor adventure enthusiasts. It's not so easy to track these types of folks down as they don't congregate on fields or in gyms like many other sports enthusiasts do. They are usually a fairly selective group. This makes a lot of sense, because in sports like rock climbing and mountaineering you trust your partner with your life.
It wasn't long until I asked the right person – a young athletic-looking woman who worked at the university. She told me that she knew a guy named Maksim Kharchenko who was just the guy that I should meet and promptly gave him a call. I heard what seemed to be a rather irritated voice on the other end present a question. She answered that the reason that I was not calling myself is that my Russian was not so good. At this point I got lost in the conversation but she seemed to be pleading. After she hung up the phone she explained that Maksim had been unwilling to come over and meet me at the school. Instead he had given her his address and said, "If he is a real sportsman he can find me." This didn't bother me so much, as I like to be self-sufficient, but I did become a bit concerned that Maksim would turn out to be one of those competitive types who engage in sports like rock climbing simply to validate the size of their ego.
Nevertheless, I went ahead and took the risk. Having worked as a bicycle messenger in Seattle for a number of years I took the challenge of finding his address as a matter of pride. He came to the door and it was a classic case of the Russian saying – "One fisherman recognizes another from afar." Despite my poor Russian we hit it off right away. My initial assessment of Max couldn't have been more wrong. He turned out to be an exceptionally good-natured guy. Of course, he did test me a bit on our first rock-climbing outing; leading us into a down-climb of a 30-foot vertical face with no rope that we could have hiked around… but it turned out to be perfectly safe and the effect was to establish trust between us – an essential component of any outdoor adventure partnership.
Max lived in a tiny one-bedroom apartment with no appliances or furniture of any kind. He shared a bathroom with the other residents on his floor and used a campstove to heat water for tea. His parents lived approximately 200 kilometers away in the town of Nakhodka. Max had moved to Vladivostok to make a career in advertising and spent much of his time at the office. When he wasn't working he played hard. He somehow always found time to include me in his activities and my inability to produce coherent speech never seemed to hinder his enthusiasm for including me in all areas of his social life. Through Max I met an entire community of outdoor enthusiasts and adventurers, including Pavel Koniukhov.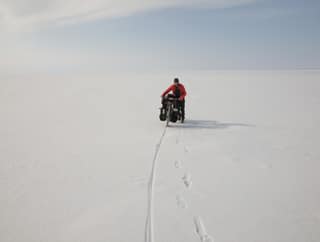 SRAS: I notice that your team was primarily American and Venezuelan – how did this interesting mix come about?
CP: After I returned home to Seattle from Russia in the winter of 2005 I began to look for possible companions for a winter circumnavigation of Lake Baikal by bicycle. Although a couple of my previous adventure partners found the idea intriguing, most people seemed to have decided that my capacity for rational thought had been impaired by my prolonged stay in Russia, and no one expressed any real interest in making the trip happen.
In 2007, I moved to Eugene, Oregon to pursue a Masters degree in Russian language and literature at the University of Oregon. During my studies there I often joined the local GEARS bicycle club on their Wednesday night and weekend rides for a little exercise. It was on one of these rides that I met Maikey Lopera, a Venezuelan alpine climber, cyclist, and adventurer who had moved to the United States to get a degree in exercise physiology at the University of Wisconsin at Madison. I liked Maikey's style. He rode a classic 1980's steel road bike with components that are these days considered "vintage." The bike looked like it had seen a few seasons of hard racing in South America. Nevertheless, Maikey rode hard and few people could hold his wheel when he put the pressure on. I always knew it would be a good ride if Maikey showed up. We hit it off right away. When I mentioned the idea of the Baikal trip to Maikey he just looked at me and said, "Let's do it." And that was it. We started working on it right away and putting everything together.
Maikey recruited his good friend Federico Pisani, a top Venezuelan alpine climber, rock climber, and filmmaker. Federico had previously produced a film about climbing in Patagonia called "La Ventana", which had been featured in the Banff International Film Festival World Tour, and he was motivated by the idea of making a film about Lake Baikal in winter. Federico in turn recruited his friend Marcus Tobia, a well-known Venezuelan adventurer who has climbed all seven summits and reached both the south and north poles. Marcus also had prior experience in adventure documentary filming and was able to assist Federico a great deal with the filming during the trip. Marcus gives a lot of his time to his non-profit organization Proyecto Cumbre, taking children from lower-income families into the mountains and teaching them self-reliance, self-confidence, and leadership skills.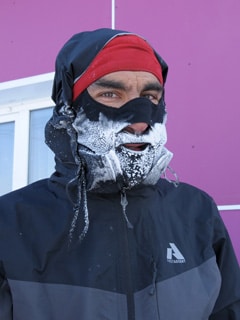 The last person to join was a friend of mine from Seattle, Eric Noll. Eric and I had done a few bike and ski touring trips together. I had been trying to get him interested in the trip for quite some time, and when he saw it coming together in the last couple of months he decided to join. Eric has a lot of bicycle touring experience in difficult conditions and his expertise was an asset in dealing with the mechanical challenges during the trip.
SRAS: Can you give some indication of the logistics that had to go into preparing for this? Even with extensive experience in helping groups of students come to Russia, we can really only imagine what you must have gone through to make this a reality – flying in mountain bikes and equipment, getting them through customs, then planning and packing for sub-zero temperatures, long-term meal planning… The preparation, we are guessing, were probably almost as extreme as the experience itself!
CP: Organizing a trip like this is a lot of work, especially when there are multiple objectives involved and team members on different continents. A few things worked in our favor: first of all, Venezuelan citizens do not need a visa to travel to Russia. Secondly, all the team members had complimentary sets of skills and each person contributed greatly to the overall success. And finally, we received a generous amount of support from sponsors, friends, and other unexpected sources such as the Mayor of Eugene, OR (sister city of Irkutsk), Baikaler.ru, and Men's Health Russia.
Nevertheless, there were plenty of challenges. I will list a few of the major ones:
Winterizing the bikes. We had to replace the grease in all the bearing assemblies of the bikes with a special low-temperature grease used by truckers in Alaska. This involved taking each bike completely apart and rebuilding it. There were also several retro-fits we had to make to the bikes such as customizing the pedal straps to work with oversize winter boots, setting up a 2-speed gear system for simplicity and reliability, and fabricating a custom steel plate to mount our rear luggage racks onto.
Meal planning. This was actually pretty easy. We each brought 15 days worth of dehydrated breakfasts and dinners as a back-up supply for those sections of the lake with no opportunities to purchase food. Otherwise we just bought food along the way and always made sure to have enough provisions and stove fuel in our bags to get us through the next stretch.
Transporting the equipment. When it came to transporting our copious amount of gear we were quite fortunate. Maikey, Eric, and I flew from Seattle with 500 pounds of gear. We brought all 5 bikes as well as clothing and dehydrated food for the entire team. Between us we had 5 bike boxes and 4 large duffel bags. Most domestic airlines charge $200 or more per bike. Aeroflot charged us only $100 per person for the extra check-in bag. (Each person is allowed 2 check-in bags with a max weight of 50 lb.) A couple of times we had to put all of our gear onto public transportation, such as going from Sheremetovo 2 to Sheremetovo 1 and returning to Irkutsk from Listvianka. This was not a whole lot of fun. But again we were fortunate to be dealing with Russians. Whereas the typical American mind will come to a dead stop upon encountering something that is not done (such as fitting 5 bikes and 25 pannier bags into an already full passenger compartment of a bus), the typical Russian mind will waver for a moment, then commit to figuring out a reasonable way to get around the rules.
Customs. I had dreaded going through customs with our 500 pounds of gear and had made sure to have all the vocabulary that I thought I would need at the front of my mind. As we entered the maze in Sheremetovo 2 I held my breath for a moment and thought to myself, "ok, here we go!" 30 seconds later we were through. There was no one there. Wanting to avoid any possible problems in the future, I walked back through customs and into the customs office to let them know that we needed to clear customs and there was no one around to check us through. Without leaving her seat the customs official cleared us on the spot with a wave of her hand and a closed Russian smile.
The cold. It turned out that the winter of 2009-2010 was one of the coldest in recent history. We experienced temperatures as low as negative 73 degrees Fahrenheit and the average temperature for the first half of our trip was approximately negative 20 during the day and negative 40 at night. On the first night we learned that in very cold temperatures liquid fuels such as kerosene and gasoline do not give off enough vapors to be flammable. It was strange to hold a lighter directly against liquid gasoline and see no reaction as if it was water. Eventually we were able to ignite the fuel by slowing heating it with matches. Another challenge of the cold was that anything that you wanted to function at a normal level such as a camera, headlight, or iPod, had to be kept inside your coat. Food became rock solid unless you kept it next to your body 24 hours a day. We all did our fair share of gnawing on frozen bread, cheese, and sausage. In these conditions we shot over 40 hours of film and took over 10,000 photos.
Water. Making water is one of the most time-consuming tasks when camping outside in winter. Every evening starts with gathering large bags of snow and ice so that water can be made from the comfort of the tent. Water is boiled for dinner and hot drinks, then 2 liters per person for drinking the next day. If you forget to put your water bottle inside your sleeping bag before you fall asleep it will be rock solid in the morning. The same water must be boiled again in the morning to keep it from freezing throughout the day (despite using thermoses and water bottle insulators) as well as an additional 2 liters for cooking breakfast.
SRAS: You helped start an NGO, BikeWorks, in the States to empower low-income children through bicycle mechanics. You also worked with an NGO in Vladivostok, Russia, to help empower homeless children. How would you compare the NGO environments in the US and Russia – what particular challenges and opportunities does each offer?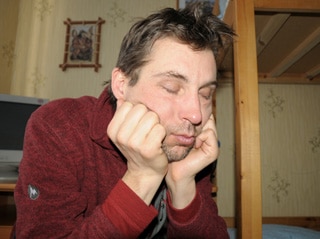 CP: One of the main differences between the NGO environments in the US and in Russia is that NGO work in the US is largely supported and viewed sympathetically by the general public, while in Russia NGO work is commonly viewed with suspicion. This is mostly due to the fact that Russian NGOs are typically affiliated with organizations in the West. As there is virtually no base of financial support in Russia itself NGOs rely on assistance from Western countries in order to survive. Western involvement in turn generates suspicion of hidden political agendas. Allegations of espionage being conducted under the pretext of community service such as those leveled against the Peace Corps by the Russian government in 2002 have stained the reputation of Western charitable organizations. The public's distrust is exacerbated further by the antagonistic stance taken by federal and local administrative officials against Russian NGOs. For example, when officers from the Irkutsk Regional Department of Internal Affairs raided the offices of Baikal Environment Wave and seized their computers in January 2010. In my opinion this lack of domestic support is the primary challenge of NGO work in Russia.
As a foreigner in Russia the opportunity to work with an NGO is an incredibly valuable experience. It's a great way to meet people with similar interests and to get involved in a positive way with the community where one is a guest. For the student of Russian, volunteering for an NGO offers a look into Russian culture and contemporary Russian society that is largely unavailable in a classroom setting as well as an exceptional opportunity for improving one's language.

Russian TV news about the expedition.
SRAS: You've also devoted considerable time to another Russian NGO, our friends and partners at The Great Baikal Trail. Can you describe a bit what you did for them – and what you learned from it?
CP: My work with the GBT primarily consisted of various types of office work, trail building, city-park clean up, translation from Russian to English, networking, and teaching English language lessons. I have also secured several equipment donations to the GBT such as a dozen pairs of snowshoes from Mountain Safety Research, tents, and camp stoves.
Aside from learning a great deal about Lake Baikal and the various environmental problems that threaten the area, I also gained an appreciation for how the other pressing issues in the region complicate the conservationist position. For example, the closing of the single largest polluter of Lake Baikal, Baikalsk Pulp and Paper Mill, in 2009 was a tremendous victory for environmentalists but has divested the area of thousands of jobs. Moreover, a significant reclamation project is needed to treat the mill's industrial area. If left untreated the plant poses an even greater risk for irreversible environmental damage than the pollutants that it was discharging when it was operating.
The obvious solution is to develop sustainable local business; in this case – tourism. But tourism presents its own sets of problems and environmental threats to the lake. Conventional tourism means an increase in shoreline development, automobile traffic, power-boat traffic, and refuse. Anyone who has spent any time in Russia knows that littering and the disposal of garbage is a large problem. In addition one must consider where the money for development will come from. The Russian government isn't exactly handing out small-business loans for environmentally-minded entrepreneurs to open up organic eateries and arts and crafts stores on the shores of Baikal. The primary investors in development on Lake Baikal are oligarchs and Muscovite businessmen whose preservationist ethic is founded on personal wealth rather than environmental conservation. From the viewpoint of someone like myself who values wilderness and untrammeled nature conventional tourism is as great of a threat to the preservation of Baikal as the Baikalsk Pulp and Paper Mill.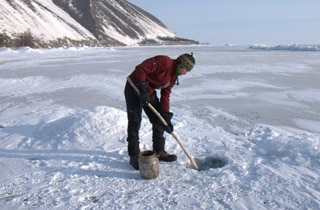 This is why the work of organizations such as GBT, Baikal Wave, and Pacific Environment is so important. Placing an emphasis on ecotourism rather than conventional tourism changes the dynamic entirely. Not only would the economic infrastructure in the area develop to cater to a different sort of clientele (which is arguably more sustainable), but the health of the economy itself would depend on preservation. The development of ecotourism precipitates the need for hiking trails, hostels or moderately-priced hotels, small cafes, kayak rental facilities, and similar small businesses that can be patronized by a local clientele as well as by tourists. Conventional tourist facilities such as luxury hotels and cruise boat tours are typically cost-prohibitive for locals. In addition, building safe hiking trails and camping facilities allows families to have positive experiences in nature that in turn engender an environmental conservationist ethic.
SRAS: Your BA was in International Political Economy and Cultural Studies, a considerably wider focus then your current focus on literature. What do you plan to do with all your experience and education? Have you plans changed since starting your BA?
CP: My hope is that I will be able to secure a teaching position at a university where I can teach courses in Russian language and literature. It would be an additional bonus if I could be involved in an outdoor recreation program and perhaps lead ecotourism-oriented trips to Russia during winter break or summer vacations.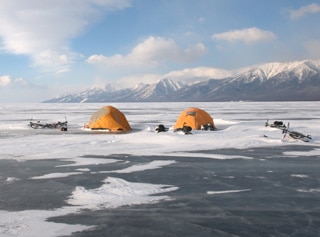 Certainly a lot has changed since starting my BA, but I've always known that I wanted to become a teacher. I have just taken a long and circuitous route to reach the point of staring in earnest upon that career path.
SRAS: While studying in Vladivostok, you combined your studies with a side job teaching English with the international educational company English First. How would you describe the experience? Was it primarily a paycheck and responsibility, or do you feel that you also learned and gained from the experience?
CP: I arrived in Vladivostok with practically no knowledge of the Russian language. On the one hand this was a bit of a mistake, as I spent much of my time learning the basics of the language, and was not able to learn as much from my environment as I would have had I had one or two years of formal language training. On the other hand, I was extremely fortunate in the acquaintances that I made and in the experiences that these acquaintances afforded me. Looking back at those times now I don't feel that much was lost by my inability to express myself articulately in Russian.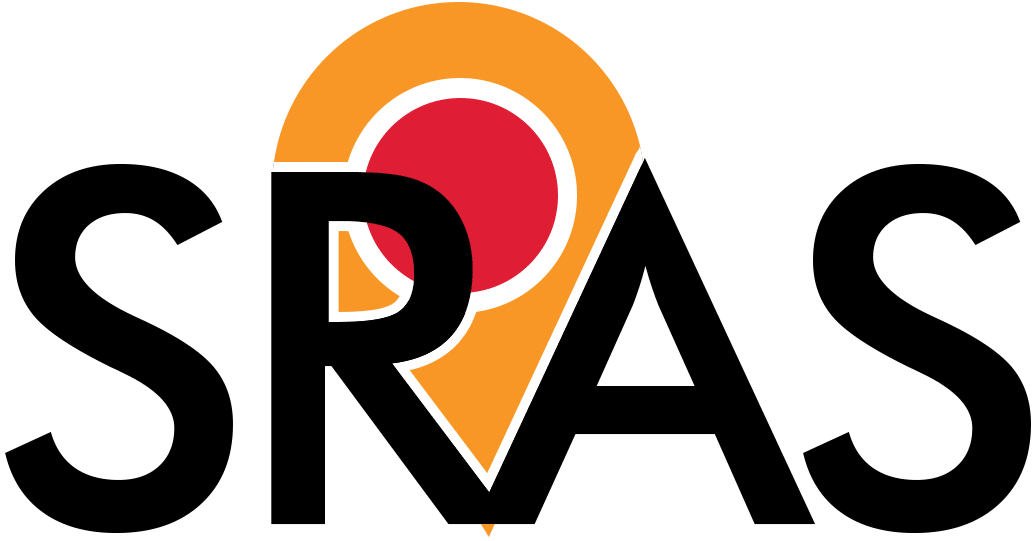 I decided to work with English First for several reasons: the first is that, as I said, my Russian was quite poor and I welcomed the opportunity to communicate on a deeper level with a broader spectrum of Russian society. At English First I taught advanced spoken English classes to university students and adults of a wide range of ages and professional backgrounds. We discussed everything from politics and religion to dietary habits and cultural standards. It was a fantastic opportunity for me to learn about Russian culture and to have conversations that would not have been possible for me in Russian.
In the end I probably learned more from my students than they did from me.
Secondly, I wanted to teach. Besides the obvious advantage of gaining valuable experience in terms of professional development, it was also a chance for me to contribute somehow to the society in which I was living. As a student at the Far Eastern National University's "Russian School" (a separate preparatory department for non-native speakers of Russian), I felt a bit isolated – like a tourist. I wanted to participate in life outside the university to a greater degree.
And finally, after about 3 months in Vladivostok I decided that I wanted to stay in Russia longer than one year as I had initially planned. Earning a bit of extra money at English First allowed me to supplement my savings and extend my stay in Russia.
SRAS: What advice would you have for students looking to gain experience in Russia in study abroad, work experience, or adventure?
CP: Looking through the 2011 SRAS calendar I see many inspiring examples of students involving themselves in their communities while in Russia. I think that this is the most important thing – just to get out and experience more of what's out there. Don't spend all your time studying or hanging out with other foreigners. Be adventurous and mix it up with Russians.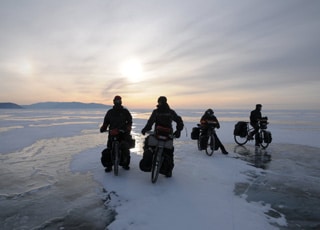 When I was in Vladivostok I was drawn by my proximity to the volcanoes on the Kamchatka Peninsula. I looked into flying there but there were so many unknowns and logistical complications that I had resigned myself to not going. The officials at the university were understandably not supportive of the idea. One evening over vodka and zakuski I expressed my disappointment to my friend Maksim and the Russian adventurer Pavel Koniukhov. Pavel gave me a steady sincere look and said plainly – "just go."
Looking back now the reasons I had for not going seem trivial and I'm very thankful for having taken Pavel's advice. It was a memorable trip filled with bushwhacking our way through the forest, vicious mosquitoes, plunge-stepping through miles of soft snow, route-finding in white-out conditions, tents collapsing in the wind, snowy summits, filtering brown puddles to drink, and friendship. In short – a grand adventure!
Helen Keller said, "Life is either a great adventure or nothing." For me the real value of this quote comes from the knowledge that the person who said it was deaf and blind. Understood this way adventure is not climbing a mountain or reaching the North Pole – it is pushing the limits of one's abilities; taking one's chances on a path not commonly followed. For Helen Keller this was becoming the first deafblind person to earn a Bachelor of Arts degree. For you this could be acting in a theatre performance in Saint-Petersburg or trekking through the Tian Shan mountain range in Central Asia. But the significance of these achievements lies not in how they look on your resume, rather as a reflection on how you lived your life. The best advice I have is Pavel's – just go. The hardest part is getting out the door.