Cheburechnaya/ Чебуречная
ул. Остоженка, д. 53/2.
Open daily, 11:00-22:00
Meals/snacks from 45 roubles.
This fast food establishment, located right behind the smaller entrance to the Park Kultury metro stop, serves чебуреки (chebureki), just as its name suggests. This Central Asian stuffed pocket of fried dough can often be found in the cases of bakery kiosks around the city, but Cheburechnaya prepares them fresh. They also serve самса (samsa), another Central Asian stuffed bakery item.
For me, Ryan, and Jordan (two other SRAS students from the US), it was our first time trying a чебурек. Luckily, the menu is not overwhelming and well-organized. There are three varieties of чебурек offered: veal (телятина), lamb (баранина), and cheese/herb (зелень и сулигуни). The boys ordered the veal, and I ordered the cheese. Ryan also ordered a самса stuffed with potato. Wikipedia informs me that самса are related to the Indian appetizer, samosa, but unlike samosas, these did not appear to be fried.
Чебуреки are certainly not a health food. Straight out of the deep fryer, they were salty and literally dripping with oil. We all agreed that they were tasty but that we would not want to eat them every day. It seems to me that чебуреки are best suited for late-night fast food, after you have had a few drinks. Unfortunately, this restaurant closes at 10 pm, so they may be missing a key market. However, if you think a beer will enhance your чебурек experience, you can order one along with your meal.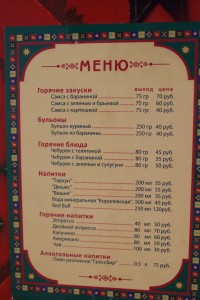 The restaurant itself is ultra-casual. There aren't even any chairs to sit in. Instead, there are tall tables inside where you can stand and eat. This particular establishment has been around since the late Soviet-era, when this type of set-up was quite common for fast-food establishments. The restaurant was full of people eating when we arrived, but we only had to wait in line behind one person. The food was ready very quickly.
Prices are quite low. I have included a picture of their menu on the right with full details (click to enlarge), but generally, чебуреки range from 45-55 roubles. The most expensive самса  is 70 roubles. I was satisfied with just one чебурек, but a person with a larger appetite (which included my two friends) will probably want to order two items. It also appeared that the meat чебуреки have less filling than the non-meat one that I ordered.
For groups and faculty-led tours, Cheburechnaya is potentially a good place. It provides a taste of Central Asian culture, which might otherwise go ignored by tourists in Moscow. However, it depends on the size of the group. The interior is not huge and there is only one cook, so big groups should probably avoid it. Also, since there is no seating, it is not a good place to go if you have a group of people with tired feet.