The Pink Panther
Vladivostok State University of Economics and Service
Hours Of Operation: M-Sa 8:00 am – 7:00 pm
Meals starting at $4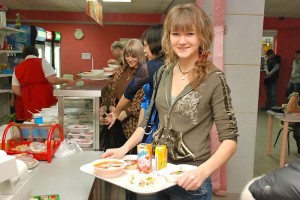 While I've written about a variety of places to grab a cheap bite to eat around town, I have yet to mention the cheap eats located on or near the VSUES campus.  So, I will now be doing a special Cheap Campus Eats for those students participating in one of SRASs' programs in Vladivostok.
Since most students at VSUES either live at home or don't have enough time in the day to run back to the dorms to cook a meal, they tend to migrate to one of the school's cafeteria around lunch time.  As an American who is both a horrible cook and used to a lunch break in the middle of the day, I'm always relieved to head to the cafeteria after a long day of class.  In fact, in the 6 months I've been here in Vladivostok, I've grabbed lunch at the Pink Panther 2-3 times nearly every week.
The VSUES cafeteria is similar to any college cafeteria in America.  You head in, grab your tray, and get in line.  While the service can be a bit slow at times (especially when the Basketball players order 3 bowls of soup each), the ladies serving the food are incredibly friendly, especially towards foreigners.  There's a small menu at the beginning of the line with the prices listed, but all the food is on display, so you can always just point and say "that, please".  The cafeteria's seating usually fills up anywhere between and 15-25 minutes before the beginning of any period, so it's typically best to get eat during the middle of a period.
The cafeteria's menu, which changes slightly every day, consists of a variety of classic, quick-to-make Russian dishes.  There is typically one type of soup (usually borsch or rassoilnik), as well as a few main dishes, such as fish or chicken, and sides, such as rice or potatoes.  You won't find a salad bar, like you might in some American cafeterias, but you will have your choice of pre-made salads.
My typical meal (which the cafeteria ladies have come to expect) includes a steaming bowl of soup (31 rubles), rice pilaf with meat (40 rubles), a couple slices of delicious bread (5 rubles), the occasional mini-pizza (30 rubles) or pig-in-a-blanket (20 rubles), and a bottle of water (20 rubles).  The food itself is really quite tasty.  Even if you are a big eater, there's very little chance that you will be able to spend more than 200 rubles here.
In my months of dining at the Pink Panther, I've yet to have a bad experience with the food.  While we Americans get stared and pointed at on occasion, that's never been enough to keep my away.  I highly recommend this cafeteria to anyone studying at VSUES.  Sometimes you simply won't have enough energy to cook, and when that happens, the Pink Panther will be there to ease you out of your Russian-language-induced mental fatigue.