Chan-Li/Чан-Ли
Океанский проспект 10Б
Hours: 10am-10pm everyday;
Meals from 500 rubles
11am-4am buffet for 150 rubles
Chan-li.ru

My roommate burst into our ever-cozier two bed bungalow more excited than I've likely ever seen him. After a handful of entreaties to slow down the Russian he was mercilessly hurling at me, I was able to piece together just what exactly had him in such a fervor. While an all you can eat buffet (шведский стол) of 13 rotating dishes for 150 rubles ($3) may not seem entirely hubbub worthy to the average citizen, for the Ramen noodle fueled machine that is the college student, such an offering is nothing short of life changing. Or at least, inexpensively satiating with a healthy variety of options. To my palpable elation, many of these dishes were also strictly vegetarian, highlighted by the fried eggplant and a tofu stir-fry.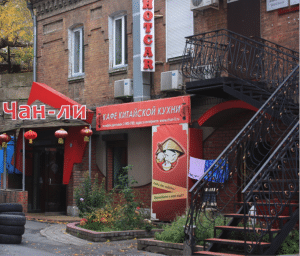 The buffet is offered by the "internet-restaurant of Chinese cooking" (интернет-ресторан китайской кухни) Chan-Li in downtown Vladivostok. Since recently learning of it, I've already gone back a handful of times and must admit that the positive feasting-induced fever my cohabitant suffered from was entirely merited. Indeed, it seems only the somewhat hidden location of this little café in an alley off Ocean Prospect could possibly explain the low key status under which it continues to operate.
While the buffet offer is valid daily from 11-4, Chan-Li also offers a delicious and affordable menu all day. A delectably prepared dish of fried eggplant, now a personal favorite of mine, pairs well with potato and sweet pepper (жареный баклажан с картофелем и сладким перцем) for 220 rubles ($5.50). The fried rice with vegetables (жареный рис с овощами) proves an imposing portion for an additional 150 rubles ($4). A dining chum of mine also recommends the pile of fried beef in sweet-and-sour sauce (жареная говядина в кисло-сладком соусе) available for 310 rubles ($8), which he could not finish in one sitting.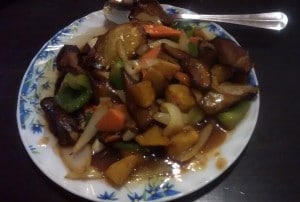 Amongst all of this frenzied feasting, I actually do manage to look up from time to time to take in my surroundings.
A humble two rooms partitioned by a curtain bedraped archway, this is no sprawling restaurant by any means. Far from being a negative, the smallness feels more cozy than close. Sleek black furnishings and leather booth lined walls sit amidst the luxuriously patterned wallpaper as the secondary reds and soft lighting combat any stiffness often inherent in modern styling. A small but attentive staff keeps the buffet well stocked and your table well tended as modern, American soft-pop plays at an unobtrusive volume from the speakers overhead. Free WiFi, as their "internet-restaurant" status promotes, is also of course a part of the package, though this does not seem to me to be a hotspot for the lunchtime multi-tasker. Especially when considering the rush that begins daily around 2pm, this may not be the best place to get non-consumption related work done.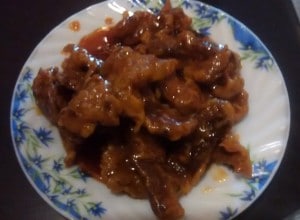 The atmosphere is comfortable and the crowds can be beat by coming early for the buffet or waiting for its conclusion and picking from the delicious personally prepared fare. Though the latter will call for a slightly higher tab, portions are more than substantial and taste sensations are never left in wanting. So while you may not be moved to the point of religious revelation on the day of your own discovery of the bounty Chan-Li doth provide unto many a famished soul, you will certainly be granted an at least temporarily banished hunger. Add a slightly constricted pant-waist to the list if you, like me, fear not stacking your buffet trays three high.