Chaikhana Ok Saroy (Чайхaна Ок-Сарой) café is a small restaurant located near the university in the area of the central market. It is about one block away from Shanghi City making it a great lunch option after wandering around the bazaar. The entrance is clearly marked and once inside the restaurant is on the second floor. The staff all speak Russian and Uzbek and the delicious shashlik and intricate patterns decorating the dining room make this restaurant a must to visit.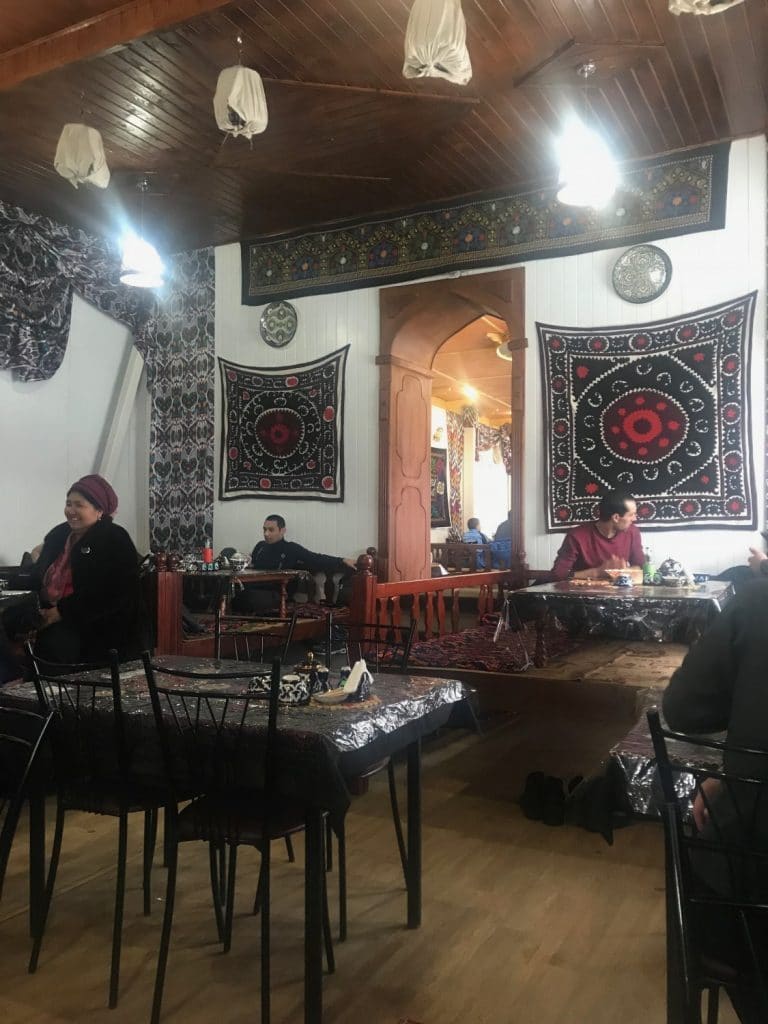 The interior décor is beautiful with its Uzbek tapestries, tableware, and interesting architecture. The wait staff, all in traditional Uzbek clothing, are much more attentive than those in the majority of restaurants I have tried and they give suggestions which is much appreciated.
I got the feeling that this was a local place that is frequented by regulars so do expect to get stared at a bit, especially if you do not appear in any way Uzbek. You should also know that as it is frequented by Uzbeks and prides itself on being traditionally Uzbek, you should also know that there are some ground rules you should abide by.
First, there is a sink by the entrance on the second floor and it is expected that you wash your hands there before entering and eating.
Second, there are two main areas to dine, the normal tables and the raised seating area. The raised seating area is set up like a traditional central Asian tea house – which is what "chaikhana" actually means: "tea house." There are low table and cushions to sit on, and it is required to remove one's shoes and sit cross-legged at the low tables. I was not bold enough to choose this option and opted for the normal table and chairs.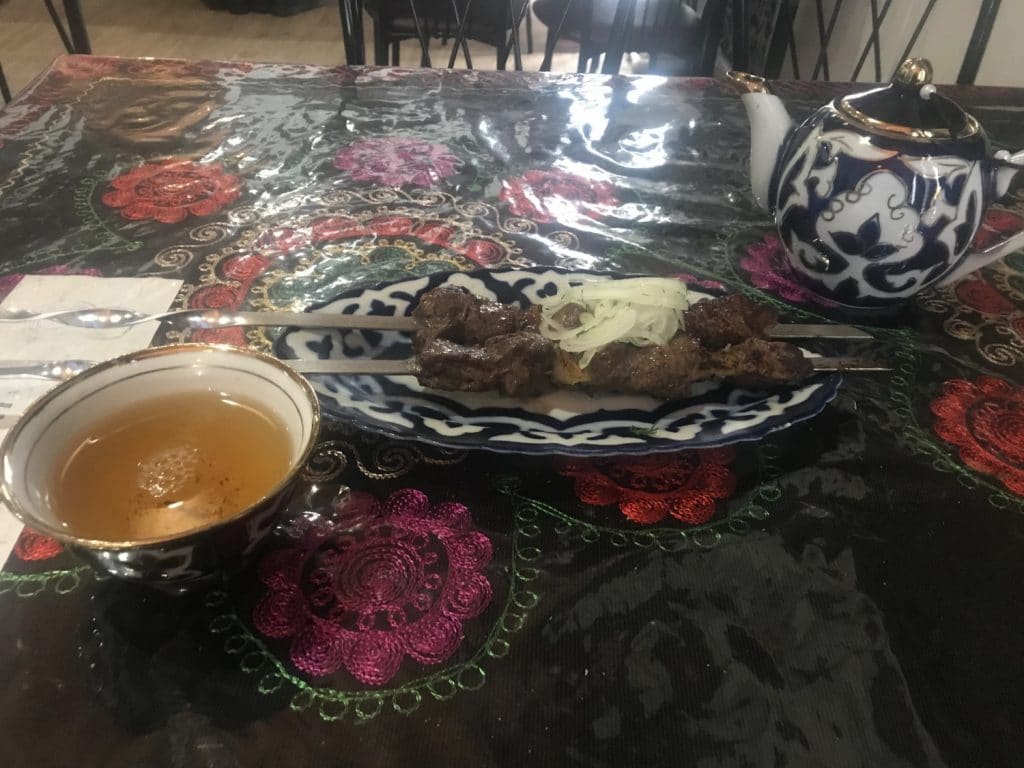 Third, the menu, although full of great food, contains nor pork or alcohol. The Uzbeks are a predominantly Muslim society and both of these are forbidden in that faith. In fact, no alcohol is even allowed on the premises – even unopened wine from a store, so do not bring anything in or expect to have a beer there. The menu is hung over the kitchen in a large font with pictures so it is very easy to figure out what is in each dish if some of the words are new. There is quite a variety of options, but the shashlik is the best according to the waitress. I agree. Each portion costs 40 rubles, which is a bit less than a dollar, for lamb or beef. The shashlik is cooked fresh for each order and the scent from the man on the first-floor cooking is simply to die for.
There is also an Uzbek bread called lepyoshka (лепёшка) which is served before the shashlik. It's a great thick flatbread that isn't as dense as the normal Russian bread at the market. It's delicious, but note that it comes with rules too. You must never cut it – it is only to be broken with one's hands. The tea comes in a small teapot and the cups are all handle-less, as is traditional in Uzbekistan.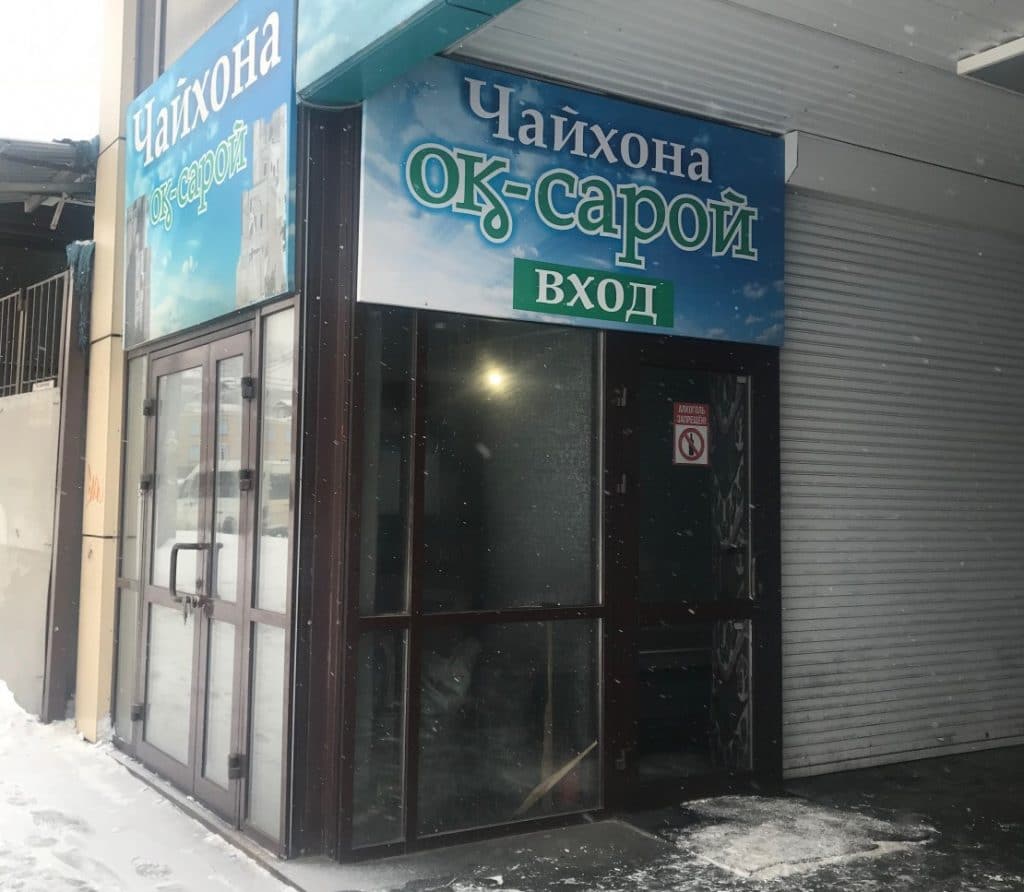 The last thing to keep in mind is not particularly Uzbek, but is fairly common across many small cafes like this in Russia. They will either give you the check or leave it up front, but either way payment is done at the cash register, not with the waitress.
If you are interested in Uzbek culture, art, or simply a lovely meal, try Ok Saroy. It's a cultural experience you won't soon forget and the atmosphere and freshness of everything served will be enough to make you come again.
Chaikhana Ok Saroy Uzbek Restaurant in Irkutsk
Address: Sof'i Perovskoy Ulitsa, 8
Hours: 10:00-22:00
Price: 2-5$