Central Asian Plov Center/Среднеазиатский Центр Плова
1 Iftihor St./ул. Ифтихор, д. 1
Hours: 10:00-14:00
Entrées from 5000 sum ($2)
Though I have tried плов (plov, or pilaf) in only one restaurant in Uzbekistan's capital, I feel confident recommending Central Asian Plov Center as a worthwhile destination in Tashkent for both the food quality and the experience. I had the opportunity to eat at Plov Center on a trip to Kazakhstan and Uzbekistan with SRAS's Central Asian Studies study abroad program this November.
Плов is eaten throughout Central Asia, but is considered a specialty of Uzbekistan. It is a rice dish, which almost always includes carrots, onions, and meat. Beyond that, плов varies by region and cook. For more information on this dish and its history, see this article from SRAS.
The highlight of Plov Center is outside the restaurant, where the плов is cooked in enormous, steaming vats, and stirred with long wooden spoons. Two vats are full of pale, just-cooked rice dotted with raisins. In a third, the rice is topped with large chunks of meat. Cooks and customers stand in the steam, and the плов is served outside, in plastic bowls, as well as in the restaurant's large hall.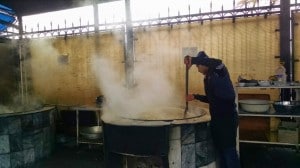 The плов at Plov Center is not what is cooked at home in a typical Tashkent kitchen. It has chickpeas and raisins, like плов prepared for weddings. It also includes meat, carrots, onions, chopped peppers, and whole boiled quail eggs. The rice, yellowish from the seasoned broth, is moist but not sticky. There are various types of meat to choose from: lamb, beef, and horse. Our group chose horse.
As a vegetarian, I can't describe horse meat or speak directly to its quality at Plov Center, but I was told it was mild and delicious. I can say that Plov Center is not the best choice for strict vegetarians. The waiter was perfectly receptive to the request for плов without meat, but the rice was definitely cooked with meat, and had a very meaty taste (and a small, accidental piece or two of horse meat mixed in).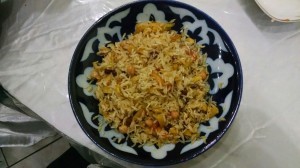 But for non-vegetarians – and vegetarians who don't mind the taste of meat once in a while – the плов here is excellent. We also had delicious, fresh tomato and cucumber salad, large лепёшки (round loaves of bread), and, of course, pots of green and black чай (tea). These dishes make up the entirety of Plov Center's menu.
For Groups and Faculty-Led Tours
Inside, Plov Center is palatial, with a huge glass chandelier in the middle of the high ceiling, an ornate balcony with additional seating overhanging the main dining area, and regal floor-to-ceiling red drapes on the tall windows. Large groups are easily accommodated at round tables that seat at least nine or ten, or at smaller rectangular tables pushed together. Lunch hour was busy and buzzing, but not too loud, and there was no line for a table (the only lines were outside, for those who wanted their плов straight from the large vats, on the go).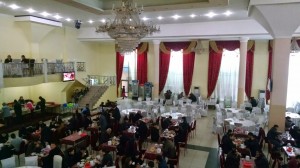 Prices were very reasonable. A meal of salad, bread, tea, and (generously portioned) плов cost about 14,000 sum (or about $5.80).
An additional appeal of Plov Center is its location, next to the Tashkent Television Tower, which is the tallest structure in Central Asia, and near the Memorial to the Victims of Repressions. Central Asian Plov Center is the perfect place for a hearty lunch to fuel a day of exploring a magnificent city.