Cave Coffee
Address: Gorkii Street 19
Tea and Coffee for ~$2
Meals for ~$4-6
Hours: 8am-12am
Telephone: 0312 89 99 22
Website: http://cavecoffee.kg
One of my favorite places to get work done is Cave Coffee, a sleek and whimsical cafe conveniently located one block from the London School. Cave Coffee is a new fixture in the Bishkek cafe scene, opened only in September 2012. And from what I've seen from other cafes in town, Cave Coffee stands on its own in terms of interior design.
There are two parts to the cafe, with two very different feels. The first room is more typical-Bishkek, in the sense that the lighting is dim, there are hookahs lining the windows, there is dark furniture, and there is mellow, jazzy music. Here in Bishkek (with the exception of Sierra Cafe, the most Western cafe in the capital), cafes are more like lounges. I feel like all the cafes here have the same soundtrack, too, because they all play the same lounge-y covers — and to songs that should never be lounge-ified. (But we won't go there.) This first room does have one distinguishing architectural mark, though — its ceiling. It is lined with wooden structures, like very fat chopsticks, from which hang paper cranes. It makes me feel like I'm in a modern art gallery.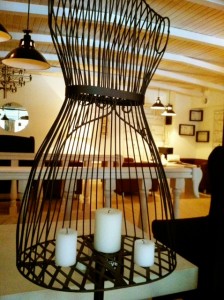 But then you have the second room, which you can enter by going up a short flight of stairs. Here, you enter a world of whimsy and European vintage chic. You feel like you're in a black-and-white Parisian postcard, or a Regina Spektor music video. (Regina Spektor is a Russian-American indie folk-rock singer from the East Village who is known for being cute, adorable, hip…everything this second room reeks of.) Its walls are white-washed, and every corner is decorated differently. On one wall is a white-on-white theme, with a line-up of white-painted violins, which are softened by subtle track lighting. On another wall are black sketches of books, enclosed by actual frames. Meanwhile, there is a vintage bike on the wall above the staircase. On the actual bookshelves in the room are vintage Russian and Soviet items such as old, dusty books, a Cyrillic typewriter, and an old Soviet camera. The place oozes playfulness and nostalgia.
It's amazing how creative you can be when you have something interesting to look at, even when the color scheme is only black and white. I am always energized when I plop down in one of Cave's unique arrays of sofas, couches, and armchairs and look around me. It's stimulating and I notice new details every time, whether it's the markings within a black-and-white clock, or the presence of white candles inside a black-wire mannequin.
Their tea and dessert selection is also quite extensive and tasty. I usually order the honey cake, described in the menu as "delicate honey shells with whipped sour cream," and 'Geisha's Smile' tea, the latter of which is meant to "awaken the senses." Sometimes I'll get one of their mocha lattes served in slender glasses, although not often since gourmet coffee here goes for about $2.50. Cave Coffee also does a savory menu, which includes standard Western fare (pasta, sandwiches, salads), as well as sushi. Prices for main courses are about four to six dollars. It's also nice to see that food presentation is given as much thought as interior design. Dishes are served up elegantly on sleek and slender white dishes. Even the utensils are slender, with a satisfying amount of heft.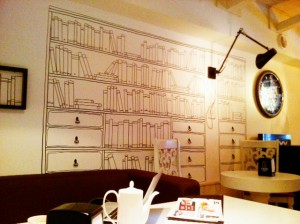 So, current and future London School students, if you're getting bogged down in studies and need a source of inspiration, go around the corner and escape to the Cave. Someone put a lot of thought behind those paper cranes, architecture sketches, and painted book outlines on the walls. It's fresh, innovative, creative, and the ultimate stimulant for the senses.
For groups and faculty-led tours, I recommend Cave Coffee — but for a maximum of six or seven people. The café is a bit intimate. The upstairs room can handle slightly larger crowds, but the design of the space is such that it would be a bit unwieldy moving around the different-sized couches and sofas.