Їдальня/Canteen Cafe
Corner of Yaroslviv Val & Strelets'ka Streets
Meals from $5 
«Їдальня» is one of those ideal cafes often praised in study abroad guides and which can sometimes be very difficult to find: cheap, friendly, and filled with authentic local cuisine. Located on the corner of Yaroslviv Val and Strelets'ka streets, just down the street from the NovaMova International Language School and Zoloti Vorota metro station, Їдальня (which means "Canteen" in Ukrainian) is a tasty way to try Ukrainian cuisine if you're short on time, money, or both.
The restaurant is located in the basement of a more prominently advertised pizzeria (they might actually be one and the same establishment…it's not entirely clear), so you'll have to descend a staircase of tall concrete steps to enter. Inside, the café is small and modest, but undeniably charming. Authentic Ukrainian food is arranged cafeteria-style behind the counter, and ranges from salads and soups to meats and main dishes to the ubiquitous black bread. The prices are low (a light lunch costs around $4 or $5), the line is short and the staff is friendly and patient with foreigners who struggle with Russian. And if you absolutely can't make yourself understood, you can always just point and say «спасибо!»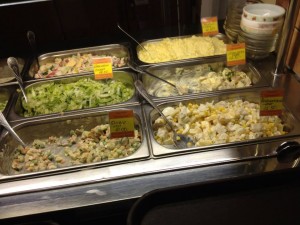 Upon filling your tray and paying, you can take a seat at one of the sturdy wooden booths to enjoy your meal, though there's probably only room for 15-20 people at once. Light streams in from a corner window, but overall the café has a more dimly lit and subdued atmosphere. Your food, however, might seem anything but dim, especially if it's your first time eating Ukrainian cuisine! And often, the stranger the combination of ingredients might seem, the tastier it is. I tried a salad made with pineapples, chicken, cheese, corn, and dressing. Although neither pineapples nor corn are indigenous to Ukraine, the Ukrainians apparently do claim this recipe as their own, according to my host mother. Also, while not typical American lunch fare it was definitely delicious.
All in all, Їдальня is a wonderful and almost hidden venue that's ideal for a quick, filling, and cheap lunch or dinner. If you're hungry after classes at NovaMova, or just happen to be around Zoloti Vorota and want some Ukrainian food without having to dish out a lot of hyrvnias, stop in (or down?) and fill up. Приятного аппетита!
For large groups and faculty led tours, Їдальня is not necessarily recommended, simply because the café is too small to accommodate large groups of students at the same time. However, smaller groups of 4-5 students can easily dine there together. The low prices and friendly staff, as well as the delicious Ukrainian food, make Їдальня one of the best places to dine near NovaMova and Zoloti Vorota station.