Café Prego
улиться Большая Васильковская, 56 (Chervonoarmiis'ka Street, 56), Kyiv
10:00 to 23:00
Meals from $9
http://www.prego.in.ua/ru/
Eating "foreign" food in a foreign city may not offer the most authentic local dining option, but the Café Prego chain of restaurants in Kyiv offers delicious Italian and Japanese food as an alternative to Ukrainian cuisine. With four establishments located near some of the busiest metro stations in the city, Café Prego is also an easily accessible lunch or dinner option. The extensively decorated, Italian-themed interior lends the restaurant a welcoming atmosphere perfect for group dinners as well as dates, while the Japanese section of the menu gives customers plenty of tasty options.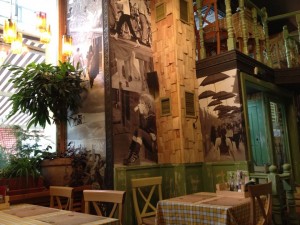 Feeling hungry after a long day at my internship last week, I stopped by the Café Prego location on Chervonoarmiis'ka Street, a short walk away from Olimpiiska metro station. The restaurant is seat-yourself, which was not immediately apparent to me (especially because of the more upscale atmosphere), but after some initial confusion and a failed attempt to talk to the wait staff in Russian, I switched to English and settled down at a table. Inside, groups of friends and family—many of them dressed for a dinner out on the town—happily enjoyed their food and drinks, while the nice weather meant the outdoor patio section was bustling with activity.
Despite the plethora of pasta on the menu, I decided to try one of Café Prego's 22cm (8.7in) pizzas, which looked more appetizing to my eyes as well as my wallet. My waitress also brought me a second glass filled with long, decorative sticks, which turned out to be Café Prego's signature breadsticks. I had only just begun eating them when my food was brought out, only about 10 minutes after I had placed my order. The taste was as good as the service—it was one of the most delicious pizzas I have ever eaten, and for less than $6 USD. In general, all of the choices on the menu were reasonably priced, even the sushi and other Oriental dishes.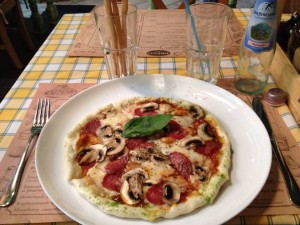 I had visited Café Prego hoping for a break from traditional Ukrainian fare without having to break my bank account and I was definitely not disappointed. The combination of atmosphere, speed, taste, and price is remarkable, and makes the restaurant a great dining option for almost any occasion, especially a group dinner or date. When I stopped in, the vast majority of people there seemed to be meeting friends for dinner or drinks, or taking their loved one out for the night.
For groups and faculty-led tours, I would highly recommend Café Prego. Reservations and other arrangements can be made by contacting them via their website, which also features a map of the four different locations as well as a menu and other helpful information. While it is not traditional Ukrainian food and may also not be ideal for a local cultural experience or groups over about 20, overall Café Prego offers a delicious and relatively cheap dining option located in some of the busiest areas of Kyiv.