Café Lima /
Кафе Лима
Океанский проспект 11
Hours: Noon-10pm everyday;
Meals from $6
LimaCafe.ru
Vladivostok (Владивосток) lives up to its name which comes from the Russian root, vlad (влад, as in владеть: to control/command) and vostok (восток), meaning "east." The name tells the story of the city's political importance, as well as its victual offerings. Korean, Chinese and Japanese establishments litter the city streets, filling in the gaps left between the ethnically Russian restaurants and European style cafes that represent the majority of the dining-out selection. Thus, I was surprised, and not a little skeptical, upon one day being invited to "Taco Tuesdays" at a "Mexican" restaurant called "Lima."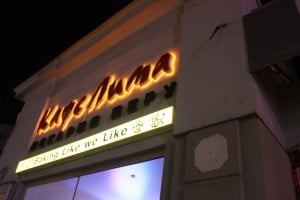 As the story runs, in the not so distant past, a local chef here in Vladivostok, having learned of the taco-partial proclivities of some of his US consulate worker patrons, began to specially prepare for his westerly delegation his own take on the Latin American classic. It followed that so thoroughly did his diners approve of these specially-catered dishes, that they encouraged him to prepare them professionally for the public. This, even though Mexican food is as much a rarity in these parts as a cowboy topped in a ten gallon hat drawling out a thickly Texan "¿Cómo estás hombre?" Thus it was out of these unlikely beginnings that Café Lima came into existence in August of 2014 in Vladivostok, Russia. Further note that despite the restaurant's somewhat awkward tagline of "Mexican cooking, Peruvian bakery" (Мексиканская кухня, Перуанская выпечка), my skepticism was still yet to rise. In fact, it was not until entering the sparse interior of this seemingly out of place eatery that my inner Negative Nancy reached her full potential. And how falsely inflated a potential it turned out to be!
As is now my weekly want, I arrived at Café Lima a little after eight in the evening on Tuesday. Whatever rush this weekly price slashing may have incited has since disbursed, leaving but a handful of diners seated about the hodgepodge of furniture in what one may call the café's open floor plan; which, more objectively speaking, is a cement floored box. One glass-paneled wall looks out onto the constant motion of Ocean Prospect (Океанский проспект). Standing opposite is a rather flimsy looking façade emulating a beachfront cantina. This conceals the kitchen, a façade it has donned in apparent hopes of channeling its inspiration, even half a world removed. Rounding out the interior are a handful of wall garnishments replicating tribal cave drawings and an imposing Native American in-profile emblazoned neon sign. Stepping out of the cold Autumn evening into such an environment would be jarring enough without the necessity of further adjusting to the nightly musical theme, which as of yet has featured only songs in English, with genres spanning from country to '80s hair metal. But not even the cultural onslaught of walking into a Peruvian bakery with Mexican cooking to the sounds of American power ballads in the Far East of Russia will distract me from my purpose. For I have come for semicircular maize-shelled phenomenon – a constancy in the diet of many and no less essential than that other half-circle that keeps cropping over the horizon every morning. So, while not an easy task, I keep my cool and saddle up to the bar to oversee the construction of evening's fare.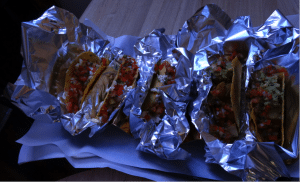 While tacos at Café Lima normally range from the 70 ruble ($1.75) bean or potato-based vegetarian taco (my regular is a combo of the two – highly recommended!) or chicken filled taco, to the 185 ruble ($4.50) seafood edition, whose latest, constantly-changing model sported tiger-shrimp (с тигровой креветкой), they are inexplicably given away for hardly more than a dollar all day on Tuesdays. And these are no bite-size insults slapped together by the likes of Taco Bell and its wayward cohorts. To your taste, Lima's tacos can be piled high with three types of beans, pork, chicken, seafood, cheese, lettuce, pico de gallo, in-house guacamole, a variety of salsas and sour cream often far exceeding the confines of the shell. When you consider that avocadoes alone usually go for 400-500 rubles ($10-12) per kilogram in the supermarkets, determining the economical viability of such a grab has as of yet remained elusive to my sensibilities. Just in case the list of exceptional eccentricities has not run on long enough, the young owner of the establishment speaks English and has even provided free cups of water, a benefit I thought I had left behind when I boarded my plane in Kentucky some several weeks ago.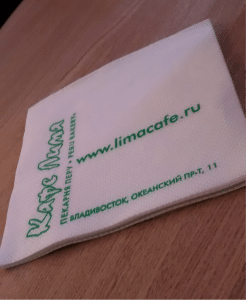 Though I have yet to branch out from tacos, Café Lima offers a full range of items from soups, salads and quesadillas, to loaded nachos, tostados and their own homemade deserts. Most recently, this included an 80 ruble ($2) personal pumpkin pie for which high praise was sung by a fellow diner. Even Taco Tuesday excepting, a hearty meal of south of the border cuisine can be rustled up for an affordable price, as the entrees (tacos excepted) range from the base level 120 ruble ($3) Nacho Soup (бульон начо) to the decadent 350 ruble ($8.50) Enchiladas (Енчиладас). Throw in the complimentary customary warm welcome and fun and relaxed environment, and Café Lima is making a hard run for the top spot in my personal rankings of the local offerings. It has even turned some of the but-recently taco-ignorant palettes of my Russian friends into devout believers and weekly diners. Brave the unexpected cultural conflagration here embodied and you too will doubtlessly find the little hotbed of unconventionality that is Café Lima, to be a bonafide dining treasure.