Brian Horne is pursuing his Ph.D. from the University of Chicago in anthropology. He studied at MGU on SRAS's direct enrollment language study option. He also used this affiliation with MGU to access archives within Russia to perform dissertation research.
SRAS: We have heard that your interest in Russia was "accidental." How did this come about?
Brian: I'm a graduate student of anthropology at the University of Chicago. I began studying Russian in 2002 out of simple necessity: I needed funding, and my advisor suggested I apply for newly-available funds to study Russian under the Department of Education's Foreign Language Area Studies (FLAS, Title VI) program. At the time, I didn't know the first thing about Russia or the Russian language — I only knew that I needed the cash.
After only a few weeks of my first Russian language course, my interest in things Russian became far more than financial. I was fascinated by the language, by Russian history, politics, culture, and everything in between. I started talking with Russians and other students of Russia about potential research projects I might carry out in Russia. It was through these early conversations that I developed an interest in avtorskaya pesnya (literally "authorial song"), a genre of Russian music with a politically charged history. I eventually decided to make these songs the subject of my master's and doctoral research.
Today, just over two and a half years since I first stumbled into my study of Russian, the language, culture, and history of Russia now dominate my academic life. I'm continuing to develop my language skills so that I will be able to begin conducting substantial ethnographic fieldwork in Russia within a year. In the long term, however, it's difficult for me to imagine a future in which Russia won't play a significant part in my life. If I stay on my current career path, then it's likely that I'll be studying Russia in one way or another throughout my career.
SRAS: How about your decision to attend MGU, was that accidental as well?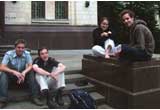 Brian: Not exactly, when I expressed an interest in studying in Russia for a summer, the FLAS program administrator at my university suggested I check out the School for Russian and Asian Studies and their program at MGU. The program seemed to have everything I was looking for — lots of "contact-time" with teachers, a living situation that placed me in contact with other international students, and easy access to central Moscow.
SRAS: We offer many programs at MGU, which one did you take? How was it?
Brian: I came to MGU under SRAS's direct enrollment option. I was placed in two language classes at MGU, totaling 20 academic hours per week, for eight weeks. Each class consisted of a small group of international students who shared approximately the same level of Russian fluency. Although my professors fine-tuned their curricula to match the interests and abilities of each group of students, the basic course structure was the same. Our time was about evenly divided among working with texts (short stories, articles, handouts), grammar exercises, and conversational skills. With respect to conversational practice, though, I should mention that all my classes were conducted exclusively in Russian, so we were always 'working' on spoken Russian.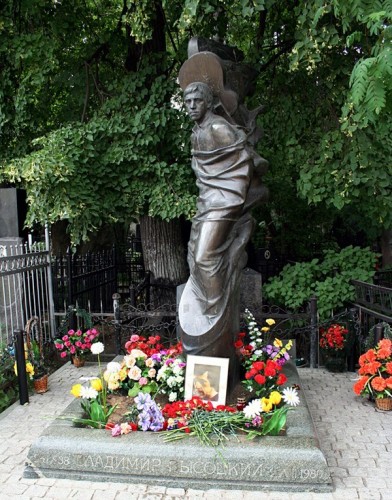 My professors, Zanaida Uglichina and Irina (who's familya escapes me right now), were absolutely amazing. Both of them were remarkably adept at keeping everyone in the class engaged and interested. I feel as though each professor took a personal interest in my learning, and I came away from their classes feeling grateful. I very much hope to see them again the next time I'm in Moscow.
SRAS: So why didn't you just stay at the University of Chicago for a summer course in Russian?
Brian: There's no substitute for learning a language among native speakers. Language is inseparable from culture. My coursework at my home university gave me a valuable, structured foundation for learning Russian. But my experiences at MGU taught me to improvise, to use Russian spontaneously, and to begin to "think" in Russian.
SRAS: "Thinking in Russian" is an important, and hard-to-achieve step. Did you meet many Russian students who helped you in this process and in acclimating to Russian life?
Brian: I remember several Russian students, but the one who stood out was a young woman preparing to take entrance exams to MGU's linguistics program. (I've since learned that she was accepted.) She lived a few floors above me in the dorms, spoke English fluently, and took several of the international students under her wing. She's kept in touch with me by e-mail since I left, and I'll definitely be looking her up when I come back to Russia.
SRAS: And what were the dorms like?
Brian: It's difficult to describe what it's like to live in the dorms at MGU. The rooms themselves are simple, sparsely furnished, and not uncomfortable, but when I first arrived everything seemed hopelessly strange to me. I didn't know my way around, there were guards everywhere, and I didn't always know who to ask for help. After a few days, though, I began to get a kick out of living in MGU. The main building is one of Stalin's "Seven Sisters" skyscrapers, and I always felt a little awed by the sheer size of it and its striking architectural style. It didn't take long for me to find out where to go in the university for all the essentials and conveniences – the shops, the dining halls, the laundry rooms, etc… Perhaps my favorite thing about living at MGU was its location – far enough away from main streets to feel cleaner and safer, but just a short walk to an Internet cafe and a metro station so you never felt isolated.
SRAS: Of course, all of those locations are listed in SRAS MGU guidebook, but we understand that reading the instructions takes away from the adventure sometimes. (Haha.) So seriously, you did some research on various subjects while in Moscow. How did that go?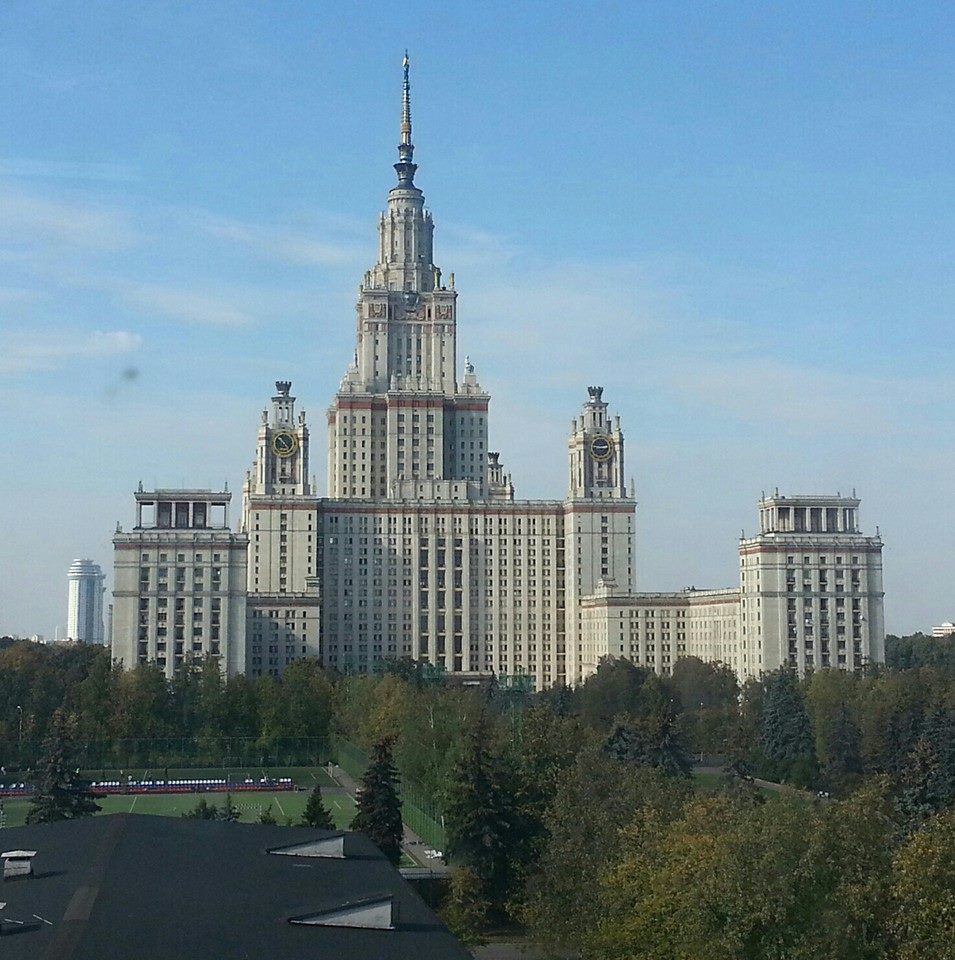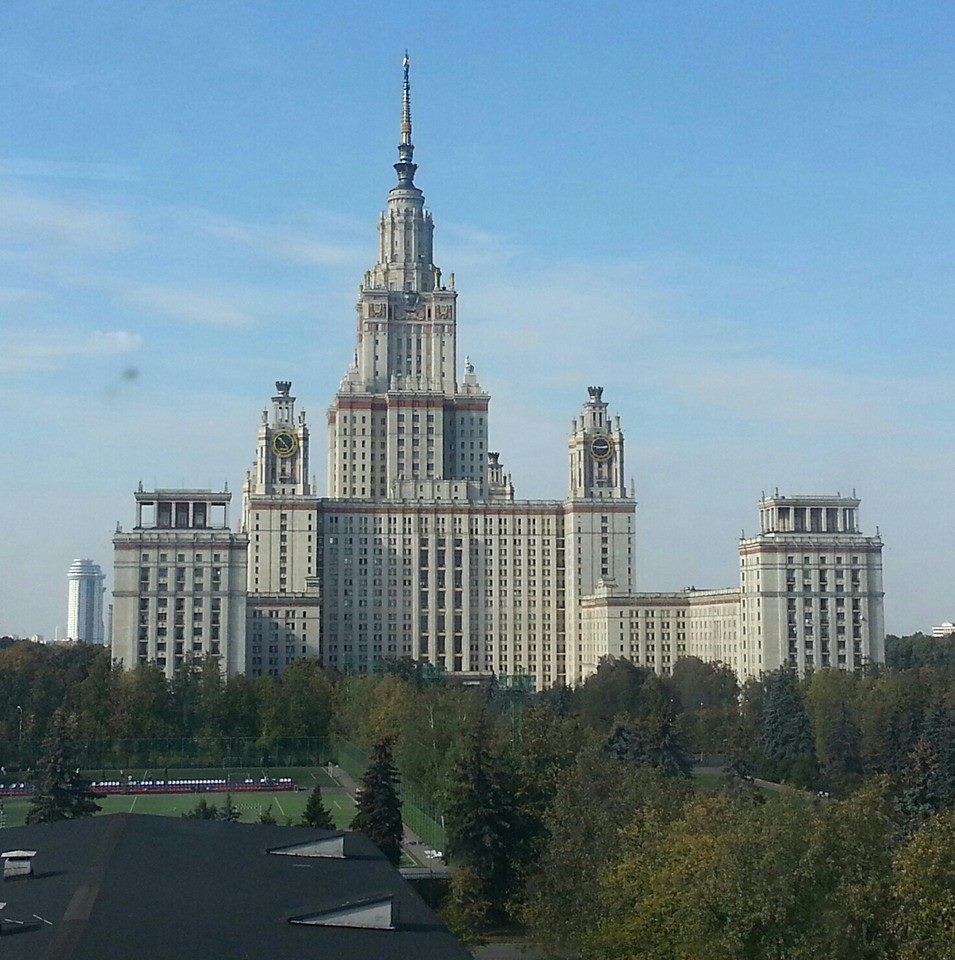 Brian: Over the two months that I studied in Moscow, I had an opportunity to scout out prospective ethnographic "field sites" related to my dissertation research on avtorskaya pesnya. Though some of this scouting was carried out on my own, my professors helped me and pointed me towards clubs and events where this kind of music was played. And on some of the SRAS-arranged walking tours, I was able to visit statues dedicated to the genre's great "bard" singers. Since no one has written anything substantial about avtorskaya pesnya in English in the past 15 years, firsthand experience of contemporary concerts was invaluable to me. I returned home with a sense of how the music has transformed, who the popular performers are, the way avtorskaya pesnya is marketed, its presence in Russian mass media, and the demographics of the music's contemporary audience.
SRAS: Wow, sounds like you got a lot out of your experience. And yes, we usually try to formulate our tours to suit specific student needs and interests. What would you say to a student thinking about taking courses at MGU?
Brian: My summer at MGU was an essential step in my academic career. It allowed me to develop my language skills in a way that I couldn't have in America, and it provided me the opportunity to conduct critical preliminary research. Don't be shy, and come with an open mind. Make peace with the fact that you will inevitably make lots of embarrassing mistakes.