Brian Carlson is a masters student in international relations hoping to work as a journalist in Russia. He chose MGIMO to augment his educational experience.
SRAS: Introduce yourself to us: what is your background, what are your future plans?
Brian: I started studying Russian during my junior year at the University of Nebraska-Lincoln. I was studying international relations and became very interested in the history of the Cold War and the future of U.S.-Russian relations. After graduating, I worked for two years as a reporter at the Lincoln Journal Star newspaper in Lincoln, Neb., while continuing to study Russian. I received a Rotary Foundation Ambassadorial Scholarship to study in Russia during the 2003-04 academic year and chose MGIMO. Now I'm working on my masters degree in international relations at the Johns Hopkins University School of Advanced International Studies in Washington, D.C. My goal is to be a journalist covering international news.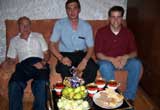 SRAS: MGIMO is certainly a great place to study if you want to understand Russia's place in and relationship with the world. How did you first hear about it?
Brian: I heard about it from SRAS. At first I was thinking of attending Moscow State University. Then I realized that MGU didn't have an international relations faculty (I believe they have now started one) and that MGIMO was the premier school for international relations in Russia. Since international relations is my primary interest, I decided to go there.
SRAS: What sort of program did you take? What did you think of it?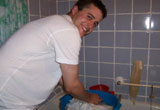 Brian: I was supposed to take 3 "blocks" of classes each semester, though because of some confusion I ended up taking 4 in the first semester and 2 in the second semester. These blocks consisted of lectures with just me, another American student and a professor. They were in Russian and covered topics such as the history of U.S.-Russian relations, contemporary U.S.-Russian relations and the Russian economy. I also took individual Russian-language lessons, which were extremely helpful. Beyond that, I was free to attend whatever lectures or seminars I chose. Among the best or most interesting were Lilia Shevtsova's lectures on Russian domestic politics, former prime minister and foreign minister Yevgeny Primakov's lectures on current issues in international relations, and former Khrushchev adviser Fyodor Burlatsky's lectures on leaders of the 20th century (including Khrushchev). I also had one professor who was very pro-Western and pro-democracy, and he was constantly lamenting the fact that so many MGIMO professors were still fierce, anti-Western Russian nationalists. But it's interesting to hear all viewpoints. Overall it was rather unstructured, and I would have liked something a bit more challenging academically (and the opportunity to take tests and earn a grade). Nevertheless, it was fascinating, and I got a lot out of it.
SRAS: What did you get at MGIMO that you couldn't have gotten by staying in America and taking courses?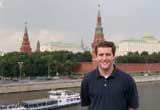 Brian: I got a constant immersion in the Russian language, the chance to take classes with professors I otherwise wouldn't meet (Lilia Shevtsova in particular was a great contact, and we still stay in touch), and the chance to make friendships with a lot of students from Russia and the former Soviet Union. I also got the chance to live with Russian families, learn a lot about Russian society and see the country's transformation up close. I have an e-mail list of about 50 that I've been staying in touch with. Many of them were from Moscow, but they also came from around Russia and the former Soviet Union. They had aspirations to work for the Foreign Ministry or work in banking or other sectors mostly. I hope to stay in touch with as many as possible.
SRAS: You participated in the elections observations while over here. What did you observe as to how they were handled?
Brian: We saw some violations that could have masked voting irregularities. In general, though, the results probably reflected the vote more or less accurately. The real problems start long before election day. The Russian government uses its control of state television and the judicial system to marginalize or intimidate political opponents, and therefore there is little or no genuine political competition. Many voters feel they have no real choice. When you look at Russia's attempts to manipulate the Ukrainian elections, you can see that the Russian government is willing to subvert democratic procedures to maintain power or attempt to achieve favorable outcomes even beyond its borders. There are many signs of increasing authoritarian tendencies in Russia.
SRAS: How do you think your experience at MGIMO has better prepared you for your future plans?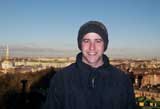 Brian: In addition to improving my language skills, I learned a lot about Russian foreign policy. Now when I'm studying Russia in grad school, the things I read aren't just abstract discussions out of a book; I have some firsthand experience of what I'm reading about. This knowledge, as well as the contacts I made, serve me well in my future plans. Regardless of which direction my career takes, I think I gained some skills there that set me apart.
SRAS: What advice would you offer a student thinking about taking courses at MGIMO?
Brian: It will be a great experience, but a lot depends on you. I found that the office arranging my program wasn't very helpful, so you really have to be proactive and seek out the best opportunities. Personally I would get to school early in the morning, stay there most of the day, and always check the bulletin boards for interesting classes and lectures. Most important, talk to as many people as possible. The students were very friendly and very interested in hearing about life in the United States. The academic work you do will be interesting, but in reality the friendships you make will be the most valuable part of the experience.