One of the best parts of Irkutsk in the spring and summer is the beautiful Angara River and, of course, an unfrozen Lake Baikal. One can walk along the shores of the river or cook out near the forests surrounding the river. There are lots of fisherman and small boats around  – and boating, we thought, looked like a lot of fun. My friends and I decided to rent a small boat if the price was low enough. We found a couple of options that fit that bill: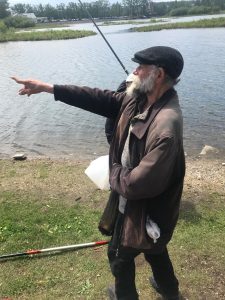 Option 1: Yunost Island Paddle Boats
Sure enough, we found a small paddle boat rental store on Yunost Island near the tennis courts. There is no official address, but the easiest way to find it is by going straight past the Island Restaurant and then follow the road to the river bank near the tennis courts and to the left is the location. It is easy to find because the paddle boats are visible from the road.
The best thing about this location is the environment. This small island is usually filled with young students (the name does translate to "Youth Island" for a reason, I guess!) and there is always music and lights. It is a fun, light atmosphere. The price is 300 rubles (or around 5 dollars) for 20 minutes for the whole boat and the boat holds 4 people. Split up it is $1.25 for each person – but if there is no line they usually allow a certain amount of free extra time. The area itself to paddle in is enclosed so one doesn't get too far down the river.
Option 2: Listvyanka Speed Boats
Another other option if you are looking for just a boat ride would be Listvyanka. Here there are boat rides for the same price for a 5-10 minute ride on a speedboat around Lake Baikal. To find this simply listen for the people yelling out prices on the docks. The most expensive will be the ships announced by the tourist center but there are many independent boats at the lower rates. If you are adventurous, you can even swim, and by swim I mean jump in and then scream because the water is UNBELIEVABLY cold. However, the Russians say it is good for the health, and who am I to disagree? The wind on Lake Baikal can be quite strong so dress warmer than what you would normally.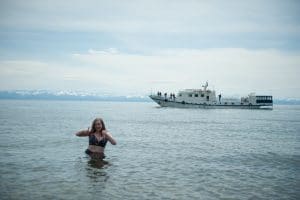 If you choose to rent the paddleboat it can be the most convenient option for a quick weekend activity and the Listvyanka option is better for a full day trip.
While there are plenty of activities around town, this is a unique one that really feels like summer, especially if you are just getting over the winter!