Biblioteka
20 Nevsky Prospekt (Metro Nevsky Prospekt)
Open daily 11 a.m. to 11 p.m.
Meals from 230 rubles
The future of St. Petersburg is looking pretty ambitious. Just look at "projects" like Etagi, Stirka, and Novaya Gollandia, where a lot of things are happening under one roof (or in Novaya Gollandia's case, on one open island). At Etagi, you can check out a photography exhibit, eat an organic and locally-sourced meal on a terrace, catch a lecture, or even spend the night or a few at its hostel. At Novaya Gollandiya, you can lounge in a park, buy or borrow a new book on graphic design at its bookstore and library, use a WiFi capable office, or pick up produce from a farmer's market. And at Stirka? Grab a beer and see a set from a DJ while your laundry tumble dries in the back room.
Joining them in juggling different attractions in one location is Nevsky Prospekt's brand new Biblioteka. Not a library as the name implies, Biblioteka's tagline is "Food and the City." Located in the heart of St. Petersburg, it's practically a city within a city itself. Part restaurant, part coffeehouse, part bookstore, Biblioteka occupies three distinct floors. It's also a space for holding cooking master classes, small-scale art and photography exhibits, and films.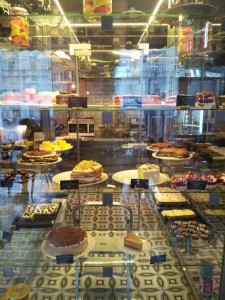 Visually stunning even from the outside, with its glass doors and ultra-modern bright red signage, Biblioteka jumps out at you on an already crowded Nevsky. Walking in, the first thing you'll see is a tantalizing walk-in glass display case of cakes and pastries reaching to the ceiling. Bakers and pastry artists are constantly walking in and out of the display case, getting up and down on ladders to shelve pies, housemade candies, parfaits, and more. You'll almost forget the first floor is the restaurant, and the café is one floor up. The floor space seems to go on forever, exhibiting how massive a project Biblioteka is.
For main courses, Biblioteka is skimpy on the traditional Russian offerings. What you will find, though, are reasonably priced entrees like spare ribs, fish and chips, gourmet burgers, and even Belgian waffles with ice cream. Entrees run on average about 250 rubles, and for 70 more you can add sides like mashed potatoes, coleslaw, fries, and sauteed vegetables. For drinks, the local favorites mors and kvass will run about 70 rubles for half a liter. For dessert, you can have just about anything you can imagine with such an extensive selection. I recommend the honey cake – a heaping, five-layer, soft, golden cake with cream cheese frosting. It'll run about 160 rubles. There's also an incredibly palatable mint and almond flavored cake for 220 rubles. The combination sounds strange and the cake practically glows neon green, but the combination of mint and nuttiness is refreshing and unexpected. It was also one of the hottest dessert items, as bakers kept having to restock the cake as slice after slice was ordered. There's also a delicious chocolate, oatmeal, walnut, and golden raisin cookie will run about 90 rubles, but is big and hearty enough to share or eat half and save for later.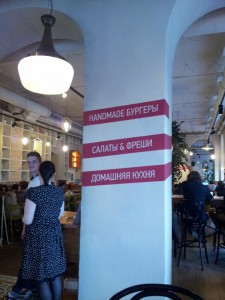 Upstairs on the second floor is the café, where you can get a pot of tea or an espresso drink for surprisingly cheaper than many other competing cafes, especially for Nevsky. A 400 milliliter teapot of green or black tea will run about 110 rubles, and a cappuccino will cost about 90. Up two stories high, the café is a relaxing place to read, write, or study with an incredible view of Nevsky below.
If you're eating or imbibing at Biblioteka, when it comes time to pay the bill, you can find your check in the book your waiter or waitress hands you. It's cute, trendy, and a nice touch – just don't be tempted to snag the book for keeps!  That's what the third floor is for.
One more flight up, you'll find a great selection of books and magazines for sale. Texts on food, cooking, baking, and art fill the shelves. Each month Biblioteka also includes a special section of books on a theme, such as modern art. For special events, the third floor is also used for concerts, DJ sets, films and lectures.
And for the more linguistically advanced, you can check out a master class on cooking or baking, or join in on a discussion over a film screening. If you want to learn how to recreate some of Biblioteka's gourmet burgers or steal one of their delicious pastry recipes, check the project's page on Facebook for upcoming events.  

For groups and faculty-led tours, Biblioteka could actually be a good place to go. Seating in the back is great for groups, including large booths and raised, cafeteria-style tables for parties with multiple people.