Vladivostok is known for being a European city in the heart of Asia. It also offers some pretty decent coffee at a number of modern coffee shops. After a month of exploring the city and trying different cafes, here is my list of the five best coffee shops in Vladivostok.
Кафема (Cafema)
Located in the city center directly off of the main square, Cafema is famous for its locally roasted coffees. The café is fairly spacious with an assortment of tables and chairs for groups or individual coffee lovers. The baristas are very open and welcoming to all who visit and most of them speak English (for those who don't study Russian or are feeling a bit uncomfortable using it at first) and are willing to help you decide on a beverage. If asked, they will go into detail about the different types of drinks, how they're brewed, what is added, from where the coffee was imported, and will even allow you to smell the coffee before you buy it! One of the baristas even suggested different snacks to the people in my group depending on which beverage we chose. Torts, eclairs, cookies, muffins, and many more pastries decorated the glass case and added a vibrant splash of color to the calm, muted colors of the café's interior. Everything is also very affordable by American standards; coffee and tea range from $2-$4, depending on what you get and pastries range from $1-$3.
Cafema is a chain of shops that have now spread across Russia and it has several locations in Vladivostok. Speaking with other foreigners and Vladivostok natives, Cafema is consistently rated "the best" coffee in all of Vladivostok. Whether you're here for a semester, a full year, or only a weekend, Cafema is a destination that should be on the top of your list!
See thier website for all locations.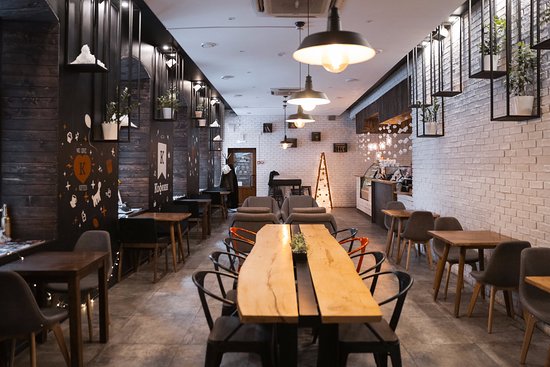 Кофеин (Koffein)
While a bit smaller than Cafema, Koffein has the feel of a traditional American coffee shop: large comfy couches, individual tables near outlets to work, and two larger tables in the middle of the room for groups. For those searching for a quieter place to work while also eating something light, Koffein is the place to go. Similar to Cafema, the baristas are friendly and attentive; though they don't allow customers to smell their coffee before purchasing, they will speak with you about every possible drink option and will make your coffee exactly how you like it. I was especially shocked to find that they have non-dairy milk for those who, like myself, are lactose-intolerant. The desserts and snacks are also quite delicious, the chocolate cake in particular was a popular choice and everything here is also very affordable for American standards. Most drinks ranged from $2-$4 and most snacks ranged from $1-$3. One man we met there, who was soon leaving Vladivostok, said that he had been visiting the city for only two weeks but had been to Koffein 6 or 7 times already! I haven't been as frequently as him, but if his review is anything to go by, no matter what you get at Koffein, you will be satisfied.
See their Instagram account for more information and a list of all locations in Vladivostok.
Five O'Clock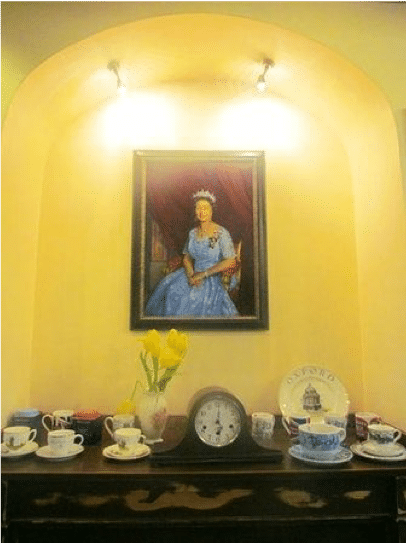 Opened and owned by a British expat, Five O'clock is the tourist café. Advertised as a "traditional English teahouse," Five O'clock brings a piece of traditional England to the Russian Far East with its many portraits of European royalty, including Queen Elizabeth II, and its stereotypical English snacks: muffins, crumpets, cookies, salads, and lots of tea. As a big fan of tea, this café did not disappoint me! The tea was served in beautiful, classic China sets with a plethora of additives: honey, milk, sugar, etc. This was fascinating because this was by far the least expensive coffee shop I visited, everything was between $0.50-$3.
Locals do visit this café, but the majority of customers are foreign tourists from Korea, China, and Japan, as well as a few guests from Central and Western Europe. The baristas are friendly and speak very clear English. Though it is one of the smaller and busier coffee shops in Vladivostok, the atmosphere is nothing but open and relaxing. For those searching for a little taste of the West, Five O'clock is definitely the place to go.
5 O'Clock is located at Ulitsa Admirala Fokina, 6. See their website for more information.
Молоко и Мёд (Milk and Honey)
Most of the customers at Milk and Honey are younger, professional Russians. Many of the men wear business suits and many of the women wear professional dresses and eat at the café for lunch or dinner with colleagues. As one might expect at a more formal cafe, Milk and Honey is one of the more expensive destinations on the list, with most options priced between $3-$10. This is still decent by American standards, but it is on the expensive side for Vladivostok.
Milk and Honey is on this list for reasons separate from the other coffee shops. Though this is a café and coffee and other beverages made here are delicious, the food is the main reason people come here. The cuisine is absolutely delicious, and the coffee is similarly as impressive. While this café is a bit more stuffy in its atmosphere and isn't great on service, it makes up for these things in food, drink, location, and view. Located in the center, directly across the street from a beautiful park, many customers sit outside with a book and enjoy the relative peace found in the center of the city.
Milk and Honey is located at Ulitsa Sukhanova, 6а. See their website for details.
Regulus Coffee
The final suggestion is very convenient for students studying at Vladivostok State University for Economics and Services (VSUES). Regulus Coffee is located across the bridge from VSUES near the main grocery store, РЕМИ. This is a great place to go alone and do a bit of work on a slow day. The interior is small and does not lend space for a large number of people, but it is very cozy and the owner, Evgenii, makes some of the best coffee you'll ever taste. He splits his time between the university location and the downtown location. In addition to being convenient, Regulus is also very affordable; most prices range between $1-5. If you're having a slow day and looking for a nice, calm place to relax, or you're on the run to class or an event and just need a quick cup of coffee, Regulus is the place for you.
Regulus has two locations: Ulitsa Admirala Fokina, 10/1 and Krasnogo Znameni Prospekt, 45 (on the first floor).
These are not all of the coffee shops in Vladivostok, but they are only the ones that stood out to me for their individual character or the taste of their food/coffee. When researching coffee shops, No.1 Coffee Place and Мидия were suggested by locals on more than one occasion. Be sure to ask around for yourself after you arrive! Coffee is a rapidly growing industry in Russia and there are sure to be new market entries soon!