I generally feel pretty awful in the morning until I drink some coffee – a big, black, and bitter Americano always does me well. I feel like I have some room to judge a good cup of coffee as well as, for the past three years, I have been working as a barista and student admin for the group of eight cafes and a food truck at Ohio State collectively known as "Campus Grinds."  I knew it would be imperative for me to find some really good coffee spots in Saint Pete if I was to be a fully functioning human.
There is a French press in the kitchen on my floor at the dorms. It makes a pretty good cup, but there is still something particularly satisfying to find a barista at a hip location that makes an excellent cup for you. Below, I have put together a list of some of my favorite places where I was able to get solid coffee and a fun experience. I'm sure that there are many more gems to be found in the cultural capital of St. Petersburg, but if you love coffee as much as I do (or simply are beholden to caffeine) be sure to check these out whilst in the city!
Gorokhovaya St, 224, Sankt-Peterburg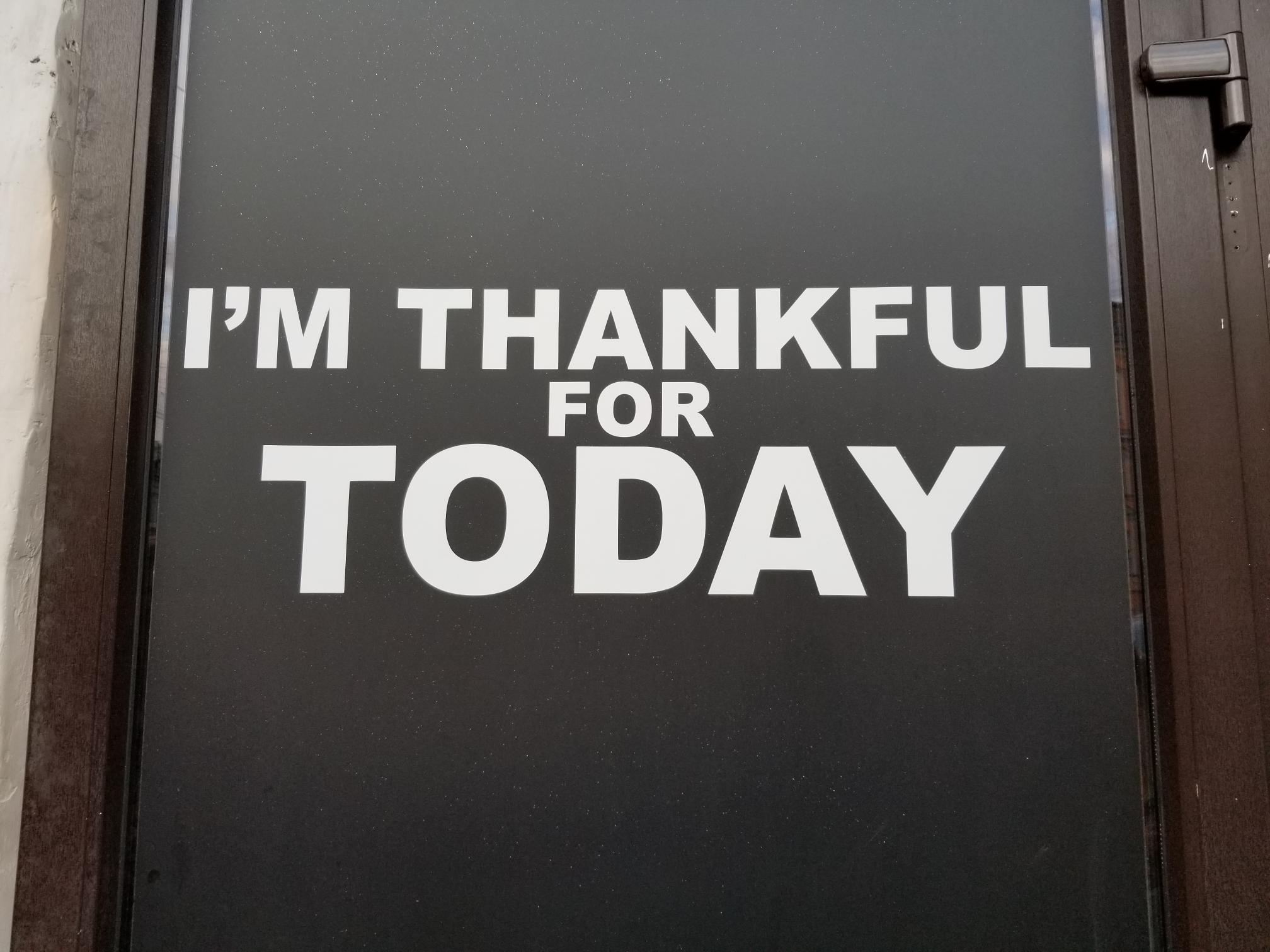 This is a great little spot that is really close to the university, just down the street and across the canal. I came here during my first few days in country, actually on my way trying to find a different place. The café sits on a corner of an intersection next to a bride crossing the canal – ideal for people watching – but you really can't miss it due to the "I'm Thankful for Today" on every window. You can either sit down and someone will come to you, or you can do what I did and just walk up to the bar and order a big old Americano – priced at 200 rubles. The taste was excellent, and it was good price considering that it was about 16 ounces. . If you have tried the coffee already, you can test out the long list of cocktails which are not necessarily cheap, but some of the best I have had in the city. Another positive here is that they open all the windows on nice days, and it is really pleasant listening to the sounds of the city or the excellent sound system that they put to use.
Fontanka river embankment, 51, Sankt-Peterburg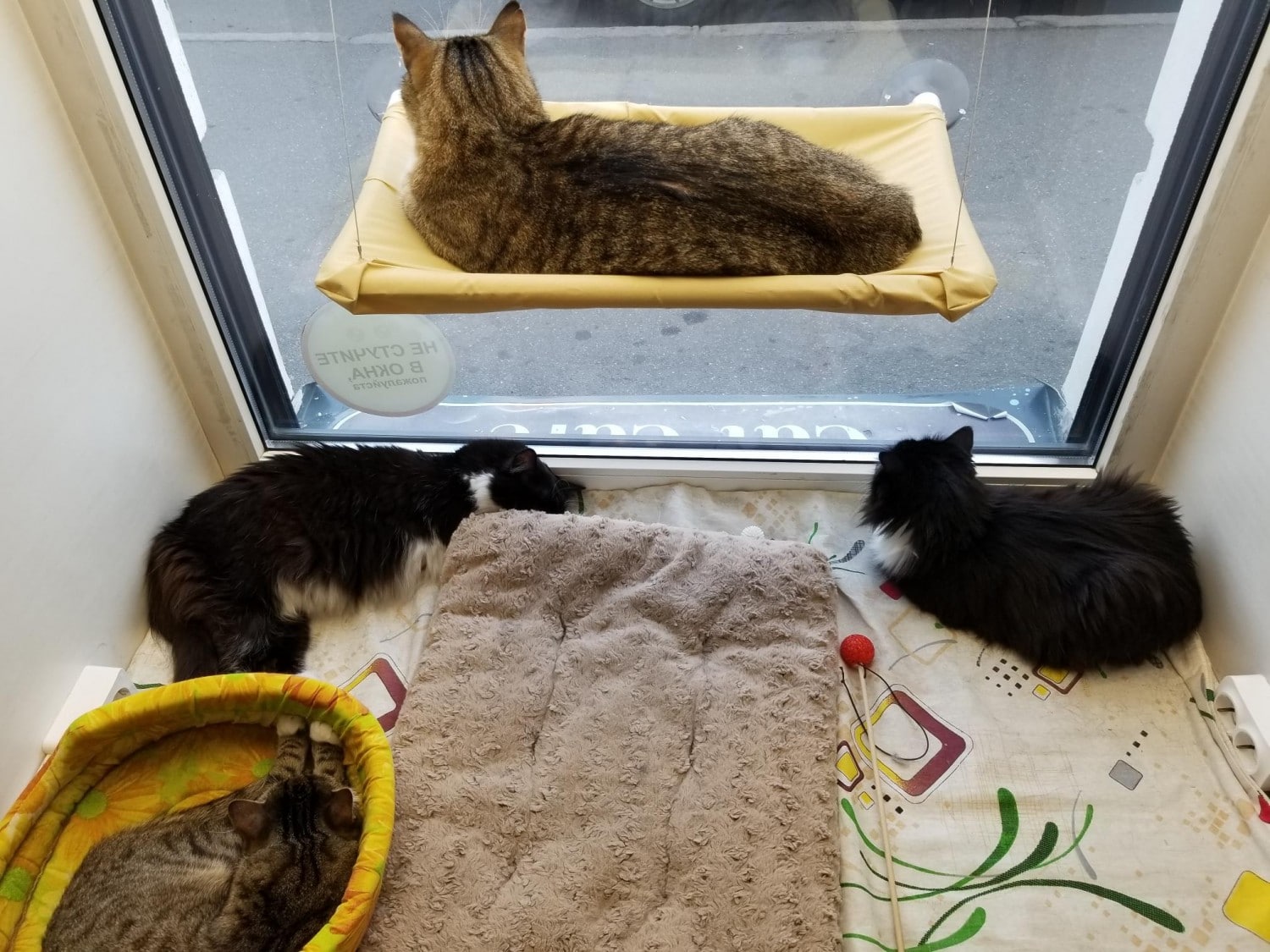 This is one of my favorite places to visit. Firstly, it is an anti-café, which means that you pay for the time you are there. Drinks like tea and coffee, as well as an assortment of cookies are offered for free and are quite tasty. Secondly, it's a cat café! There are about 15 of the little guys running around, lounging around, or doing general cat stuff. Though you are not able to order any fancy drinks like Americanos or lattes, as the coffee is a standard medium roast served through a pump machine and they generally offer black tea through a pump machine, this is a great place to destress and to just love on some cute cats. . There are a ton of games here also, and it is not uncommon to find a cat hiding in one of the shelfs sitting on them! A thing to note when entering the café, you will need to take off your shoes and put on a pair of slippers. I think this adds to the chilled out vibe of one of my favorite spots in the city.
Kazanskaya Ulitsa, 35-37, Sankt-Peterburg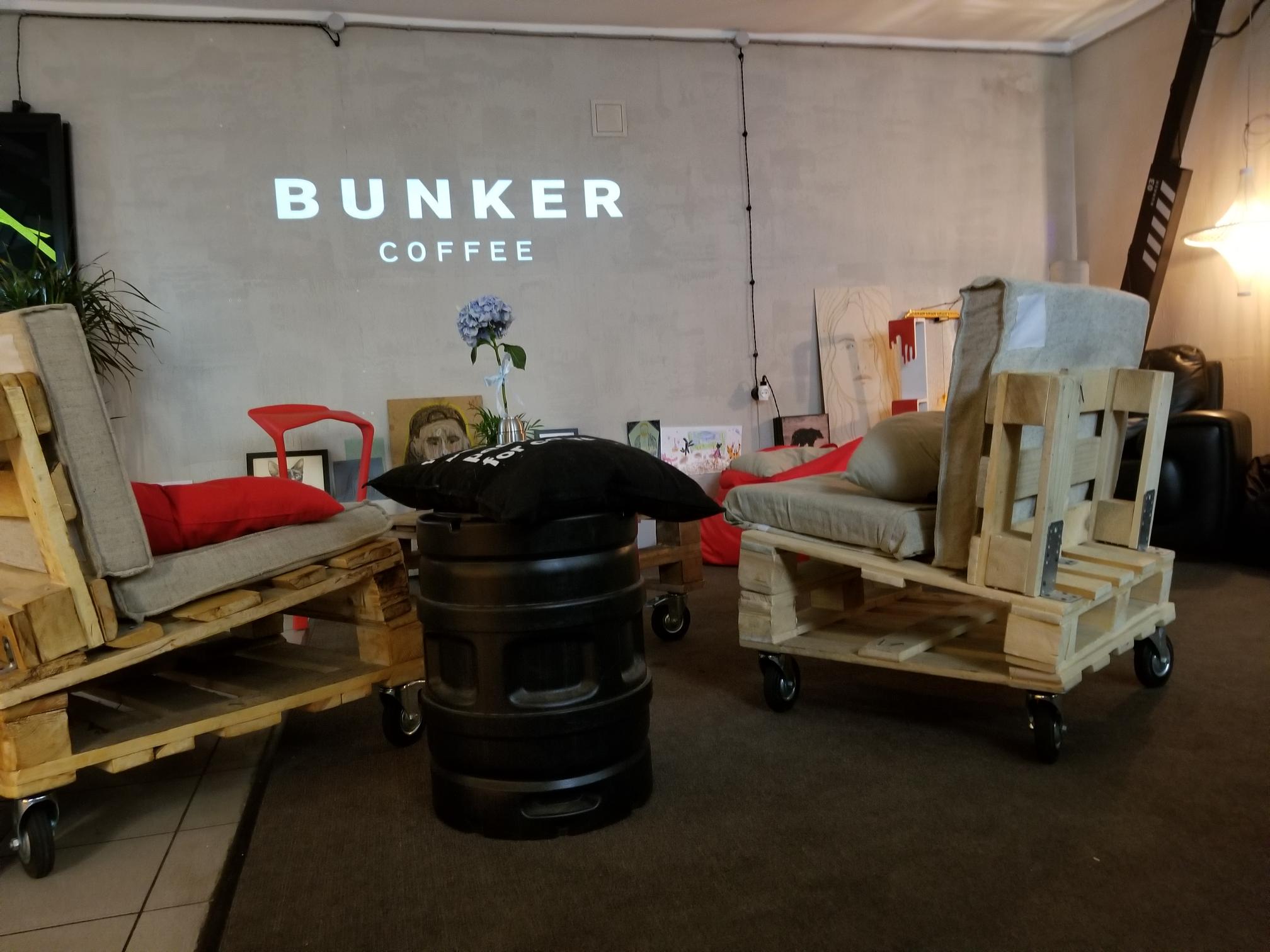 The atmosphere of this café reminds me a lot of cafes which I frequent back in the States. Located below street level, naturally, the seating consists of pallet benches, loveseats, and beanbags. I splayed myself out on one of the loveseats and read and did homework for quite a while. A large projector plays random events like dirt bike racing or skateboarding on the wall, and the music is rather chilled out and added to the vibe of the café. I got my favored Americano and was not disappointed, and the espresso stands above most other cafes. Check this place out, as Bunker Café offers some of the best prices, 110 for espresso, 170 for a latte, and 200 for the sweet deserts. If you feel like exploring afterwards, many places from Crime and Punishment (like Raskolnikov's house) are located not far from the café!
Gagarinskaya Ulitsa, 20, Sankt-Peterburg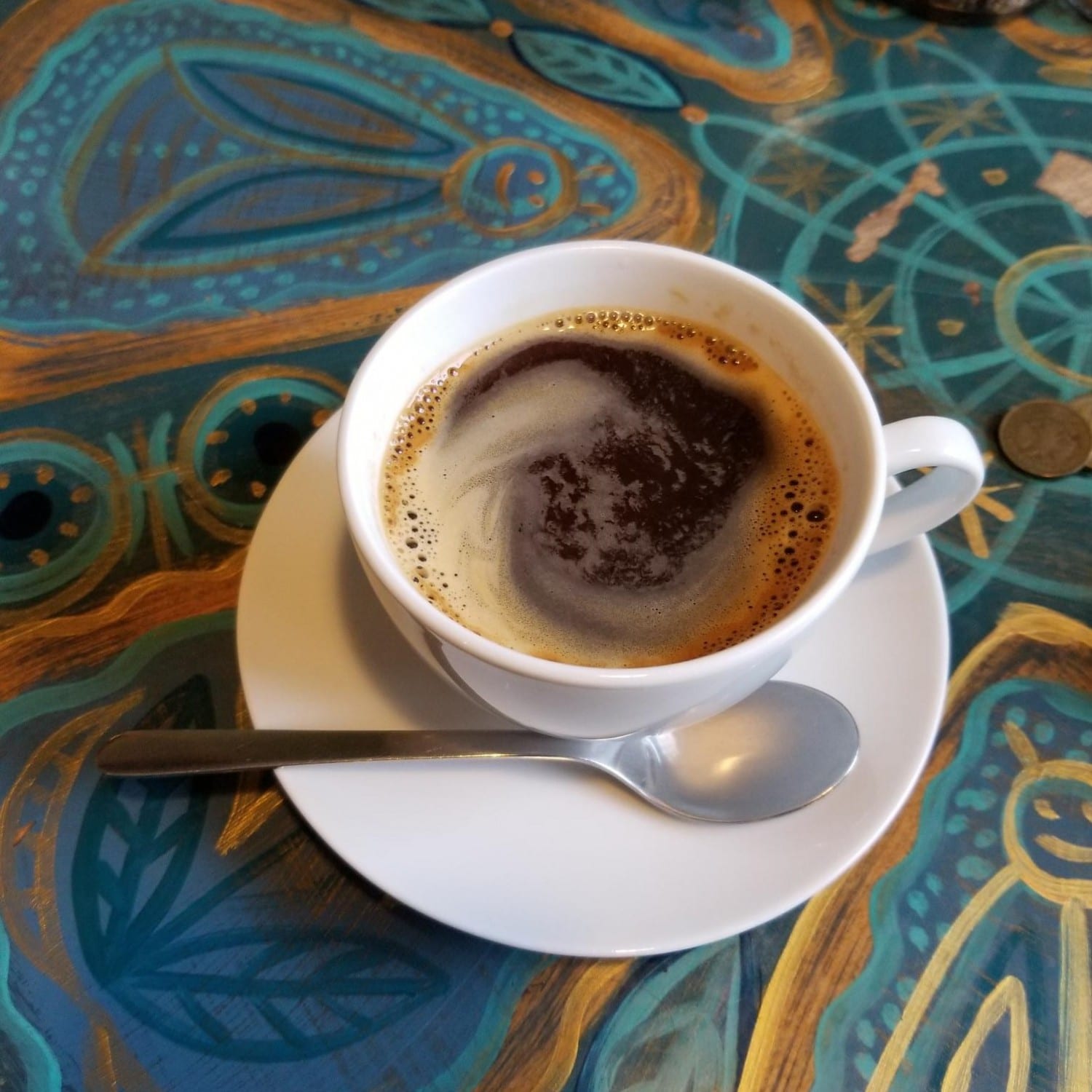 It doesn't get much more hipster than this – and don't take that as a negative! This café is so much fun, from the great music (some Wilco played last time I was here, which is great), to the plethora of Russian-language books available. The café also holds a variety of you can choose from a rather extensive, but somewhat on the pricier end, menu of drinks and foods. Offered are a list of pastries and fruit cups – I tried out an oatmeal and peach cup that really hit the spot on a hot day – but also a variety of sandwiches and wraps. The list of teas goes on for multiple pages, and you can try some crazy lattes like one that has Nutella in it. This café is located in a laid back location with lots of potential for exploring. The State Memorial Museum of the Defense and Siege of Leningrad, as well as the Panteleimon Church are both walking distance, and the way back to the dorm goes right passed the Summer Gardens, for which you will need a caffeine boost to walk through all of it!
Ulitsa Pravdy, 16, Sankt-Peterburg, multiple other locations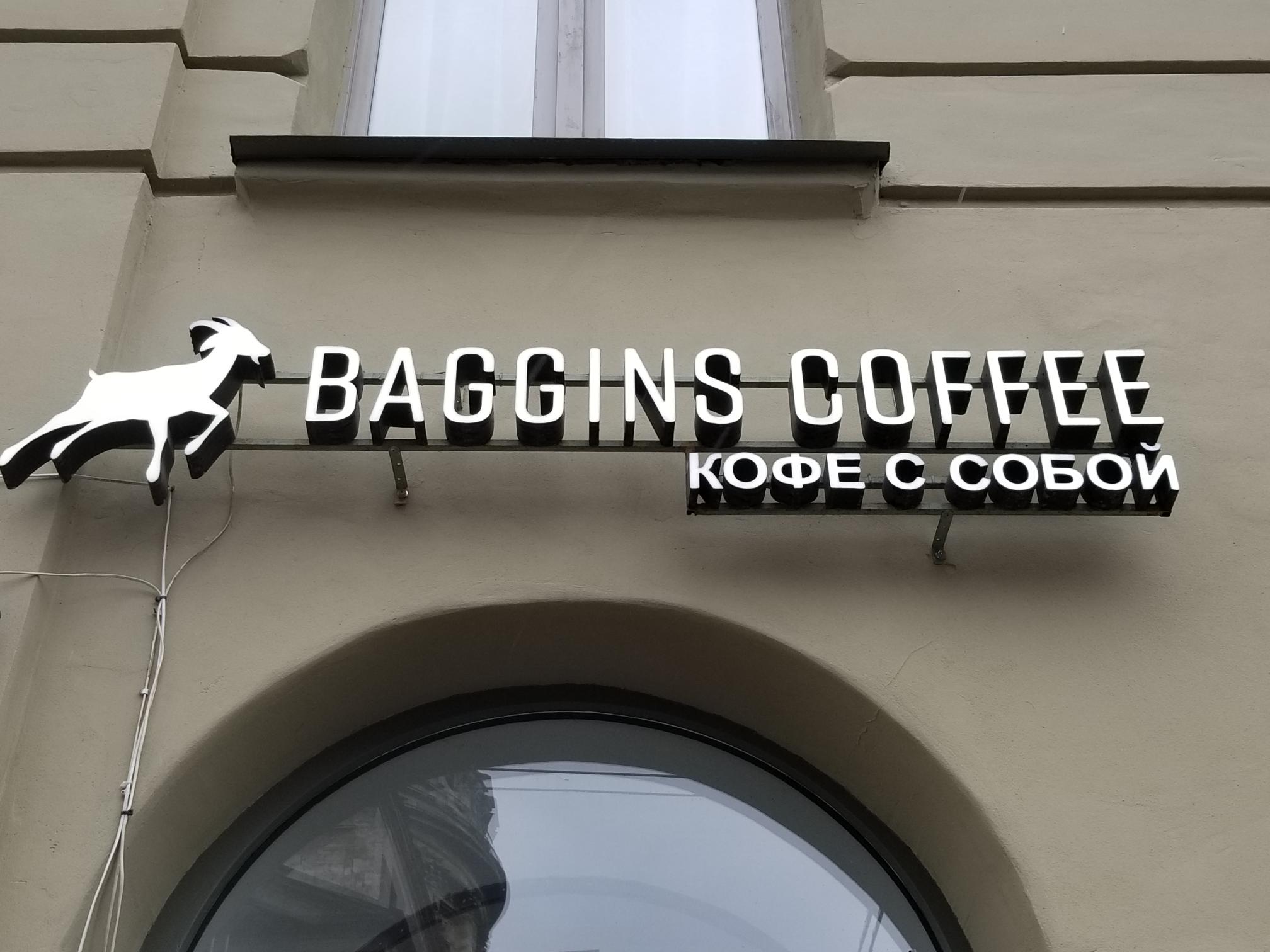 If you are looking for a convenient, well-priced cup of coffee, Baggins Coffee is a good place to go! There are more than a couple dozen of these around the city, so no matter where you are, one is always close. My favorite location (the given address) is great because it is right next to Dostoyevsky street, which is a must see. Baggins Coffee offers consistently good coffee, relaxed atmosphere, and good prices. Another location that I have been too is located right to the south of Kazan Cathedral. This one is less of a cafe, as it is located in another shop, but they offer a good, quick "кофе с собой", or "coffee to go." If you are looking for something to cool you down when the weather gets hot, you can order a frappuccino, lemonade, or fruit smoothies!
Final Thoughts
The number of great coffee shops in Saint Petersburg ensures you can never visit them all. In ever part of the city you can find a new quirky place with great coffee and a new area to explore. Don't be afraid to practice your Russian with the baristas or even the clientele, as I have found that Russians are usually excited to learn that you are giving a shot at the language, or they might want to practice their English with you! Check out the places listed above, but make sure you also find new places that make your experience in the city even richer.